It was a landmark year for the true crime genre but Interview With A Murderer, which featured former ambulance man Bert Spencer, widely suspected of killing paperboy Carl Bridgewater, stood out.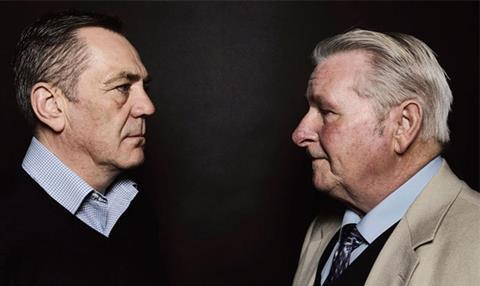 Monster Films and ITN Productions for Channel 4
"Extraordinarily bold and controversial film-making," said the judges.
The 90-minute documentary was based on 30 hours of interviews conducted by leading criminologist Professor David Wilson. Spencer was later convicted of another murder.
In a film full of standout moments, the producers scored several coups. Spencer's secretary broke her silence to expose the truth about his alibi, as did his daughter, who revealed her belief that her father had been at Yew Tree Farm the day Carl was murdered.
Spencer's ex-wife also cast doubt on his version of events after contacting the production team days before transmission. Incorporating elements such as this kept the film vital and gave real power to its storytelling.
The new evidence from these key players persuaded Staffordshire police to re-open the cold-case files after Dudley North MP Ian Austin raised the programme in Home Office questions in Parliament.
"A powerful piece of film-making that took a story and a contributor and made a fascinating doc without fluff," declared one judge, with another adding: "It showed remarkable ambition, combined with an audacious directness in confronting the story."
SHORTLIST
ABUSED: THE UNTOLD STORY
Minnow Films for BBC One
This 90-minute doc focused on the victims of Jimmy Savile's crimes. As well as revealing the dramatic turn of events that finally exposed the entertainer, the film, directed by Olly Lambert, explored the impact of his sexual abuse on his victims' lives. The judges applauded the 'Chinese walls' that Lambert and Minnow Films were able to build between themselves and the BBC.
BEHIND CLOSED DOORS
True Vision Aire for BBC One
True Vision Aire and director Anna Hall secured exclusive access to the domestic abuse teams at Thames Valley Police. The hour-long doc, which started from the moment a 999 call was received and followed three women who had waived their right to anonymity, was commissioned for a 10:35pm slot but was moved to 9pm by Charlotte Moore and Patrick Holland.
HOW TO DIE: SIMON'S CHOICE
Minnow Films and The Open University for BBC Two
How To Die: Simon's Choice started a conversation about assisted dying after the Minnow Films production team's month-long search led to Simon and Debbie Binner. The doc, which captured the emotional, moral, medical and legal complexities surrounding the issue, used an actor to speak Simon's words after his own voice started to fail.
THE MURDER OF SADIE HARTLEY
Raw Cut for ITV
ITV moved News At Ten to accommodate this powerful 90-minute doc that secured access to Lancashire Constabulary's highest-profile murder investigation in a decade. Raw Cut fought hard over six months to attend confidential briefings and closed-off crime scenes and film in the custody area of the police station, even obtaining police tapes of interviews with suspects before their trial was over.
HIGHLY COMMENDED
SWIM THE CHANNEL
S+O Media and Mother Hen Films for BBC Four
The judges were keen to commend Swim The Channel, which aired on BBC Four after the film-makers, Steph Keelan and Emma Harpin, funded it themselves. The judges described the doc, which followed coaches and swimmers looking to swim between England and France, as "beautiful" and a "brilliantly authored story". They were particularly impressed with the stories within the community, including those of pensioners Freda, Irene and Barry.