The third and final chapter of Shane Meadows' highly acclaimed series This Is England combined tension, desperation and sadness, flavoured by the distinctive sounds of 1990, as the gang reunited for the last time.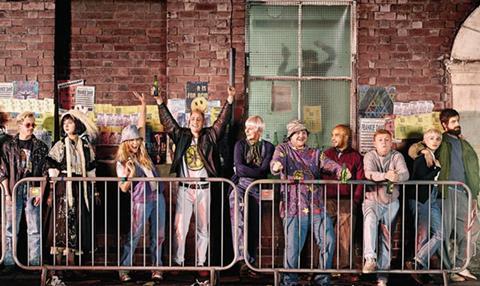 Meadows again teamed up with writing partner Jack Thorne for the 4 x 60-minute series, each part of which correlated with a different season.
During production, Warp Films erected multi-camera rigs, with one scene captured using nine cameras inside a council house. Meadows worked closely with the actors, letting them improvise as much as possible to ensure realistic performances.
The drama took the audience deeper into the lives of minor characters such as Kelly, Gadget and Harvey, and was hailed for its attention to detail. The art department, costume, hair and production all pulled together to capture the '90s feel as authentically as possible. One judge said it was "brilliantly evocative of the period" with "extraordinary writing and performances".
Thanks to its loyal following, the series launched with 2 million (9%) overnight, consolidating to 2.7 million (10.2%). Overall, it attracted a consolidated average of 2.1 million (8.2%) across its four-part run, dwarfing the channel's 1.7 million (7.5%) slot average.
Summing up the impact of the series, another judge said: "The raw emotion hits you right in the gut. Gasp-inducing, distinctive, incredible."
SHORTLIST
COLD FEET
Big Talk Productions for ITV
After 13 years away, the return of this ITV favourite was warmly welcomed by critics and viewers alike. The first episode captured 6.1 million (29%) and received ITV's highest Monday share since the Euros. As #ColdFeet trended at number one in the UK and number three worldwide, its widespread popularity was clear and resulted in a seventh series commission.
THE DURRELLS
Sid Gentle Films for ITV
Adapted from Gerald Durrell's The Corfu Trilogy series of novels, this 1930s-set, pre-watershed drama, featuring pelicans, dogs and lizards, dominated Sunday nights over its six-part run. After its launch episode reached 6.4 million (29%) in overnights, it became ITV's most-watched drama in more than 18 months, leading the channel to commission a further two series after only two episodes had aired.
HAPPY VALLEY
Red Production Company for BBC One
Following its Bafta-winning first series was no small feat, but Sally Wainwright's no-nonsense police sergeant Catherine Cawood and psychopath Tommy Lee Royce stormed back in style. The first episode of the second series hooked 6.5 million (27.9%) in overnights and the series as a whole clinched a consolidated average of 8.5 million (30.7%), eclipsing the first series' 7.2 million (27.6%).
LINE OF DUTY
World Productions for BBC Two
After two blockbuster series, creator Jed Mercurio was tasked with refreshing and renewing the multi-strand police investigation format. With each script developed sequentially, the unpredictability of the show bled into the development process. With tense scenes, a plot with echoes of Jimmy Savile's string of crimes and an explosive 90-minute finale, it earned a BBC One transfer.
THE SECRET
Hat Trick Productions for ITV
Hat Trick's adaption of reporter Deric Henderson's book questioned how a respectable dentist and Sunday school teacher got away with double murder for 18 years. This intense and dramatic four-part thriller, starring James Nesbitt and Genevieve O'Reilly, launched to an overnight audience of 4.3 million (21.5%), attracting a consolidated audience of 5.3 million (20.7%) across its four-part run.