Sky's first collaboration with Amazon is an all-star swords and sandals epic – and the TV debut of film and theatre writer Jez Butterworth. Benji Wilson visits the Czech Republic set
Production companies Vertigo Films; Neal Street Productions
Commissioner Anne Mensah
Length 9 x 60 minutes
TX Thursdays, 9pm, from 18 January, Sky Atlantic; all episodes available on Now TV from 18 January
Executive producers James Richardson (Vertigo Films), Sam Mendes, Pippa Harris and Nicolas Brown (Neal Street Productions), Jez Butterworth and Anne Thomopoulos
Producer Rick McCallum
Directors Sheree Folkson, Christoph Schrewe, Luke Watson and Susan Tully
Writers Jez Butterworth, Tom Butterworth and Richard McBrien
I am Rome, and where I walk is Rome," shouts a full-throated David Morrissey, before director Christoph Schrewe calls "cut". Morrissey is wearing a Roman general's garb but he's not in Rome; he's in a field on a floodplain about an hour's drive from Prague.
Before him are the ranks of Roman soldiers, lines of tents, stacked pikes and burning braziers that make up a Roman marching camp. Everything is choked with thick, very real, mud.
"So much mud," says producer Rick McCallum. "And yet they only came with sandals."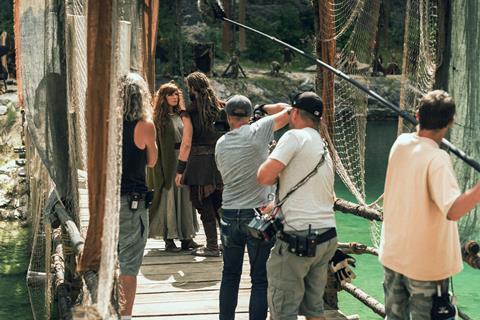 This is the set of Britannia, Sky's blockbuster drama that tells the story of the second Roman invasion of Britain.
The Czech Republic doubles as south-east England, or Britannia, in 43AD. Julius Caesar famously 'came, saw and conquered' in 54BC and 55BC. But he didn't actually conquer. In fact, he left, as Morrissey puts it on a break between shots, "with his tail between his legs".
"So, this is the second invasion under the Emperor Claudius," he adds. "I play the commander of the Roman Army, Aulus Plautius. And we're here to civilise Britannia, make it Roman. But to the Roman army, Britannia symbolises hell on earth."
Unique drama
Britannia is not meant to be a history lesson. Rather, it aims to deliver Sky drama head Anne Mensah's mission statement of 'the unexpected, the visceral, the memorable'.
What we're seeing in the Czech Republic is the Game Of Thrones side of the series, with vast military camps, endless vistas and stark landscapes.
How to build Stonehenge - Tom Burton, production designer
Britannia features a set with a stone circle called the Amber Palace, which was our Stonehenge.
As with everything in Britannia, we're not doing a History Channel history of the Roman Empire. We wanted things to look dramatic and the environments to tell a story, but at the same time, we weren't trying to keep it as accurate as possible.
We built the set in the Czech Republic using massive amounts of timber surrounded by carved, high-density polystyrene foam, and then plastered it all with concrete.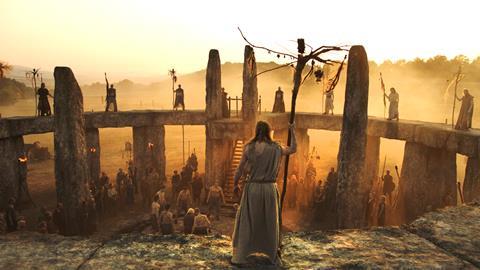 It was probably about 80% of the size of the real thing, but it had to be strong because we had scenes with Mackenzie Crook and his druids standing on top of it.
We knew roughly when we were going to shoot scenes at the Amber Palace, so we positioned it at a specific angle that meant the sun would set at the right times, just as it does at the real Stonehenge. The shadows the stones cast were therefore correct.
Mackenzie said it made it feel like it might have felt "back then".
It gave us some idea of the scale of the achievement of the builders of the real Stonehenge. They got those stories to the site from Wales. Our polystyrene and concerte only came from Prague, and that was hard enough.
This all costs big money and, unsurprisingly, it's a co-pro, the first collaboration between Sky and Amazon Prime Video.
"It's big, but not as big as Game Of Thrones because they have five to six times more money than we do," says producer Rick McCallum.
"The landscapes are huge and the battles are big. But it's not trying to compete in that kind of world. It's the Celts, the Romans and the Druids, the spokespersons for the gods. Then there's this other world, the one that the dead go to."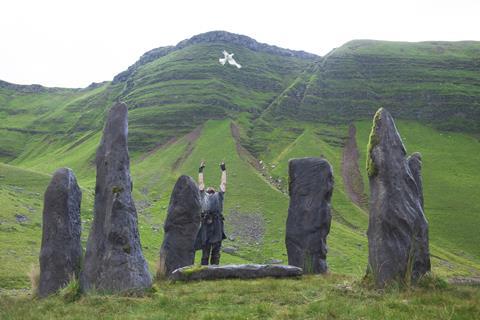 He's referring to the part of Britannia that Mensah talks about when she speaks of Sky Atlantic's drive for "stories you wouldn't find anywhere else". McCallum characterises it as "the inside of writer Jez Butterworth's mind. It's a dangerous place."
Parts of the series are as strange as anything on tele vision. Several trips to a deeply hallucinogenic Underworld are made, under the influence of druidic mind control. They are filmed unashamedly as psychedelia (the soundtrack to the series is Donovan's Hurdy Gurdy Man).
"It's quite odd," says Morrissey. "My character appears to be this straight down the line general – 'I am Rome' and all that. But he has another agenda for being in Britannia above and beyond the usual conquering of the land, one that is troubling for his men. You feel that his main objective is to find out what the Druids' belief system is."
The Druids, led by Mackenzie Crook's hollow-eyed mystic Veran, are the series' outliers and dreamweavers. They are also the kingmakers.
"The gods speak through the Druids so Veran is pretty much all-powerful. He can lord it over all the Celtic tribes," says Crook. "The Romans, when they invade, see this, and they know he's to be treated carefully."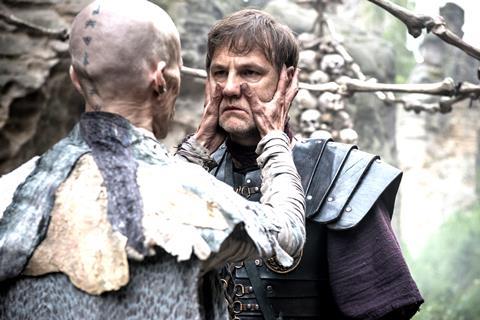 Those Celtic tribes comprise the Regni and the Cantii. Zoë Wanamaker, in head-to-toe leather with her face tattooed and her hair rising high like a halo – "think Tina Turner in Mad Max," she says – plays Queen Antedia.
The opposition are the Cantii, led by King Pellanor (Iain McDiarmid). Aulus's tactic is to play the two off against each other.
At a time when much period drama likes to stress its historical authenticity, it's fair to ask whether any or all of this happened. "Sort of " and "so what?" are Butterworth's answers.
"I'm as interested as the next person in historical events but turning it into drama? I'm not interested in it remotely," he says back in London.
"There's got to be a really good and personal and quite visceral reason to want to do it."
Britannia, he says, was fuelled by his long-standing interest in what happens when cultures and religions collide.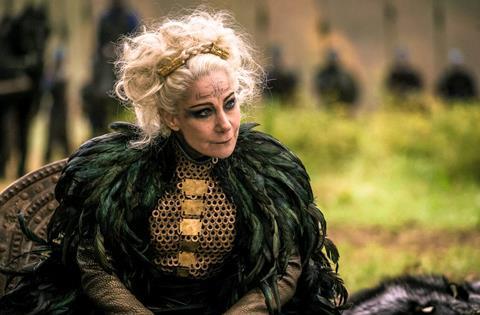 "If there's one idea that ends up driving the first season, it's this: is what I'm doing foretold, or is what I'm doing being watched? Does it mean anything or am I just doing it? That seems to me to be at the absolute heart of being a human being and it's not going to go away as a concern."
It's quite possible that when Mensah says Britannia couldn't have been made for any other channel, she's right. Butterworth admits that he and his team have been given unprecedented freedom to realise their vision.
"I've never been involved in anything outside the theatre that's been more 'my call'," he says. "No one other than the people that have created it – me, James [Richardson] and Tom [Butterworth] – has had a look in. We've been given completely free rein. You can probably tell. It is what it is because that's how I wanted it to be."
Niche audiences
He adds that Britannia's eccentricities are a facet of the current boom in TV drama production, where broadcasters and SVoD platforms can make money appealing to niche audiences – as long as they can find that devoted niche.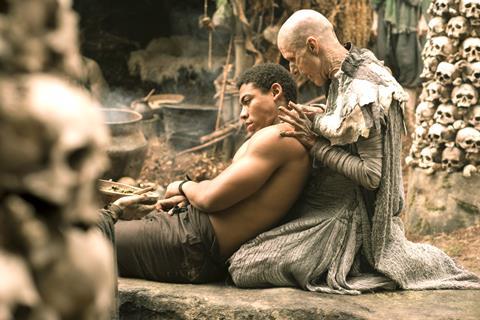 "I think a lot of television happens like that now – 'this is what we're doing and people can like it, or they can lump it'," Butterworth says.
Richardson, Britannia's co-creator and executive producer for its production company Vertigo Films, points out that this is both his and Butterworth's first project for television.
"I'd been making films all my life, but the film industry has changed massively over the past few years and TV has become so exciting. Creatively, the three-act structure of film can be restrictive, whereas in TV, you have no idea where it's going to go. I love that."
From stage to screen: Butterworth's TV foray
Jez Butterworth has won Olivier awards and been nominated for Tonys on Broadway. His play The Ferryman is currently a hot ticket in the West End.
He's written screenplays, too, including a co-writing credit on the most recent Bond film, Spectre. But Britannia is his first foray into television.
"Film is becoming like a haiku," he says. "There's only so much you can do. If you're going to say something on film, you've got to say it once and for all. You get one really good shot at forming an audience's opinion of a character."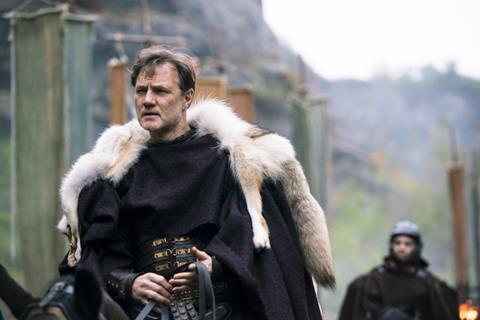 Whereas in television, he says, character development is ongoing, as long as the series is running.
"It's a lot more like life in that respect. You get to spend all of that time with someone as it unfolds."
Butterworth has been writing for the big screen since his own 1997 adaptation of his award-winning 1995 play Mojo, which he also directed. In that time, he's had six plays produced and seven films. He has a unique perspective of the modern writer's craft across different genres.
"Film is the hardest," he says. "There isn't really film the way there used to be 25 or 30 years ago. It's television now – all of those chances to be as daring as can be are happening on the small screen."
When he started out, television was cinema's poor cousin. "It's not the case now. In many ways, it's the other way around."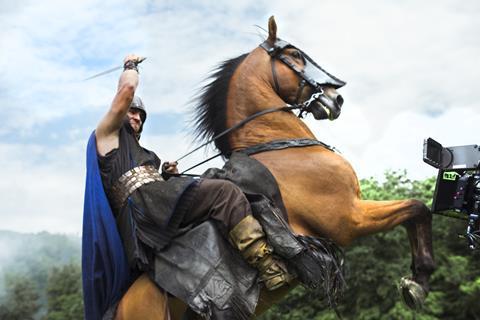 "In many ways, it felt familiar straight away. You've got an hour. And if it's on Sky, you've got three commercial breaks. You've got start-of-sequence and end-of-sequence within twelve pages of each other. They're like these little acts. I know how to write an act
"My main problem with theatre is that there aren't enough beginnings and endings. I love doing them."
One thing that is consistent across film, stage and TV is that he doesn't have a clue how his work will be received.
"All I know is that one of two things is going to happen. It's either going to completely fail and not appeal to anyone. Or it's broadcasting on a frequency that lots of people will spot a mile off. But it won't be everyone.
"There have been no constraints, which I think is kind of fabulous. Sky has been fantastic, saying 'go for it'. And I've gone for it."