The channel's first scripted commission is a darkly comic tale of two brothers involved in a hit-and-run. Vicki Power meets writer Neil Forsyth and the cast
Production companies Expectation; Happy Tramp North
Commissioners Steve Carson (BBC Scotland); Patrick Holland (BBC2); Shane Allen (BBC Comedy)
Length 4 x 60 minutes
TX Thursday 24 October, BBC Scotland; 30 October, BBC2
Executive producers Neil Webster; Kirstie Macdonald
Writer Neil Forsyth
Director Robbie McKillop
Producer Jules Hussey
Post houses Blazing Griffin; Savalas
Guilt is a pitch-black comedy-drama that has the honour of being BBC Scotland's first drama commission – it will be screened on the digital channel a week before making its debut on BBC2.
Penned by Dundee native Neil Forsyth, who wrote 2017 Morecambe and Wise drama Eric, Ernie And Me for BBC4, the show is a four-part caper about a hit-and-run accident involving brothers Max and Jake (played by Mark Bonnar and Jamie Sives).
The drama opens with a bang – literally – as Jake ploughs a car into a frail pensioner crossing the road. Max, worried about losing his licence for letting Jake drive uninsured, makes a split-second decision to stage the old man's death as if it were from natural causes.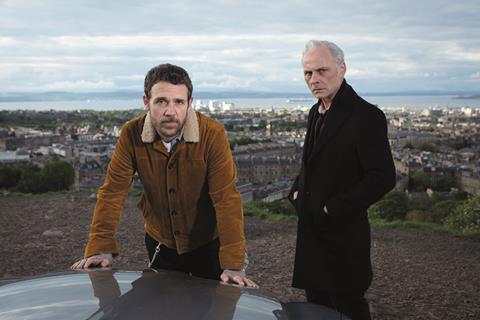 When the victim's relatives and neighbours become suspicious, the brothers are forced to make farcical moves to conceal their deceit.
Screenwriter Forsyth says he took his lead for the piece from several hit American series that include dark humour – which he says is lacking in many British shows.
"I'm a big fan of the American 'dramedy' tradition," he adds. "I feel that characters in shows like Better Call Saul, Fargo and Breaking Bad are much richer and more real because they're allowed to be funny in how they react to stress on occasion."
While its tone feels distinctly Scottish, Forsyth says Guilt nearly ended up as a US drama after it was pitched via Sacha Baron Cohen's Four By Two, the company he ran before launching Spelthorne Community Television with Andrew Newman.
However, some time after the script had "bounced about" in the States without getting produced, Forsyth took it to BBC Scotland commissioner Ewan Angus, who had executive produced BBC4 cult comedy Bob Servant, which is based on Forsyth's bestselling books set in Dundee.
"Ewan said there would be some real opportunities with the new BBC Scotland channel and he took it," says Forsyth. "He's now happily retired. It shows you how long TV development takes."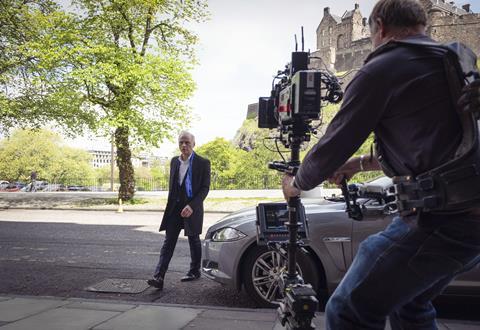 Fortunately, Angus's successor, BBC Scotland head of multiplatform commissioning Steve Carson, was equally enthusiastic and Inverness-based Happy Tramp North and Expectation came on board as co-producers, with Screen Scotland providing a £500,000 production grant – the maximum amount it is able to put in through its Broadcast Content Fund, which was created to boost production in the country.
BBC Scotland launched in February, offering shows that would appeal to a prime-time Scottish audience, such as news programme The Nine and doc strand Modern Lives.
Guilt represents its first attempt at original drama and will have a network slot on BBC2 this month – highlighting the internal support it has commanded, with BBC2 controller Patrick Holland and BBC comedy chief Shane Allen credited as co-commissioners.
Once Guilt was greenlit, Forsyth decided on its 'home'. "I wanted the show to be set in Edinburgh – it's such a filmic city that I'm always surprised how little TV is shot there," he says.
"Also, the east-coast Scotland tone is very important, as it's a different voice to the west coast. The humour is a bit more absurdist and the tone in general is a bit whimsical – kind of melodic."
However, logistics meant production would happen in Glasgow, much to the chagrin of Leith-born actor Mark Bonnar, who plays Max.
"When I was reading the script for Guilt, I fantasised about how cool it was going to be walking the streets of Edinburgh and visiting my old haunts," he says. "Then we were only there for two days. With budget necessities, that's the just the way it is at the moment."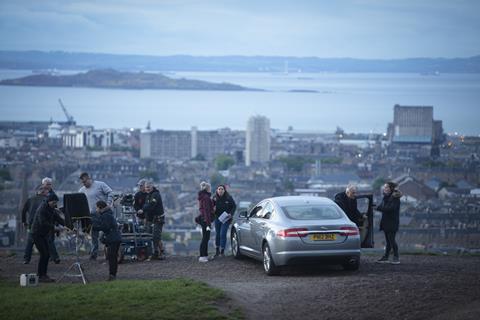 Guilt was filmed largely at Parkhouse Business Park in Glasgow's northern suburbs, a collection of warehouses used for productions including BBC1 dramas Trust Me and The Victim. The fact it's not a dedicated film studio created a few problems.
"Across the site, we had to deal with everything from fairground rides being refurbished to a noisy children's dance academy," says Guilt producer Jules Hussey.
Most scenes were shot within a 45-minute radius of Parkhouse, including Clydebank Docks East and Aberfoyle in the Trossachs, which doubled for the Highlands.
The crucial setting – the Leith neighbourhood in which the hit-and- run takes place – was found in East Kilbride, the Lanarkshire town south of Glasgow.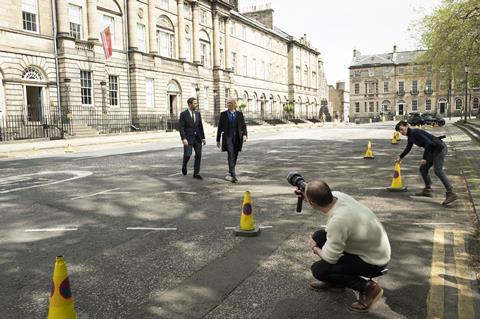 The plot of Guilt centres on three suburban houses that overlook each other, posing location manager Tim Maskell a problem.
"It's often hard enough to find one house that fits the brief and allows you to film there," he says. "But we had to find three that all worked together and then get them all on board, all within a 45-minute drive of central Glasgow. It took me the best part of four weeks to find it."
Maskell scoured Rightmove to find bungalows with the right sort of look and ultimately managed to get the owners of three suitable houses onside, even for night shoots.
Filming in Edinburgh would have been impractical, says Maskell. "It's difficult to facilitate filming there – it's very rare to get any space to park your big vehicles, and if you find a site, it will probably have been built on six months later."
He also estimates that filming in Edinburgh is 30% more expensive than Glasgow and says the crew base in Scotland is bigger on the west coast. Hussey adds: "The tourist footfall alone in Edinburgh makes getting across town hellish."
Shooting in Edinburgh
The few scenes that were filmed in Edinburgh had to make an impact. When searching the city for a building to double as a dodgy foreign embassy, director and Dundee native Robbie McKillop alighted upon a grand edifice in the neoclassical Charlotte Square.
"Rob went into an office there and said, 'I'd like to use this for filming', just as we realised it was Bute House. That's SNP leader Nicola Sturgeon's residence," says Hussey.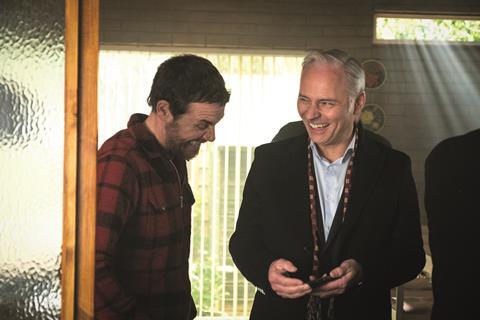 However, the political quagmire the UK finds itself in prevented them from using it, she adds: "Bute House would have considered us going in, but there were serious security issues because of Brexit."
Instead they used the house next door – but politics prevented filming elsewhere, too. "We were also going to shoot in the city chambers in Glasgow, but because it was around the time of the European elections, we couldn't," says Maskall.
If the Edinburgh ambience was somewhat manufactured for the cameras, the sibling chemistry between Bonnar and Sives' characters wasn't – the actors were childhood friends and, when Broadcast met them on set in Glasgow, their closeness was obvious.
Between takes, they sat in a corner of the production office taking turns to play a guitar and sing softly. "We know each other from Leith Academy," says Bonnar, who has been enjoying a career purple patch with roles in Catastrophe, Unforgotten, Line Of Duty and several others.
"Jamie and I used to walk to school together. We weren't best mates but we knew and liked each other."
"When I think back to Mark and I walking to school together and now doing a BBC Scotland drama together – it's quite surreal"
Jamie Sives, actor
Bonnar says he immediately thought of his school friend after landing his own role, and Forsyth was independently having similar thoughts – a "kind of serendipity", he adds.
Sives, who has starred in The Victim and Game Of Thrones, says: "When I think back to us walking to school together and now doing a BBC Scotland drama together – it's quite surreal."
Even if Guilt started off as an American piece, its Scottish writer, cast, director, locations and blackly comic tone have evolved it into a series that's Caledonian to its core. It's hard to think of a more appropriate choice for BBC Scotland's inaugural drama.