First-time showrunner Mika Watkins' sci-fi series struck a chord with the platform because of its fresh approach and global appeal
Production companies Left Bank Pictures; Sony Pictures Television; Midnight Radio in association with CiTVC
TX 14 November (all episodes)
Length 10 x 60 minutes
Commissioners Susanne Daniels; Jon Wax; Nathan Kitada
Executive producers Andy Harries; Suzanne Mackie; Rob Bullock; Mika Watkins; Josh Applebaum; André Nemec; Jeff Pinkner; Scott Rosenberg; Paul WS Anderson
Directors Paul WS Anderson; Ashley Way; Juan Carlos Medina; Jonathan Teplitzky; Mark Brozel
Producers John Phillips; Alice Pearse
Post houses Encore (picture); Boom (sound); Milk (VFX)
Mika Watkins hadn't truly realised the scale of Origin, the science fiction series she has created for SVoD service YouTube Premium, until she was on the ground in South Africa, where the series was shot over the summer.
"I remember getting to Cape Town and as I got closer to the set, I started to see Origin signs everywhere, which was completely overwhelming," says the 29-year-old first-time lead writer and showrunner. "I could hardly believe they had built these massive sets based on these scripts I wrote in my bedroom over a year before."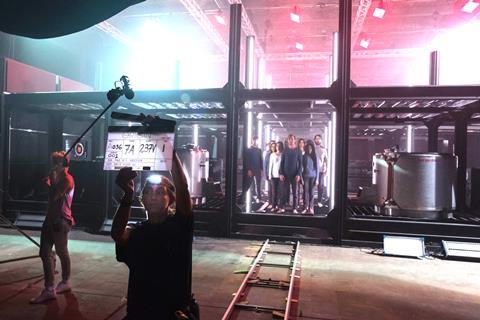 The studio shoot for the show, which follows a group of strangers stranded in space, was large-scale and very demanding. At one stage in production, there were three full units filming simultaneously in 8K, with Watkins even required to fi ll in as an unofficial director.
Elsewhere, director of photography David Higgs bought kilometres of LED lighting from a Chinese factory for the group's space ship, construction of which began just 10 weeks before the first shots were committed to film. Post-production was equally taxing, with Milk required to create 926 VFX shots in four months.
Left Bank Pictures executive producer Rob Bullock says Cape Town was selected for the shoot because it offered the scale to create the sizeable space ship complete with tight, compact interiors, while the wider Western Cape's varied landscapes meant the region could double as England, Japan, the US, France, Germany and Ireland – which feature in the show's revealing flashback sequences.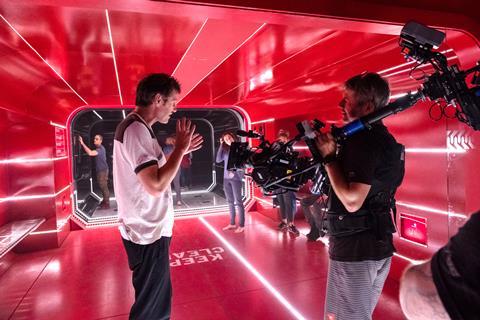 While Origin represents one of YouTube Premium's largest programming investments to date, production needed to be cost-effective.
"Financially, Cape Town is great, with production tax breaks, and it provides world-class crews, who have been making world-class television and film for some time now," says Bullock.
YouTube wanted the series to be ready for Christmas 2018, which meant two filming blocks overlapping. When additional material was needed, that went up to three.
"I'm incredibly proud that we kept the creative quality up," says Bullock. "If you think of each block as one part of a jigsaw that includes cast and location availability, piecing three together was tough. Our line producer Sasha Harris has a brain like Deep Blue and she made it all work."
Giving the show its colourful, highly stylised look was science fiction director Paul WS Anderson, who was behind 1997 space horror Event Horizon and 2004's Alien Vs Predator. He challenged the crew and producers to match "the scale of his vision", according to Bullock.
Origin's multi-lingual cast includes Game Of Thrones and Harry Potter star Natalia Tena as a former US special forces operative, her Potter co-star Tom Felton as a petty criminal seeking a new start and Australian-Japanese newcomer Sen Mitsuji, a fashion model whose inclusion is, in part, a reflection of Watkins' half-Japanese heritage. He plays a member of criminal organisation the Yakuza.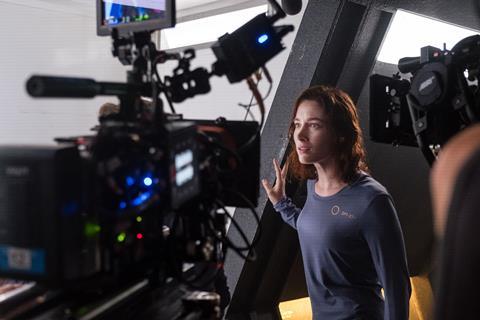 "The huge challenge for us was shooting in six different 'nations', with each shot in the native tongue for the flashback stories," says Bullock. "The casting was truly international. The talent pool in Japan for dual-language actors was incredibly small but we found Sen, and this is his big break."
Set in the near future, Origin follows the three leads and a wider group of strangers bound for a distant planet, Thea. They plan to begin afresh after accepting a relocation offer from Elon Musk-style tech company Siren Corporation, but wake from induced stasis to find their ship abandoned and adrift in deep space. Tension escalates as it becomes apparent that one passenger is not who they claim to be.
"I've written it as somewhere between a space horror and a chamber piece," says Watkins. "The latter half of the series becomes quite Lord Of The Flies, as the characters ration water and food and suspicion grows around the impostor."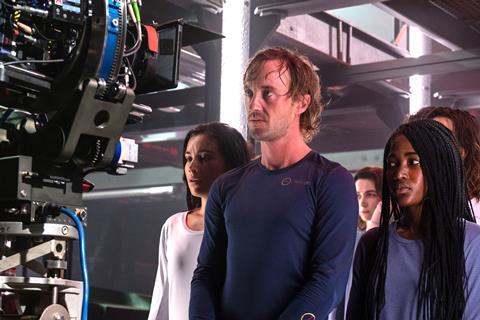 Flashbacks to the characters' lives on Earth explain why and how they left the planet to start again. They also contrast with the claustrophobia of the near-deserted ship – whose layout compels the characters to venture through uncompromising access hatches, air vents and cold storage areas – and reveal motivations.
YouTube head of originals for EMEA Luke Hyams says this gives the show space to make predictions about the futuristic world the group have left behind.
"The flashbacks provide interesting views on the future and deal with a wide variety of issues, such as falling in love and prison reform, but also how the characters hear about this journey and head towards it," he says.
"People pitch us a lot of science fiction but here we get to explore ideas of technology, the future and human progress in a quite succinct way and with storytelling depth."
Futurologist Catherine Allen, who specialises in virtual reality, was brought in to determine how the world might look 50 years from now, while astrophysicist Dr Roberto Trotta worked with producers on the limits of scientific possibility.
"If the physics didn't work for the script, he made suggestions of how they might," says Watkins. "For example, superluminal [faster-than-light] travel is in many ways almost impossible – but we needed it to exist in the show."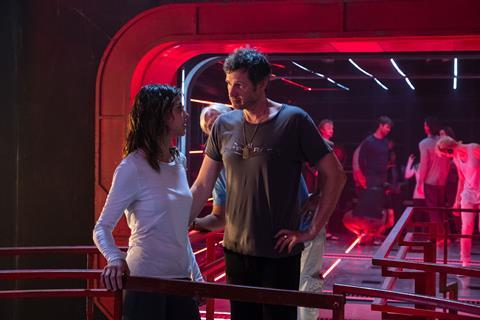 Watkins began the process of writing Origin having worked as a script writer on shows such as Sky 1 drama Stan Lee's Lucky Man and BBC1's Troy: Fall Of A City.
Left Bank, where she had worked in development during her 20s, got wind of the project, optioned it and later commissioned a script. China International Television Corporation was involved as a co-developer.
The project then went to the US and soon YouTube had commissioned it for its fledgling global on-demand subscription service, with Left Bank parent Sony Pictures Television on board and Midnight Radio attached as an American co-producer.
Former Lost producer Jeff Pinker was key to helping break the early story lines in the writers' room.
"We wanted to embrace the American hivemind model of series development," says Bullock. "YouTube was very keen on us doing that and Jeff was a great support." Watkins adds: "The more clever people you can get in the same room bouncing ideas off each other, the better the result."
Reaction videos and 'celebration' content from the main YouTube service had initially convinced commissioners at the Google-owned platform that a sci-fi series of scale would deliver results and drive Premium subscriptions around the world. The narrative of Watkins' script closed the deal.
"We are a global service, so our series need to feel global too," says Hyams. "The flashback mechanism, showing us why these different people chose to leave Earth forever, was a great dramatic device for us to make a bet on because it has an inherent international feel.
"Mika comes at science fiction from a new generational perspective and that was also a key factor. She doesn't have those preconceptions that some longer-in-the-tooth creators might have."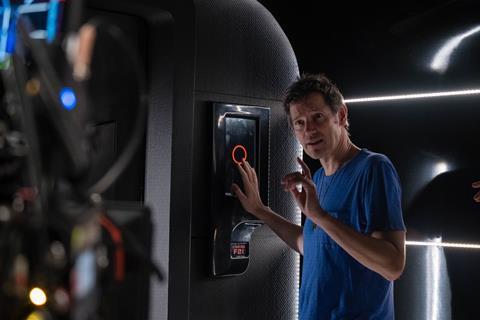 For Watkins, YouTube was straightforward to deal with and quick to make decisions. "This has a really big budget compared to some of the outlets in the UK and, creatively, we were on the same page."
The platform's balanced approach left the rookie showrunner to oversee every element of the series and embrace her powerful position, while at the same time providing very detailed notes.
Watkins says this was useful: "Usually, you don't agree with lots but here I could always see why they had delivered them. The only real discussions were about getting the casting right."
Origin debuts globally on the YouTube Premium streaming service at 5pm today and Hyams is expecting significant results.
"It's going to work very well from Hogwarts to Westeros," he says, tipping his hat to those who follow leads Tena and Felton from their previous high-profile roles.
"Geographically, there is something for everybody and we will reach those who love sci-fi . This is one of our bigger bets but it made sense to invest in a high-class story that felt really international."
FILMING IN LOW LIGHT AND 8K WITH RED HELIUM
David Higgs - cinematographer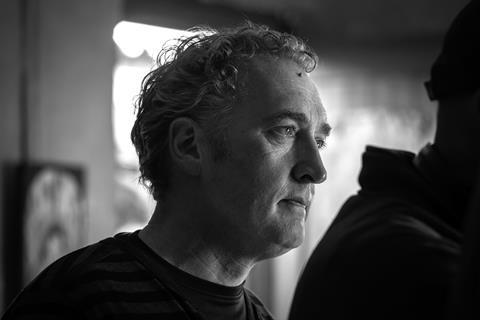 The amazing sets designed by Ed Thomas are primarily black and highly reflective. The control room, at a whopping 408 sq m, looks out onto deep space through a two-story picture window. This was shot in camera using a 300 sq m projection screen that was so big that it had to be shipped over.
We had to plan for relatively low light levels from the front projection, along with my lighting plan that built five and a half kilometres of interactive LED into the sets.
Inspirational director Paul WS Anderson had previously shot on the Red in 8K and was keen to use it again.
8K SHOOT
Nobody asks for more resolution until they have it. With 8K allied with Leica Summilux lenses, we could shoot with higher compression and minimise any grain issues. The small form factor of the Red Helium was of real benefit in being able to move fast and getting the camera where we needed it to be.
One way of looking at 8K on the Red Helium is that it's another 'wrapper' for the data that gives flexibility on set and down the line. The file sizes are very similar to shooting Arri RAW.