How Gentleman Jack took care of actors in its sex scenes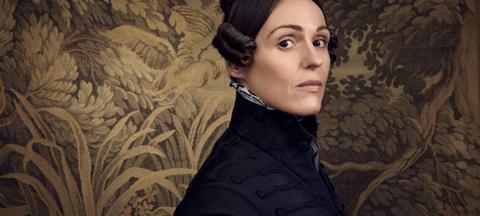 The growing use of intimacy directors in the industry is a sign of progress, according to Gentleman Jack executive producer Faith Penhale.
Talking at a screening of Sally Wainwright's BBC1 period drama last week, Penhale said the #metoo movement had led to the creation of a role in an area of drama that had previously been overlooked.
"We were all very conscious going into this that a huge part of Anne Lister's life was her sex life," said Penhale. "She was very sexually active, and she loved having sex with other women. In all areas of drama, you need to consider how you are going to take care of people playing this out for us."
Penhale said working with intimacy director Ita O'Brien was "terrific" and said seeing her in action was a really interesting process.
"O'Brien worked very closely with Sally and the cast, including Suranne Jones and Sophie Rundle. We had lots of conversations that I do not think we would have had otherwise," said Penhale.
It was Gentleman Jack creator, writer and director Wainwright who originally called for an intimacy director after hearing O'Brien on Radio 4.
"I had never directed a sex scene before and I thought it was important to do these scenes responsibly," said Wainwright. "If female directors cannot do it responsibly, then who else can?"
Doctor Foster star Jones, who plays the Yorkshire-born landowner, diarist and mountaineer Lister in the Lookout Point production, said the scenes were 'beautifully done'.
"It showed how important a look could be," said Jones. "Instead of using gratuitous scenes, subtle looks and movements could portray the intimacy between Lister and her lover Ann Walker."
Rundell, who played Walker, said having O'Brien on board enabled the predominantly female cast to have open discussions about their real-life sexual experiences, the good and the bad.
"We spoke a lot in rehearsals so when it came to filming we felt comfortable enough to say this works for us and this doesn't," said Rundell. "That's really quite a rare thing unfortunately but it felt really important for this piece."
Wainwright said the BBC1/HBO series was authentic to the diaries of Lister, who is often referred to as 'the first modern day lesbian' for her clear self-knowledge and open lesbian lifestyle.
"Sometimes I had to put the diaries down as there is so much information in there and the hardest part was to decide what not to put in," said Wainwright. "Lister wrote 27 volumes with about 300 pages in each, one sixth of which is written in code. There are only a handful of people who have read all four million words."
The first episode of Gentleman Jack airs on BBC1 on Sunday 19 May at 9pm.