Andrea Levy's powerful novel was crying out for dramatisation, but it us took seven years to get the story on screen says Rosie Alison
Production company Heyday Television
Commissioner Piers Wenger; Ben Irving; Charlotte Moore
Length 3 x 60 minutes
TX 9pm, Tuesday 18 December, BBC1
Executive producers David Heyman; Rosie Alison; Ben Irving; Andrea Levy; Sarah Williams
Director Mahalia Belo
Producer Roopesh Parekh
Writer Sarah Williams
Post houses The Look (picture); Lipsync (sound); Technicolor, Lexhag (VFX)
It is satisfying to see The Long Song finally hit TV screens after seven years in the making. It was in 2011 that David Heyman and I first optioned Andrea Levy's book. Passionate, powerful and unpredict able, this story of British slavery cried out for dramatisation.
Our first step was to find an adaptor capable of capturing the story's emotional scope and defiant wit.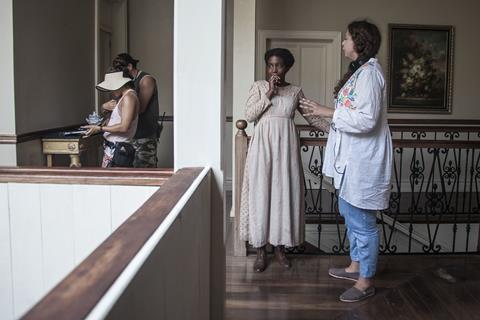 Our chosen writer, Sarah Williams, has been on a long journey with us, from the project's first incarnation as a film script at Film 4 in 2011 to its final form as a three-part BBC1 drama commissioned by Piers Wenger, Ben Irving and Charlotte Moore.
Along the way, Heyday Films formed a tele vision partnership with NBC Universal, where Tom Coan championed the project, before the BBC and NBCU International Studios came together to finance it last year.
We needed a visionary director who could evoke something of our key references – The Piano and Days Of Heaven – but who could also capture the unexpected wit of the scripts without diminishing the slave experience.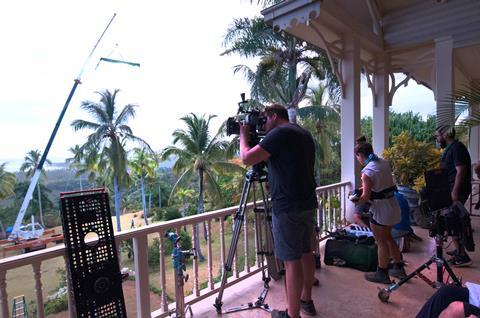 I had seen Ellen, Mahalia Belo's engrossing 2016 film for Channel 4, and I sensed that her directorial gifts would be perfect for The Long Song. I gave Mahalia the book, which she adored, but her availability was uncertain.
In the meantime, we put together our key crew. This began with our production designer Stevie Herbert. Her ability to create period worlds with limited resources in an international setting was inspiring, right from the start.
Our key team was completed with producer Roopesh Parekh – a veteran of Poldark, who came with a confidence in complex period location shooting.
In an ideal world, we would have filmed in Jamaica, where the book is set. But without a tax credit, that was beyond our means.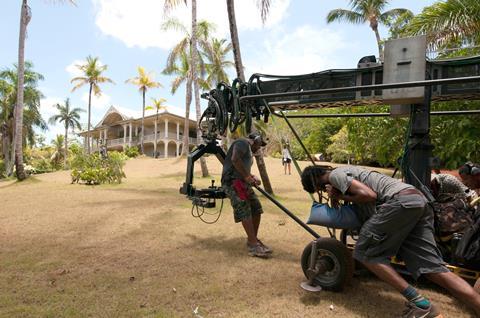 Alongside tropical vegetation and cane fields, we needed a convincing plantation house. We looked at photographs from places as far afield as South Africa and Mauritius with no joy, until finally we saw an image of Peninsula House, set on a hillside in the Dominican Republic.
That, along with the presence of Pinewood Studios, a tax credit, local crew infra structure and timeless landscapes, clinched it for the Caribbean island.
While Roopesh and Stevie sourced locations and crew through autumn 2017, we received confirmation of Mahalia's availability. She brought with her director of photography Chloë Thomson.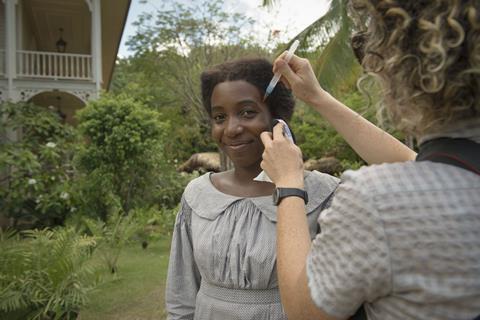 Led by Roopesh, our crack UK team also included Mark Taylor (first AD), Charlotte Holdich (costume designer), Jody Williams (hair and make-up designer), David McMillan (sound) and Rob Hart (Steadicam).
The 19 UK crew collaborated with a keen local Dominican Republic crew of 180, bonding over drinks on Friday nights.
Keeping down escalating production costs in another country can be nerve-wracking but Charlotte Bloxham, head of production at NBCU, brought in seasoned line producer Charles Salmon, who was able to wrangle a viable local budget.
The first block of filming was at Peninsula House, which Stevie and her team had three weeks to distress and prepare – and five days to restore after the shoot.
It offered 360-degree views uninterrupted by modern life and was the cornerstone of the schedule, although several interiors were built and filmed at Pinewood Studios on the island.
One challenge for Stevie and her team was to construct a slave village. It was built in a workshop in three weeks and took four days to put up – and was then burned down and ransacked in a day. We needed burning cane fields to evoke the slave uprising, but it was too dangerous to set a field alight.
So we constructed a large grid of sugar cane plants on the studio backlot and set fire to that.
Fierce commitment
It sounds glamorous working in the Caribbean, but for the cast and crew, filming in full costume under the 40°C midday sun, it was a challenging and punishing shoot.
This project inspired fierce commitment from everyone involved. I'm particularly proud of two aspects of production: the high ratio of key female crew (writer, director, DoP, production designer, costume designer, hair and make-up designer, casting director and many ADs) and the opportunity for diverse casting, with a host of exciting new faces in key roles.
And I'm relieved to report that the final drama has exceeded everyone's hopes.
FINDING A VISUAL LANGUAGE
Mahalia Belo, director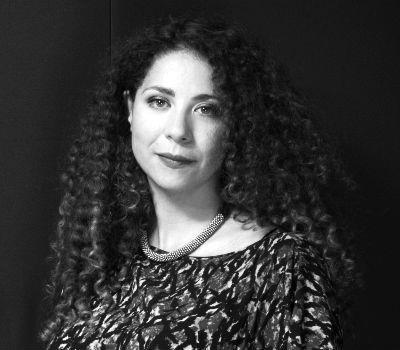 One of the most important parts of bringing this adaptation to the screen was finding a visual language that reflected the defiant and witty tone of Andrea Levy's novel.
Cinematographer Chloë Thomson and I like to define the tone in the first scene, so the opening tracks and pans along the frivolous belongings of Caroline, a wealthy white plantation owner, making it feel like it's her world we occupy, only to upend this idea by jibbing quickly away to the true centre of our story: July, an enslaved woman who serves her.
This reframing of perspective was in line with the tone of the narrator, Old July. Her voice and world-view lends the camera its moves, with shots by Steadicam op Rob Hart taking us seamlessly from one emotion or memory to the next, and crane shots allowing an omnipresence and overview only available to the story's author.
It was a type of construct that I would normally be nervous of using on TV, but with the dramatic nature of the story and the importance of keeping Old July present, it felt right.
As it was a period piece, we had a lot of candlelit scenes. We didn't want them to feel 'lit', so instead of keying with film fixtures, Chloë chose to supplement double-wicked practical candles with wooden three-walled boxes, lined with reflective, flame-resistant silver and filled with candles stuck on spikes.
This set-up gave us a gorgeous, warm, natural-looking light.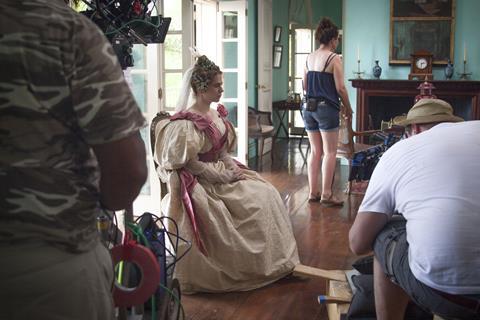 We reserved handheld work for moments of intimacy, love, physical horror, and visceral action. I wanted to improvise these scenes with the actors and this, combined with the handheld, served to keep the material on its toes.
It also ensured that a prescriptive camera language wouldn't dominate the performances in these important scenes.