We were determined to capture the bloody horror of the Battle of Waterloo in this period drama for people who hate the genre, says James Strong
Production company Mammoth Screen
Commissioners Victoria Fea; Polly Hill
Length 7 x 60 minutes
TX 2 September, ITV
Executive producers Damien Timmer; Gwyneth Hughes; James Strong; Tom Mullens
Director James Strong
Producer Julia Stannard
Writer Gwyneth Hughes
Post house Technicolor
Vanity Fair, which tells the story of Becky Sharp's quest to rise through the ranks of society despite her low-class background, is one of the most-loved and critically acclaimed British novels of all time.
The challenge for me as the director was to adapt this Victorian classic in a new and original way, accessible to a modern, mass audience.
I wanted to make a period drama, for people – like me – who don't normally like period drama. Too often it can have a reverential quality that permeates both actors' performances and the camera work, which makes the stories hard to relate to.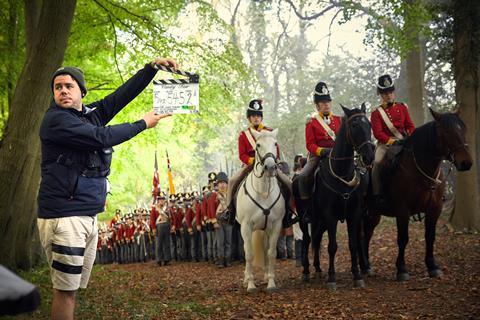 For me, this Vanity Fair had to feel relevant and contemporary. This begins with casting: we strove to find actors that could embrace the eccentricities and madness of the story but still deliver grounded and relatable performances.
As it is very much a London story, we strove to shoot as much as we could on location in the capital. The huge spread of the novel meant people were constantly moving between different sets and locations, and it was thanks to our brilliant location manager Ben Mangham and production designer Anna Pritchard that we able to deliver such scale and beauty.
It also meant close collaboration with our VFX team to add what was missing at each location.
For the shooting style, I wanted a beautiful reality with huge scale and production values but still intimate and performance-focused. The story jumps from the wide vista of a battlefield with tens of thousands of men to a character alone in their bedroom. Both are equally important.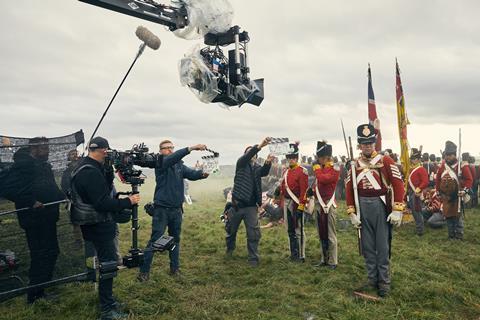 Ed Rutherford, our director of photography, and I developed a visual style that was bold and dynamic but always authentic. We chose a range of lenses to show the scale of our sets, but then added zooms to draw the viewer's eye to the significant emotional elements.
I worked closely with the costume and design department to develop characterful colour palettes. The soft pastels and warm welcome of the Sedley house contrasts with the dark, forbidding chill of the Osbornes.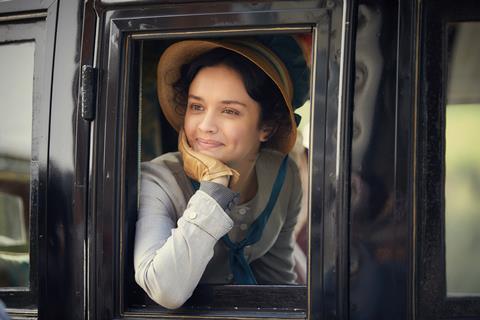 The sheer scale of the shoot meant we had to move through a huge range of locations and cross-schedule episodes constantly. It meant we were never in one place for long – and this, compounded by tricky talent availabilities and unpredictable weather, meant my first AD, Liam Lockspeiser, was one of the most important members of the crew.
As well as my right-hand man/psychiatrist/life-support mechanism, he singlehandedly masterminded the intricate complexities of this enormous endeavor. The centrepiece of this adaptation of Thackeray's novel is the Battle of Waterloo.
Despite the battle only being mentioned briefly, its events dictate the rest of the story. Thus we were determined to portray it and really try to show the bloody, terrifying horror of the battle.
Boot camp
I wanted to surround our characters with real elements where possible, to give some sense of what it must have been like. To that end, advice from historical and military sources ensured our actors and supporting artists looked and behaved exactly as soldiers of the time would have done.
Our supporting artists went through a rigorous boot camp in the week prior to arriving on set and then surrounded our actors on the shoot. This helped us ensure their reactions were as real as possible once the cannons started fi ring. The final stage was the editing.
James Strong - My tricks of the trade
Have an amazing, watertight schedule and a brilliant first AD who knows how to deliver it.
Shoot in summer, not in winter like we did. Boy, did we suffer.
Own a really good set of Merino wool thermals and waterproofs to ensure you can physically survive endless cold, drafty houses and exteriors.
Employ a brilliant cast. It goes without saying that the job is easier with nice actors that don't mind standing in the cold wearing nothing but period clothing.
Always have a dog-eared copy of your source material on standby.
Here we could bring the most radical and modern elements to the show, cutting with the pace and attack of a contemporary drama and with the use of music (a score by Isobel Waller-Bridge and commercial tracks). This perhaps may ruffle a few purists' feathers – but, as I said, this is a period drama for people who hate period drama.
Vanity Fair was an enormous production from start to finish. It was exhausting, exhilarating, difficult and delightful in equal measure.
As a director, it was the ultimate gift, and I hope the audience feels the same way. With the best cast and crew one could wish for, I went all out to deliver what I truly hope will be seen as the definitive adaptation of the story for many years to come.
TRAINING THE TROOPS
Paul Biddiss, military technical adviser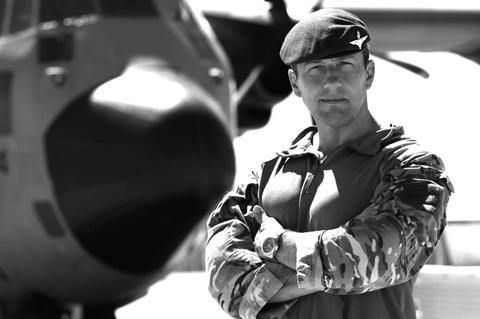 Training extras for Vanity Fair had to be much more rigorous than the Napoleonic epic War And Peace, on which I'd previously worked. The British Army had a reputation for harsh discipline, so drill and marching in formation was a priority.
Initially, I made sure each soldier was assigned the correct rank for his age. Then I would take 10 guys and teach them a basic drill movement with a musket using an 1805 manual, asking the extras to shout out the time to each movement of the weapon.
On their first day of shooting, we started by getting them into a company formation, which was then split into platoons as this would instill a competitive spirit.
The key equipment used by a soldier at the Battle of Waterloo was then introduced to them and they were taught how to correctly wear the kit.
I would send one platoon to learn to correctly load and fi re a real musket and rotate each team during the day, so every man was safe and competent to shoot. The others would practice new musket drill movements and basic foot drill. By the end of the first day, all the men were performing the movements in perfect time.
In between these lessons, I explained how to look the part of a soldier potentially going to his death. There is no point investing so much in training extras if they are smiling during a major battle. Each platoon was required to 'pass off the square' so they could move on to more advanced battle formations.
On the final day, I introduced some Napoleonic re-enactors. They were impressed with how quickly the men had learned the drill. We had created a well-oiled army for James to direct – the Duke of Wellington himself would have been proud.