Beleagured sports streamer loses top-flight Italian football after cutting ties with IMG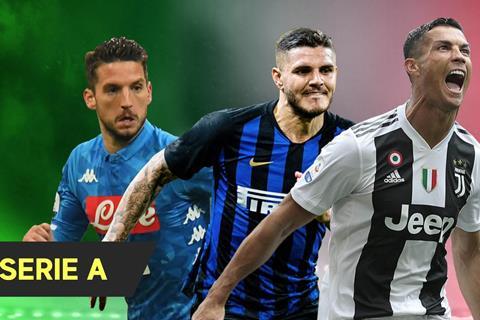 Sports streamer Eleven Sports has handed over the rights to live Serie A games in the UK and Ireland to Premier Sports after ending its licensing partnership with IMG.
In addition to the top-flight Italian matches, the Dutch Eredivisie will also no longer be available on Eleven Sports from the end of February.
The loss of Serie A rights is the latest in a series of blows for Eleven Sports' ambitions in the UK. In December, BT took back control of UK rights for the Ultimate Fighting Championship (UFC) from Eleven.
However, Eleven will continue to show live and exclusive coverage of Spain's LaLiga in the UK and Ireland until the end of the season, with the intention of continuing beyond.
Premier Sports has secured the rights to Italy's Serie A from February 2019 and will air a minimum of six games per round until the end of the 2020/21 season.
Premier has struck what it calls "a cooperative agreement" in which Eleven will continue to broadcast Serie A content non-exclusively in the UK until the 25th of February to minimise disruption for fans. Coverage switches exclusively to Premier Sports from 1 March.
In a statement confirming the move, Eleven Sports said: "Regrettably, some content including Serie A and Eredivisie, will no longer be available to our subscribers in the UK and Ireland from the end of February. This follows the strategic decision we have taken to amicably end our partnership with IMG, the agency that manages these rights."
Eleven said it would decrease the price of an Eleven Sports Monthly Pass for existing and new subscribers to £4.99 (€5.99 in Rep of Ireland) from 1 March.
For daily broadcast sports stories, covering sport production, distribution and tech innovation, visit Broadcast Sport and bookmark the Broadcast Sport homepage, http://www.broadcastnow.co.uk/sport
"We are delighted to have signed a new partnership agreement with Premier Sports to broadcast the Serie A TIM in the UK and Ireland until the end of the 2020/2021 season," said Lega Serie A chief executive Marco Brunelli.
Premier Sports chief executive Richard Sweeney said: "This addition adds tremendous value for our customers who already enjoy top Rugby Union, Scottish football and American sports. We look forward to announcing more content in the coming weeks as we continue to grow Premier Sports into a major pay TV operator in the UK and Ireland."
Premier Sports was founded in 2009 and operates three sports TV channels in the UK. Premier Sports 1 and Premier Sports 2 are on Sky and Virgin, while FreeSports is available free on Sky, Virgin Media, Freeview, BT and Freesat Channel.
Premier Sports 1 and 2 are available on a subscription basis for £9.99 per month on Sky and on the Premier Sports player.
Premier Sports also shows all 152 games from the Guinness PRO14, 15 games a week from the NHL, GAA and is the home of NASCAR in the UK.