How BBC1's autumnal bonnet buster Emma became the first drama to take advantage of Kodak and Ascent 142's reinvention of 2perf, plus details on the grade, effects and audio work.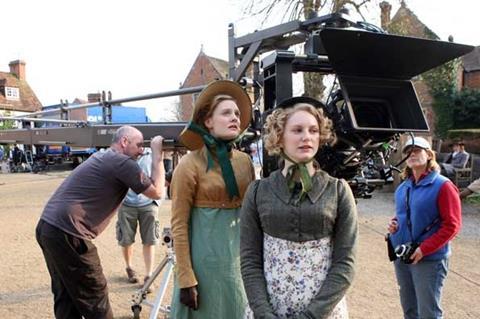 Ascent 142 completed the full post on BBC1's latest adaptation of the Jane Austen classic Emma, including rushes, picture post, grade and audio.
Billed as a fresh, humorous take on the tale of an early nineteenth century societal matchmaker, the 4 x minute serial boasts a feature film cast that includes Romola Garai (Atonement) as Emma and Trainspotting's Jonny Lee Miller as Mr Knightly.
The producers were keen to shoot the adaption – the first serial of Emma to air since the seventies – on film. However, because broadcasters are dealing increasingly with HD and are looking to standardise production formats, there have been fewer options for productions to use film stock.
To this end the work on Emma started way before the cameras started rolling – taking the form of a campaign to ensure that BBC producers and suppliers of TV drama could use 35mm film stock as a delivery format.
Senior vice president of business David Barrett explains: "Because we have film labs we've traditionally always been involved in film as a source - particularly in TV - and we took up the challenge laid down by the BBC [which had specified that] film was not suitable for TV due to its grain structure in HD compression channels.
"Our solution was to run a scheme in conjunction with Kodak offering up competitive rates for film processing and rushes at the same cost as Super 16."
Additionally, Ascent engaged the BBC in a series of tests to demonstrate how 2perf 35mm film stock was an acceptable format for TV channel and put together a power point explaining why the extra size of image would benefit the grain structure of film.
By July last year the broadcaster had accommodated 2 and 3 perf 35mm into its spec and by autumn 2008 the BBC's flagship drama serial Tess of the D'Urbervilles took advantage of Ascent's 3 perf scheme.
Now Emma has become the first production to take advantage of the even cheaper 2 perf offer. Emma producer George Ormond explains:
"We were working to a tighter budget than we would have been three years ago but we were still really keen to use film. It was Ascent that first suggested that you could deliver on HD using 2 perf and this definitely influenced our choice of post house."
According to Ormond the facility also shared the production team's creative vision for the series.
"We wanted Emma to look colourful and vibrant without appearing unsophisticated or too 'chocolate box' twee. We needed a certain amount of skill and subtlety to achieve this and our DoP [Adam Suschitzky] and our director [Jim O'Hanlon] were keen to work with [Ascent 142 senior colourist] Jet [Omoshebi] again."
A modern take on period drama
According to Omoshebi her brief was "not to hark back to the past but to provide a modern take on the traditional costume drama by strengthening the contrasts and the colours and keeping it modern in terms of texture."
She adds "It was nice to be able to make a drama on 35mm – it gives you much more creative leverage in terms of sharpness of depth and depth of field. You haven't got anywhere near the amount of grain so you are able to push and stretch things out in telecine much more."
For Omoshebi using 2 perf film stock on a TV drama is a relatively new way of working and she likens the workflow involved as more akin to that of DI on a feature film.
"I graded from a conformed programme through Da Vinci 2K to produce an HD SR master," she says. "This meant we could grade using practically the finished programme with effects and sound added - which was a great experience for the DoP and director in terms of the creative choices they could make. You are also not cutting the negative so it is not being handled or damaged in any way."
Getting Regent
While the drama was set in Regency England it was filmed almost entirely around the busy modern hub within the M25 motorway and consequently required over 100 VFX shots per episode - many of which involved the removal of TV aerials, wires, planes and telephone cables.
Ascent 142 editor Simon Brook went on location to take pictures of various buildings and Kent villages to remove artefacts early on in post. One job included digitally replacing TV aerials with trees on a whole row of houses in the village of Chilham, near Canterbury.
As the drama passes through all seasons another big job was changing shots from winter to spring and from summer to autumn. Brook achieved this by using a library of shots which included images of trees taken at different times of year and replacing the appropriate ones in the picture using his Avid DS Nitris.
And, thanks to a plentiful fall of snow back in February, the production wasted no time in capturing some snow-capped establishing shots of the main locations and buildings, which were later composited into the final mix.
Sounds like traffic
Over in the sound department the team was kept busy with Automated Dialogue Replacement (ADR), sound effects and track laying. According to head of audio David Old – who had previously worked with Emma director Jim O'Hanlon on last year's critically acclaimed House of Saddam - the main challenge was "Noisy costumes, big rooms in grand houses that don't allow for boom mics and the background hum of traffic."
It meant that about 80% of the audio work on Emma was dialogue replacement – which can be a hard task once the actors have all dispersed from the shoot and your male lead is in New York while your lead actress is in South Africa.
"ISDN lines now enable the director to see the actors in real time," says Old. "And this is a good way of working provided they can source decent sound booths locally - which is the only way we could finish the ADR."
Adding Samuel Sim's 50-piece orchestral score to the mix was equally crucial as much of the humour in the piece is underlined by the music. "This is not a stuffy costume drama, " explains Old "There is lots of interplay between Emma and Mr Knightly and the music often picks up on this playful scoring."
According to Emma post producer Alice Greenland the entire post process was turned around in just 15 weeks and many jobs were worked on simultaneously.
"We all had to work together on the mixing, grading and picture post at the same time. Every day the director moves between different departments but luckily everybody is within 100 yards of each other so it's easy to shuffle and get things done. "
Emma starts on Sunday 4 October at 9pm on BBC1.