Amid a tumultuous fortnight in politics, and with the European elections highlighting the government's continuing woes, it's timely that the European Parliament has been engaging online with voters.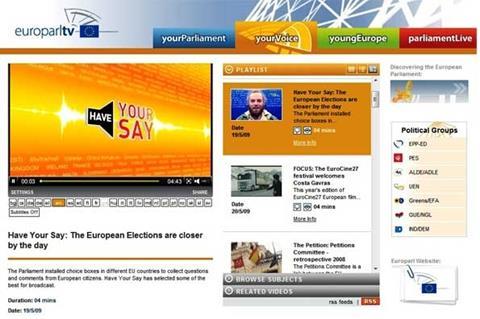 EuroparlTV
Production company Twofour Digital
Commissioner European Parliament
URL europarltv.europa.eu
It has used MediaFreedom, a web delivery and publishing system devised by Twofour Digital, to build a video-rich site featuring debate and background information on candidates.
The site is divided into four sections, including a main 'Europe 2009' area that streamed the results live on Sunday and has subsequently hosted the latest news reports, reactions and press conferences.
Each event is broadcast in three different qualities to allow access by as many people as possible, and it broadcasts in more than 20 EU languages. The site also includes YourParliament, which offers an overview of the issues at hand; YourVoice, which features vox pops, celebrity opinions and personal stories; and YoungEurope, which has advice for young people on subjects from internet censorship to video game violence.
Twofour is also carrying out a social networking campaign aimed at getting young people involved in the European Union. The MediaFreedom platform is designed to work on mobile phones and IPTV-enabled set-top boxes as well as the web, and has also been used by the Football Association and UK Parliament.