Whitehouse and Mortimer pin hopes of success on fishing and chat for BBC2 'reality' series
From BBC4's offbeat 2003 chat format Rich Hall's Fishing Show to Dara O Briain, Rory McGrath and Griff Rhys Jones clowning around in BBC2's Three Men In A Boat a decade ago, positing middle-aged men around open water seems irresistible to commissioners.
BBC2's Mortimer & Whitehouse: Gone Fishing distils this to its purest form yet: unscripted and essentially static beyond boat, river bank and each episode's al fresco cooking/sleeping arrangement.
Executive producer Lisa Clark is used to the "organised chaos" of Mortimer's work with Vic Reeves. Yet having mastered the pair's curious takes on the variety show, panel game and sitcom, she professed that dispatching Bob and lifelong pal Paul Whitehouse for 12 days in the countryside carried its own unique risk.
"It's scary to do a series with no script and no jeopardy apart from 'are they going to catch a fish?'," she said.
Gone Fishing's roots lay in angling enthusiast Whitehouse persuading Mortimer to pick up a rod to help with his recovery following a heart operation. As a factual commission with a doc crew, produced by the duo's Greenbird- backed start-up Owl Power, comedy was only ever going to be one weapon in their arsenal.
Self-confessed Teen Mom fan Mortimer said it is a reality show, pure and simple. "We'd done four or five trips together and the idea was that this show would be exactly what it would have been like had we filmed those," he said.
"I've never done something that could either be more ignored or more appreciated. I quite like that."
Bob Mortimer
"If Gone Fishing was to be worth anything, it couldn't be prepared and nothing should be laid down. Each programme started on the day we arrived at the river. That could only happen because I've known Paul and Lisa so long.
"It's liberating to do a show that doesn't set out to be a comedy. I've never done something that could either be more ignored or more appreciated. I quite like that."
Providing a steady hand was producer Nicky Waltham, who has worked on Billy Connolly's travelogues and on Sky 1's comic doc 50 Ways to Kill Your Mammy.
It ws her decision not to use voiceover or exposition, a move Whitehouse said "really allowed it to breathe".
Waltham said: "I'm chuffed it's worked so well. It's delivered a quiet place viewers can go to spend quality time with two brilliant men, who reveal more about themselves than you'd imagine - whilst delivering killer comedy and take home tips about landing the perfect catch."
Moving to a new location in each episode, with a new breed of fish in the duo's sights, two cameras follow the pair over two days, with drones capturing scenic views.
"The crew had a back seat as we had to follow the reality," said Clark. "It wasn't set up where they sat or stood, or where to film."
As a result, she said, their enthusiasm for the hunt is genuine, not least when they catch a giant sea bass off the Isle of Wight in episode five.
"I said, 'you've been going round and round the Needles, you're all feeling ill, you've got one last chance'," Clark recalled. "You can see the real joy in their faces when it's captured in that last available moment. I really hope that comes across."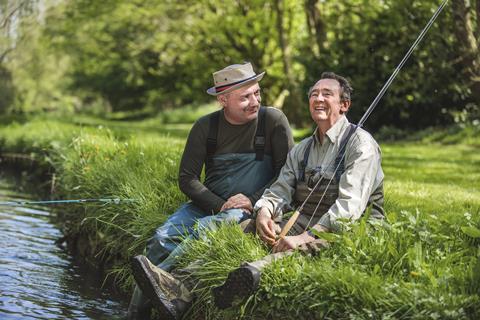 Avoiding contrivance was the mantra throughout. Comparisons with The Trip are inevitable – whether to include Whitehouse's Michael Caine impression appears to have been one of the most contentious decisions – but there is no playing exaggerated versions of themselves here.
Indeed, Whitehouse admitted he did not make it easy for the crew to assemble workable material all the time. "Fishing is my escape, so I shut down and focused on that," he said.
"Bob would try to engage me in conversations about heart disease, or fall over and do a funny run, and I'd say nothing."
Through previous scripted series Help and Nurse, Whitehouse has consciously injected serious topics into his comedy. Following Mortimer's brush with death, the subject of mortality is never far from the surface in his latest outing, not least in one remarkably candid moment when he shows Whitehouse his operation scars.
"Nothing was off limits – I didn't know Bob was going to lift up his shirt, so the reaction you see is genuine."
Paul Whitehouse
"I'm really proud to think that viewers might come for the comedy and then think about some of the important things, without being beaten around the head about it," Whitehouse said. "Nothing was off limits – I didn't know Bob was going to lift up his shirt, so the reaction you see is genuine."
Despite the personal nature of much of their discussions, the pair stayed out of the cutting room. "We'd be the very worst judges of what to keep in, as our instincts are a bit comedic," said Mortimer.
"When we were being serious, we'd sit there thinking, 'they'll never use this'. When we did something funny, we'd think, 'ah, we've got something in the bag'. But the truth is that they've kept in a lot of the bits where it's just old codgers talking."
By comparison, Vic & Bob's Big Night Out, which Mortimer and Clark start filming next week, is "like putting on a comfy pair of slippers", said Mortimer.
"I'll still shit myself, but I kind of know what I'm doing and am pouring more of myself into it. Whereas with Gone Fishing, I'm keen to see how it rates – and that includes people not being interested. I'm prepared for that."
Mortimer & Whitehouse: Gone Fishing starts on BBC2 at 10pm on Wednesday 20 June