With fast-paced editing and a dramatic visual style, Quest's new 'resto-mod' format opens the genre to a younger, hipper audience, says Benjamin Hirsch
Production company Endemol Shine North
Commissioner Ed Sayer
Length 6 x 45 minutes
TX Thursdays, 9pm from 11 January, Quest
Executive producers Victoria Noble (Discovery); Rick Murray (Endemol Shine North)
Series producer Michael Wood
Series director Benjamin Hirsch
Producer/director Nick Avery
Assistant producer Charlie Graham
Summary Named after a bygone engineering outfit from the 1940s, Goblin Works Garage features three experts who build stunning custom cars and bikes.
There are a lot of car restoration shows, and even more customisation shows, but what happens when you cross the two? That was the question posed by Goblin Works Garage, a six-part 'resto-mod' car and bike series that will appeal to the hordes of petrolheads, and hopefully open the genre to an entirely new, younger, hipper audience.
How did it go? Well, I'm glad to say nobody died (not even the 94-year-old granny we took drag racing) and thanks to some big decisions we made early on, the series came out of the grade looking like no other car show I've ever seen.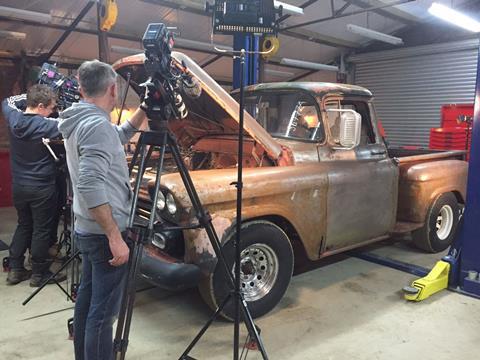 Our aim from the outset was to make something unique, a mantra that ran right through the production, from the vehicles to the production techniques. Our goal was to produce something that felt observational, but with a dramatic visual language of multiple angles and low depth-of-field camera work.
The first challenge was finding the right filming location – we settled on an empty (and roofless) workshop in the middle of the Cambridgeshire countryside.
The presenters would be very hands-on, doing much of the work on the cars themselves, so it was important that the space was a fully functioning garage first, and a TV studio (with a soundproof roof) second. We gave the engineers-turned-presenters free rein to design their own working space.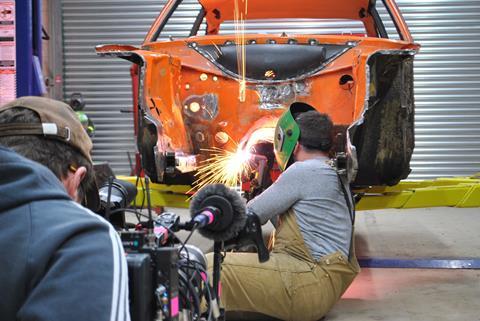 Engineering genius Jimmy de Ville, one of the show's three car experts, is no stranger to our screens, having graced Quest's Engine Addict with his trademark 'lamb chop' beard and mad ideas.
But his partners in crime were complete newbies. We found bike builder, unintentional comedian and tattoo addict Ant Partridge gracing the bars of Marbella, having sold his business and looking for the next big challenge.
Helen Stanley already had a name on the burgeoning resto-mod scene and lit up the screen when we tested her.
Realistic lighting
Getting the lighting right was hugely important. Rather than rigging studio lamps, we wanted lighting in keeping with a real workshop. Inspired by the workshop scenes in the film Drive, we fitted 35 independently switchable fluorescent lamps, which gave us beautiful white linear reflections on the bodies of the vehicles.
We used tungsten filament bulbs positioned around the workshop for effects. Handheld working lamps allowed the presenters to interact with the lighting in a realistic way around the cars, while giving our camera operators a source of foreground light to shoot through.
This blue and orange colour palette was something that we carried through into the final grade.
We treated many of the scenes like a drama: shooting multiple takes of the same dialogue, often with each of the two cameras shooting up to three different angles.
Although this sometimes felt relentless to the new presenting talent, it enabled us to be creative with the angles and gave us the best possible coverage. It also allowed for a fast-paced editing style with plenty of variety.
By keeping the crew small – just one director and two camera operators – we were able to keep down costs and put more of the budget into the builds.
Hiring editors with a strong storytelling ability did away with the need for edit producers.
Benjamin Hirsch - My tricks of the trade
Share your work - Long days and multiple takes can sometimes feel relentless, but keep showing rough cuts to your talent and your production crew. They'll soon understand and appreciate how the extra time translates to a quality on-screen product.
Spend the extra time - Schedules are often tight on this kind of show. But it's always worth spending the time to get that one extra take or another angle. It will prove hugely beneficial in the edit.
Roll with the punches - Things don't always go to plan, but it's all about how you deal with the issues and make them part of the story.
Have fun - The one thing that is going to get you through the long, cold filming days is having a great relationship with your team.
What we have ended up with is an action-packed, super-stylish, standout motoring show with on-screen talent that come across like they've known each other for ages.
But despite all the planning, when you are working with cars, problems are unavoidable. The first location shoot took place in late November.
We were set to test drive our first car – a MKII Ford Escort – around a wet and muddy quarry, to establish what work would need to be done to turn it into a rally car.
The car had been checked by our team of expert mechanics and was mechanically sound, but no work had been done on it, making it tricky to drive. The driving conditions were poor and it was Helen's first time on camera behind the wheel.
If there's one rule when it comes to making car shows, it's that if things can go wrong, they will – and so it turned out when Helen drove our precious classic Escort into a boulder.
Fortunately, all the necessary safety precautions were in place. Although we faced the additional cost of repairing the car, it made for a truly unpredict able scene, one of the most memorable of the series, and gave the episode a strong narrative.
WORKING WITH FIRST-TIME PRESENTERS
Nick Avery - producer/director
Working with three presenters is always a challenge, but when two of them are new to the job, your hand is forced as to how best to shoot a reality car building show.
To make sure the talent weren't overwhelmed, we had a two-man crew, with no separate sound recordist. The three channels of audio had to be split between two Sony FS7 cameras.
Throw on a Terradek and very soon you have a lot of extra kit hanging off the camera, so it was important before we started shooting that we spent time getting the camera rigs right.
Although GoPros are fantastic for in-car footage and quick to install, we wanted to get away from the specific look that they give you. With one eye on keeping kit spend to a minimum, we opted to use lenses we already had for the main cameras and pair them with the Sony A7S.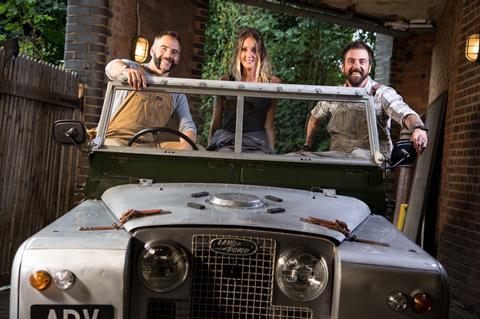 It is a great camera but is not quick to rig, especially when you are trying to squeeze two of them into a small car.
On-board sound was recorded separately onto a four-channel mixer, which gave us the fl exibility to get great engine sound from the car, as well as capturing our presenters' voices.
EASING THE POST PROCESS
Key to the success of this type of shoot is making post-production as easy as possible. With the multicamera set-up and mix of formats, it was crucial to be organised and rigorous, making sure everything was synced up correctly.
Slating each shot was too timeconsuming, and jamming via BNC was ruled out as that's not possible for the A7S. Instead, we used Tentacle Sync devices, which not only kept the cameras locked together, but laid down a timecode as an audio track on the A7S and the mixer.
It obviously worked well as at the wrap party, the editors were still talking to us.