Taking historian Dan Cruickshank and legendary photographer Don McCullin to Syria to witness the destruction wrought by Islamic State, safety was our priority, says Adrian Sibley
Production companies Bright Yellow Films; Oxford Films
Commissioner Mark Bell
Length 1 x 60 minutes
TX 9pm, 7 May, BBC4
Executive producers Sam Hobkinson; Nicolas Kent
Producer/director Adrian Sibley
Editor Rick Alpin
Director of production Annabel Lee
Line producer Rachel Shadick
Post house Envy
When Dan Cruickshank told me that he wanted to travel with legendary photo journalist Don McCullin to the ancient ruins of Palmyra, where so-called Islamic State had inflicted much damage, I thought it would make for a fascinating film.
We would be able to show what had really happened there and Dan could ascertain what could be done to resurrect the ruins, while Don would be the ideal photographer to capture the aftermath.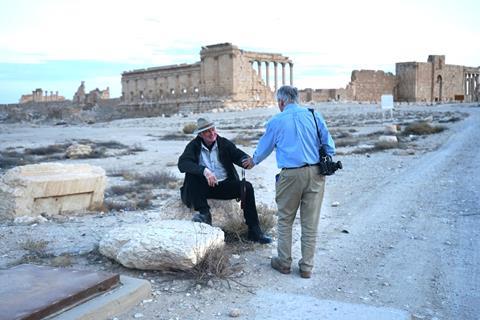 BBC Arts commissioner Mark Bell was enthusiastic about the pairing, but we knew filming a documentary in Syria would not be easy. Although IS was on the back foot, it had executed journalists and we had to examine the risks we were taking in detail.
I was fortunate to be able to draw on the experience of my partner at Bright Yellow Films, Sam Hobkinson, who had worked with Dan in Afghanistan and Iraq for the BBC, and also the experience of our co-producer Oxford Films, which had made the powerful A&E In The War Zone for Channel 4.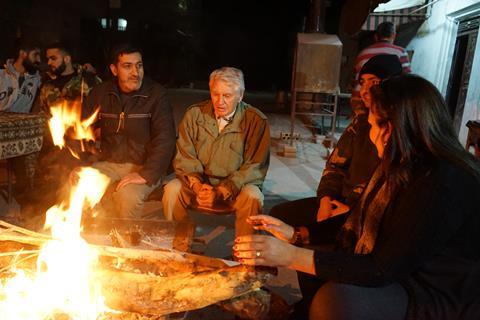 Dan and I went for hostile-environment and first-aid training run by our security advisers. Safety had to be paramount when travelling through a country that has endured seven years of civil war, foreign interference and the brutal onslaughts of IS.
We tried to make plans for every eventuality. It was agreed we would always keep to the route – Damascus, Homs, Krak de Chevaliers and finally Palmyra – and never travel at night. I worked with our Syrian producer Lana Antaki on logistics and setting up interviews with Syrians affected by the cultural terrorism in Palmyra.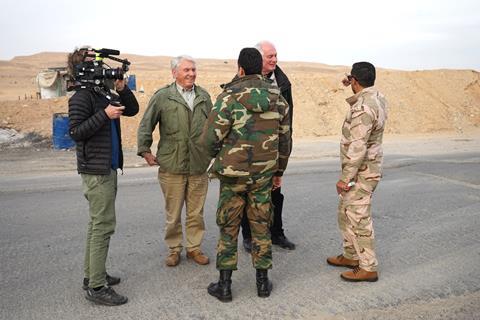 We also had to consider that Don is 82 years old and has had heart problems. With no working hospitals in or around Palmyra, we decided to take a paramedic. This added to the cost and squeezed our already tight budget, but Mark helped make it happen.
To shoot in Syria, one has to get official approval from Bashar al-Assad's regime or you will not be able to set foot in the country. Two months after applying, our visas were issued by the Ministry of Information and we were ready to go.
In late January, we arrived in a capital still in the grip of war. Every night we could hear the bombardment of Eastern Ghouta but the ever-meticulous Dan mapped out where we would be out of range of the shelling. Unfortunately, and very sadly, Lana saw two people killed by an incoming mortar while on an errand for the production.
Hostile environment
Camera duties fell to Neil Bonner, who I chose for his great in-the-moment, hostile-environment shooting style, which complemented my desire not to have any pieces to camera.
On arriving in Homs, we were joined by a government minder, who had lost her son in the war. Like all the Syrians we encountered, she helped and never hindered, enabling Don to take some remarkable photographs of this shattered city, once dubbed 'the capital of the revolution'.
When we crossed the Syrian desert – accompanied by two Syrian Army officers with an impressive machine gun mounted on their car – and finally made it to Palmyra, the relief was palpable. Risk management specialist Solace Global had tracked our movements and this reassurance was crucial for the office, as well as our loved ones at home.
Adrian Sibley - My tricks of the trade
Syria's civil war has its own unique challenges and detailed planning for filming is essential.
Safety comes first when filming in hostile environments so relying on the knowledge of your local producer or fixer is key.
Risk judgements must sometimes be made in the moment. Make the decision yourself, then run it by a chosen colleague.
Remember that the late director Michael Winner was wrong when he said, 'teamwork is everybody doing what I say all at once'.
Palmyra was recaptured last May and is controlled by the Syrian army, their Russian allies and Lebanon's Hezbollah. It is a ghost town and seems haunted by the awful events that took place there. We met the sons of Khaled al-Asaad, the former director of the Palmyra Museum, who was beheaded by IS and left crucified on the road into town.
Dan and Don eventually got to explore the ancient site itself. Dan found that the destruction of the Temple of Bel was worse than he thought and that unfortunately there are no easy solutions for Palmyra's ruins.
Hopefully our film will renew the debate around how to bring these monuments, which are so important to Syrians and the world, back to life.
PREPARING FOR THE WORST IN A HOSTILE ENVIRONMENT
James Ross - medic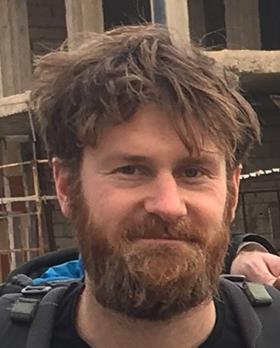 Despite the dangers associated with working in Syria, the opportunity to accompany the team on this journey proved too much to resist. Having worked in hostile and austere environments before, my decision to go was cemented by the personalities and experience within the group.
As the medic, I was responsible for the health and safety of the crew. I was asked to keep a particular eye on Don, but he is in such good shape that it proved difficult to keep up with him.
The team all have a comprehensive background knowledge in medical emergencies, having completed a hostile-environment awareness training course with 1st Option Safety. This was a great asset to the team, instilling confidence and affording us the ability to deal with a greater number of potential scenarios.
Preparation involved a country medical assessment, where appropriate hospitals and medical evacuation plans were drawn up. I also investigated the team's medical history and tailored my equipment list accordingly.
Equipment preparation always takes a significant amount of time – and this was no exception. I made sure we had gear to deal with every eventuality I could think of – from a heart attack to a roadside bomb.
Working in Syria is inherently dangerous, and this is compounded by shortcomings in the country's medical provisions. There are hospitals in Damascus and Homs, although they are not to the standard we are used to in the UK. There is also no reliable ambulance service.
Our medical plans relied heavily on the ability to self-transport to a hospital, whether in Syria or across the border in Lebanon. The professionalism of all those involved gave me the confidence that we had a robust medical plan – though fortunately we did not need to test it.
WORKING TOGETHER
Adrian Sibley, as director, held ultimate responsibility for the team and was extremely focused on his work. There was much pressure on him to get the shots he needed, but he handled it admirably. It was great to see a crew working so well together.
All members of the team were an absolute pleasure to work with and sharing in arguably what might be Don's last trip has been the highlight of my career so far.