With three tonnes of kit to transport up a mountain by horse and yak, this expedition was Icon's toughest challenge yet, says Sarah Walker
Production company Icon Films
UK TX TBC (Monday 28 May in the US), Animal Planet
Director James Mair
Editor Gary Thomas
Production manager Sarah Walker
Executive producer Jonny Young
Post house Films@59
Graphics BDH Creative
Icon Films has searched for yetis in many locations, but the Bhutan expedition was our most remote to date.
We sent an eight-strong British and French crew into the Bhutanese wilderness with the aim of finding evidence – via eDNA (Environmental DNA) samples, footprints or camera trap footage – of the elusive Bhutanese Migo (Yeti).
The team, including presenter Mark Evans, had to have specialist climbing training to make sure they knew what to do when they were up in the mountains. The whole team had to meet up for a day-long safety briefing – the first time they had all met and bonded.
They tried on kit, learned how to look after each other and spot minor complaints that could turn nasty and jeopardise the whole mission – such as simple blisters going septic.
Sourcing the kit
Sourcing the correct hiking boots, technical equipment, specialist clothing and climbing kit for the team was a mammoth operation and the office at Icon began to look like Everest base camp.
We had to carry everything we needed for the trip up the mountain on yaks and horses as there were no roads suitable for vehicles beyond Jakar.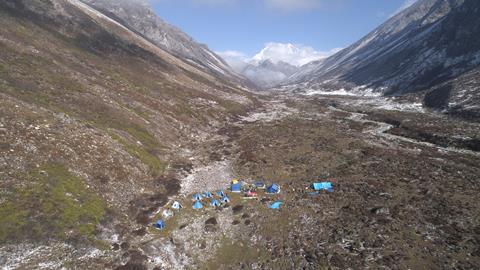 Tents, food, generators, fuel, filming equipment, eDNA testing kits, high-calorie food for the crew and feed for the horses added up to nearly three tonnes of kit.
We couldn't predict what the snow was going to be like in the high valley as no locals had been up the mountain that season, so we also had to add climbing gear, snow shoes and extreme-weather clothing to the list.
Yaks and horses were hard to come by as Cordyceps season was about to start (Cordyceps is a rare fungus found in caterpillars that's worth a fortune to the locals), but luckily, we managed to lay our hands on the necessary 62 horses – our fixer was very well connected.
Just before we left the UK, we received a message that the Prince of Bhutan had sent his royal bodyguard to accompany us and help our mission. The pressure was on.
Then a monk came to bless the expedition, but it was not good news: "You may be the victims of theft and other dangers along the way," he warned.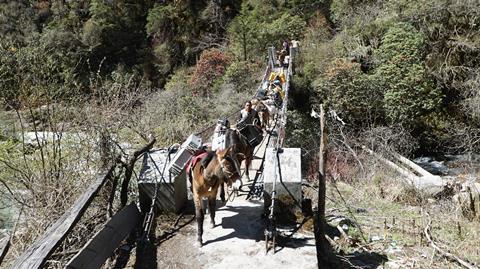 A few days into the trek, we lost 10 horses who were spooked and ran off with irreplaceable camera equipment. Had the prediction come true? Fortunately, the horses were found 10 hours later, but it was a worrying time for the team, with our quest almost over before it had begun.
Between us and our destination were punishing miles of trekking over a hazardous, 8,000ft ascent. Starting just below 9,000ft, our route followed the Mangde Chhu river north, passing through dense forest for three days, emerging above the tree-line for three more days of gruelling climbing and then a final ascent into Zhigeyphu Valley, in the shadow of Gangkar Punsum.
But with oxygen levels falling, the crew could only cover six miles a day. Trekking at these altitudes puts your body under severe strain. The locals were much better at dealing with the thin air and would go on ahead to set up camp, waiting patiently for us to arrive each day. Minor altitude sickness was common.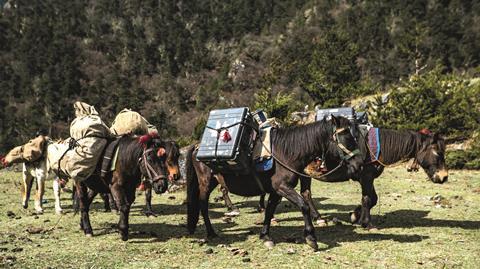 We put a buddy system in place to keep an eye on the crew and the medic checked in with the team each day to ensure symptoms were not being ignored. It's important to catch the symptoms early: age, sex and physical fitness levels have no bearing on altitude sickness.
Even if you have been to high altitudes in the past, you are not immune in the future. We planned trek stops to allow for acclimatisation, but ensured the buddies could cover each other's jobs if one of them fell ill. Of course, presenter Mark Evans was irreplaceable.
The cameraman, drone operator and sound recordists all needed porters to help carry their kit between filming, as exertion exacerbates altitude sickness. The crew all bonded with their personal porters, training them to help set up the filming equipment.
Sarah Walker - My tricks of the trade
Work with a recommended and well connected local fixing company – get references.
Talk to other productions or trekking companies that have been in the area recently and can feed back on ground conditions.
Make sure your team has the necessary skills – training everyone from scratch is difficult and can be dangerous.
Visit key medical facilities when you arrive in the country.
Contact the local air evacuation company (helicopter/fixed wing) before you go so they know you're coming. This was invaluable when we had a real-life medical evacuation.
Make sure you know what medical cover is in place for locals who are working with you.
In a medical emergency, our options were limited. We had a remote trauma medic and a retired army doctor on the team, but medical evacuation via helicopter is very difficult at these altitudes. Due to the thin air and resulting weight restrictions, only one passenger can be carried at a time.
It's also very hard to complete rescues in the afternoon due to high winds, and the helicopters can't fl y at all at night, so typically casualties can only be evacuated in the morning – not great if an accident happens in the afternoon or overnight. Added to that, Bhutan only has one emergency helicopter to service the entire country.
So did we discover any evidence for the yeti? You'll have to tune in to find out.
THE DIFFICULTIES OF WORKING AT HIGH ALTITUDE
Laurence Hamilton-Baillie - production technical co-ordinator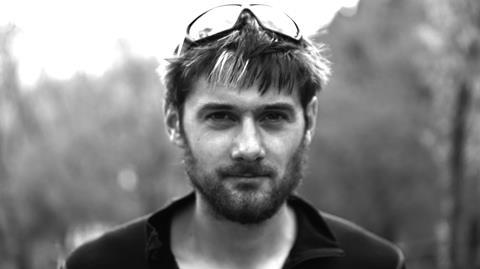 Filming at 5,000m (16,400ft) during the Himalayan expedition for the Lost Kingdom Of The Yeti was one of the biggest challenges I have faced. While filming at our location near the base of Gangkar Punsum, the highest unclimbed mountain in the world, we were reduced to operating at a snail's pace.
Whether it was walking through thick snow drifts or operating cameras with thick gloves on, everything felt like double the effort compared with working down in the valley. After stopping to film a scene, we would forget that we were at high altitude and continue walking at a quick pace, only to be reduced to a spluttering, wheezing mess within 20ft.
We were using a small drone to capture some of the aerial images for the show, but also as a tool to help us scout new areas of interest and search for tracks in the snow. However, the thin air, coupled with the freezing temperatures, meant that the flight times were reduced to just five minutes.
Many of the prime flying areas were strewn with lines of prayer flags. This added a great visual element to the aerials but also presented challenging obstacles in the windy conditions. According to our local guides, it's very bad luck to cut a string of prayer flags in half, so retrieving a tangled drone would have been tricky.
I am used to having a base camp to work from and return to every day but constantly being on the move meant that our kit had to be stripped down and packed onto horses at the beginning of each day. This also included tents, cooking equipment, generators and fuel, medical supplies, food and horse feed.
LOCAL KNOWLEDGE
Sometimes the horses would spook and bolt into a gallop, leaving a trail of camera cases behind them as they went. For this reason, everything had to be packed down very carefully.
Our local horsemen took this kind of challenge in their stride and even managed to transport 500 fresh eggs up to 5,000m on horseback without breaking any.
Our guides had a huge amount of local knowledge but were also adept at taking on some of the extra challenges that came from hosting a film crew: we trained up three of the younger porters as camera and sound assistants while on location.
They turned out to be naturals and were all really interested in learning the ins and outs of our kit and happy to assemble the drone or the cameras when we needed them.
As camera porters, they would practically skip over river crossings carrying our kit as if it was nothing, while the crew were reduced to taking our shoes off and wading.
They also had an extraordinary eye for wildlife and would point out animals that we struggled to see even when they showed us where to look.