Modern health and safety regulations, budget constraints and unexpected downpours couldn't stop our bid to put on a firework display fit for a Tudor queen, says Peter Collins
Production company STV Productions
Commissioner Diene Petterle
Length 1 x 90 minutes
TX 9pm, 7 March, BBC4
Executive producer Peter Collins
Director Sid Bennett
Producers Nigel Levy; Jane Liscombe
DoP Piers Leigh
Post house Serious
It all started at a Guy Fawkes night party. "Bring a firework," they'd said. When it came to the slightly embarrassing moment for my little black box to be set off, it was actually pretty impressive. It got me thinking: just what the hell was going on inside this rather nondescript box to produce such carnage?
A meeting with BBC commissioning editor Diene Petterle followed, where we discovered we had a shared fascination with the science and chemistry of fireworks. The question was how we could turn this into a piece of factual theatre with a real sense of purpose and process.
A few visits to the British Library later and we had uncovered details of a little-known, but very significant, Tudor firework display staged for Elizabeth I in 1575.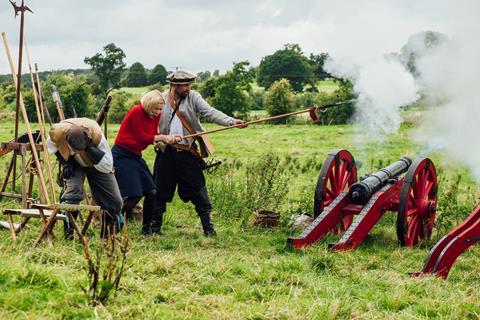 It was part of a three-week extravaganza laid on by Robert Dudley, Earl of Leicester, in a last-ditch attempt to win the Virgin Queen's hand in marriage. He spared no expense – spending the equivalent of £23m in today's money. Perfect… on a BBC4 budget.
Thankfully, a co-production with MBC in South Korea meant that it might just be do-able. The BBC was keen for the film to explore both science and history.
Bringing in Lucy Worsley as presenter was a no-brainer. Her role would be to lead on the historical investigation – deciphering eyewitness accounts of the display, as well as a 400-year-old pyrotechnics manual.
But to put it all into practice, we needed someone with a rare mix of an artistic and a scientific brain. Enter artist and materials scientist Zoe Laughlin.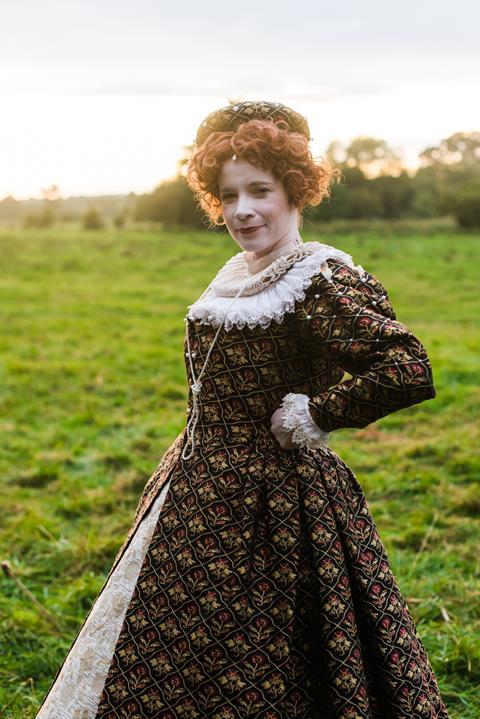 Her enthusiasm for the creative process, as well as the theory, made her the perfect partner for Lucy.
Zoe knows everything there is to know about making things, but she's not a pyrotechnician. Not many people in Britain are. Help came in the form of Don Mansfield and Mike Sansom. Don runs one of the few fireworks factories left in Britain, where they still make them from scratch.
But it wasn't going to be easy. The Tudors didn't have quite the same level of health and safety regulations as us – back then, a stray firework from another Tudor display set fire to an entire house, killing everyone inside.
We had to work closely with Don and his team to come up with something that met today's strict HSE regulations, but that was as close to the original Tudor display as we could make it.
Weeks of tinkering and testing followed, deciphering cryptic Tudor instructions and bizarre units of measurement. In our research, we found the earliest known layout a firework display fit for a monarch and decided this would form the template for our recreation.
It showed some pretty terrifying-looking creations, including a horizontal spinning wheel of fire and a rocket the size of a small house.
Peter Collins - My tricks of the trade
Don't rush your budget for anyone. Research every eventuality you can think of.
Explore new sources of funding. You'd be surprised who else is interested in your subject matter.
Think big. How can you create an event around well-trodden factual territory to create a totally fresh approach?
Hire the best experts. It's worth the extra money, particularly when dealing with a potentially lethal subject matter.
Budget for a separate producer for specialist factual events. The director won't have time to do both.
Once we had honed the firework designs, it was time to plan the display itself. We hired a brilliant producer, Jane Liscombe, who focused on the complicated logistics. We wanted to recreate the display where it was originally staged: at Kenilworth Castle, an English Heritage site with a lot of filming regulations.
The best spot to see the silhouette of the castle turned out to be in a cow field, one that also happened to have a public footpath running straight through it. Suddenly, the whole shoot was escalating in size – we now needed four separate crews, 19 cameras, perimeter security, catering, Portaloos and, of course, health and safety officers.
Getting up close
Rockets with sticks attached were the mainstay of any Tudor firework display. These aren't used in public displays anymore as they're too dangerous, so all our cameras (and our Tudor audience) would need to be under tents to protect them from falling sticks.
As an added precaution, everyone had to be at least 60 metres back, so we deployed GoPros and drones to get up close to the action.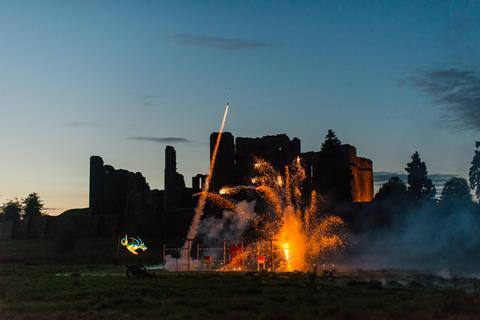 An hour before the display, the unthinkable happened: it rained. Not just drizzle – we're talking sheet rain and driving winds. Rain and Tudor gunpowder are not the best combination – and there was a very real chance that none of our fi reworks would fire at all. No faux jeopardy here.
Thankfully, our pyrotechnics veterans had the foresight to waterproof everything, wrapping each firework in a plastic bag. But did everything go to plan? Well, you'll just have to watch to find out.
CAPTURING THE DISPLAY FROM EVERY ANGLE
Piers Leigh - director of photography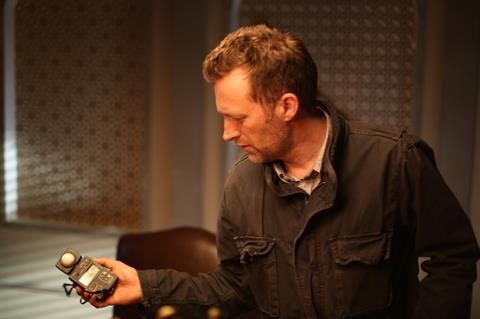 There were numerous challenges in shooting the final firework display, but the biggest was the fact that it was a total one-off. The fireworks were custom-made by hand and there were to be no repeats, reruns or pick-ups. Just plenty of pressure.
The first decision was the timing. In my experience, you need some light in the sky. If you let it get too dark, it all becomes spots of light against a black backdrop – you could be anywhere.
We had the magnificent Kenilworth Castle as a backdrop and we needed to know it was there. However, you can't plan for how much cloud cover you're going to encounter on the day, so you need to be flexible and ready to turn over when the light is just right.
Production came on board and the whole schedule was based around everyone being in position and ready to shoot in a one-hour window that started 30 minutes before sunset. In the end, the clouds lifted to give us a lovely, bright sky and I gave the go-ahead 15 minutes after sunset.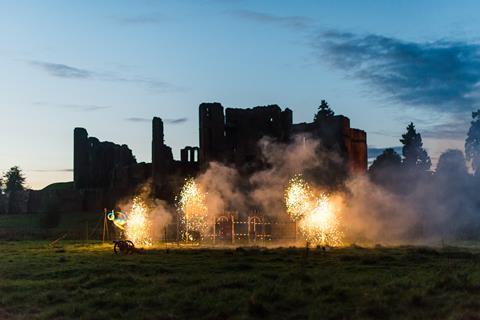 I felt it was absolutely key to have a drone to give us scale and context, and brought Skypower on board. The drone would carry a Sony A7S, shooting 4K, which would give us the chance to zoom in post.
I placed two small tents to each side of the main one and put two Sony A7S cameras in each. The tents would each have one camera shooting 4K on a wide lens and another camera on a long lens shooting 100 fps and picking off details.
The sensitivity and speed of the Sony A7S was a key factor in choosing it, as well as the fact that it uses the same basic codec as the F55.
IN THE THICK OF IT
Finally, I felt we needed cameras right in the action. Procam Television supplied us with 12 GoPros. All of these were shooting at 120fps and were right in the display, under fireworks or in the line of fire.
There was a discussion that we might lose some, but it was a risk worth taking. In the end, we lost five, but only two due to firework damage.
Ironically, the others got water damage from the brief but torrential storm that hit us 40 minutes before starting the display. But all of the footage was recorded and perfectly usable. Most importantly, the production team were accepting of the losses for the greater good.