Ahead of her appearance at the Media Production Show later this year, the composer reveals how she approached music on the Bafta-winning doc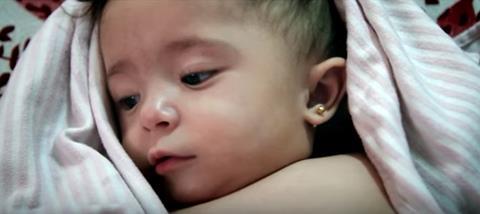 How did you get involved with For Sama?
For Sama is certainly one of the most important films I have ever been involved in. I was recommended by the sound designer to co-director Ed Watts, who was looking for a composer.
Being involved in the edit for 18 months, writing from a very early stage, I wrote a huge amount of music for the team to edit with following an initial brief which was Hollywood-esque, rich and cinematic.
I must have watched the harrowing scenes thousands of times, and the footage has an incredible force, emotion and humanity to it that transcends all barriers.
As the edit progressed and the film evolved and changed narrative direction, there was much soul-searching to find the heart of the film. On one level, the music had to capture the onslaught of angst, fear, tragedy, hope and feeling of pathos that was prevalent.
When the focal point of the story became Sama, Waad's young daughter, everything clicked into place. We realised that the relationship between a mother and her daughter would help us understand what it means to be human in extreme situations - and musically, that's what we had to bring out, the tenderness of that humanity.
As the epic historical events unfold, the music supports Waad's journey in a very subtle, minimalist and poignant way.
Some of the scenes are so powerful that we kept stripping the music back to the point where at times, it feels at one with the soundscape.
I also brought in a refugee Syrian violinist to play on the score. The edginess and soulfulness of his playing perfectly captured the aching heart of Aleppo and the film.
What inspires you most about composing for film?
Working with creative people from different disciplines and being part of a team - that creative collaboration is incredibly nourishing and inspiring.
The process can be incredibly intense and immersive but that's part of the journey and it's always an exciting adventure and rewarding when it all comes together.
Being able to reach wide global audiences.
Bringing important stories to the world.
Being able to hopefully move people emotionally and make them feel something - whatever those emotions may be.
Seeing my name on the credits in the cinema. It always makes me feel proud of being part of the team and being a part of cinema and TV.
What would you consider the most challenging aspect of composing music?
The composing! The first time you put 'pen to paper' and submitting your first ideas can be nervewracking.
Every project has it's own set of parameters and personalities to deal with.
The pressure to deliver a unique score that sounds fresh and different, and meets audience expectations, which are always incredibly high, is always a little daunting.
Working under the constraints of tight schedules can also be quite stressful.
I find one solution is being brought on early in production, which gives me time to write musical ideas way before the edit starts. But that doesn't happen terribly often in the world of TV.
Clients are often under the impression that writing music is easy to write and 'falls off trees'. Of course I can write fast, but it is hard work like any other craft.
So the more consideration, care and thought that's put into crafting a score, the better the result.
In terms of composing, who inspires you and which score do you love?
There is such creative talent out there alongside many scores that have inspired me that I've grown up with.
I've been a huge fan of some recent TV series and scores such as The Handmaids Tale, Succession and Apple TV's Servant. They all have very distinctive scores that are evocative, unique and characterful with varying degrees of subtlety and detail that greatly enhance the narrative of the stories. They all really help to create an atmospheric world that the series inhabit.
Regards composers, I'm inspired by so many. They tend to be creating music that is bold and fresh, that goes against the grain of what you may expect and is innovative.
Feature film scores including Nicholas Britell's scores for Moonlight, and Mica Levi's score for Under The Skin.
In TV drama: Bear McCreary's work on The Walking Dead, going back to Nathan' Barr for True Blood, and Michael Giachinno's score for Lost. Groundbreaking TV drama is a very exciting space to work in at the moment.
What's next?
I'm currently scoring a Netflix feature doc and a slate of series for BBC, ITV, C4 including Enslaved - a major 6 part series presented by Samuel L Jackson about the history of slavery, and a landmark 6 part BBC series about tea.
I've also got planned a few album releases this year.
As well as C4 series My Grandparent's War, coming out soon is a feature length doc for C5, Netflix Original series Bad Boy Billionaires, natural history series Fierce Queens for Quibi and The Reason I Jump, a Sundance winning feature doc which is due for theatrical release later this year…
MBI has postponed this year's Media Production Show, originally slated for May. For full details of plans for this year's event, visit here