I was thrilled to get involved with Ben Fogle and Victoria Pendleton's Everest climb – the problem was it was just two weeks away, says Neil Curry
Production company CNN Vision
Length 3 x 30 minutes
TX 8.30pm, Saturday 30 June, CNN International
Executive producer/commissioning editor Matt Percival
Production manager Charlotte Simpson-Orlebar
Camera Mark Fisher
Creative editor Ali Jalisani
Producer Neil Curry
Climbing Mount Everest a childhood dream Ben Fogle had held onto for 44 years. Joining the project just two weeks before his departure from the UK, CNN's involvement in the expedition represented a mere snowball on that icy timeline.
When the opportunity arose for us to document the adventure, Ben had been training for two years with his co-climber, former British Olympic track cycling champion Victoria Pendleton, and mountain guide Kenton Cool, a veteran of 12 Everest summits.
CNN Vision produces several hundred hours of programming every year for CNN International, including strands, segments and half-hour monthly shows covering sport, culture, travel and business.
We had often discussed the possibility of adding an adventure/exploration show to our portfolio but had not found the right project – until now.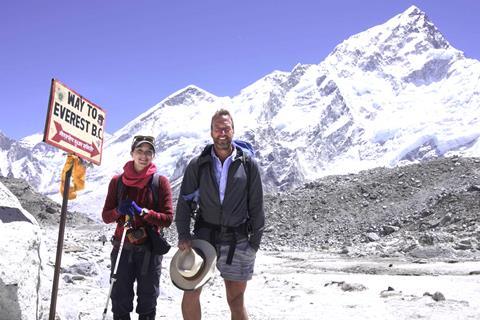 While Ben is a familiar figure to UK audiences, his shows are also seen around the world. His camera-friendly style, coupled with the iconic name of Everest and the fascinating pairing with Victoria, would appeal to CNN's global audience.
With a fortnight before Ben and Victoria flew overseas, we had time to conduct master interviews and shoot medical tests in a sports clinic. Ben and Victoria were put through their paces in an altitude chamber, furiously pedalling a bike in a simulation of the atmosphere at Everest base camp.
Their physical stress was matched by my mental torment as I tried to direct the shoot while being distracted by a series of phone calls – not recommended field production procedure, perhaps, but finding an excellent camera operator, who also happened to be capable of summiting Everest, couldn't wait.
I quickly found that mountaineering shooters spend a lot of time in remote locations with patchy phone signals.
We had been given three highly recommended names, one of whom was in the Welsh mountains, another half way up Mont Blanc and a third was trekking across a desert in the US with his family in tow. His name was Mark Fisher.
"The arrival of the first hard drive was met with a degree of excitement rarely encountered since I got my first bike for Christmas"
Ben's initial plan had been to work with a cameraman as far as base camp and then self-shoot. As experienced and competent as he is in such camerawork, he would be the first to admit we would not have been able to capture the stunning sequences and breath-taking images that Mark gave us.
Such quality comes at a cost, however. A permit to shoot on the mountain is double the cost of that at base camp. Then there's the additional cost of sherpas, porters, oxygen, food and more. Suddenly our costs had doubled and we were left staring into a financial crevasse.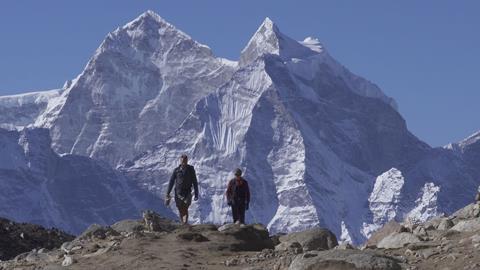 However, we found the process of scaling back painful but fruitful as it made our production more nimble. We would ditch the Red cameras in favour of portable Sony A7s, take a smaller drone, and make other changes, which in turn reduced the number of sherpas required.
With a chunk of goodwill from all parties, we managed the cost without losing any quality.
Teamwork is vital to both climbing Everest and producing a documentary about the journey. While the sherpa is the most respected team member, without whom an expedition is doomed to failure, the broadcast equivalent is the production manager. In this capacity,
Charlotte Simpson-Orlebar proved a godsend, co-ordinating everything between Kenton and his team in Nepal: seeking permits, fast-tracking payments and recovering almost $5,000 (£3,750) worth of batteries that customs had liberated from Mark en route to Nepal.
We didn't win every battle, however – the drone permit became embroiled in Nepalese bureaucracy and was never seen again.
Neil Curry - My tricks of the trade
Put your life on hold for a great project.
Wildly celebrate a green light – at any stage of the production process.
Treasure your teammates – you can't do it alone.
The first arrival at London's CNN Vision office of a (backed-up) hard drive was met with a degree of excitement rarely encountered since I got my first bike for Christmas.
From that first viewing, Mark's footage tells the story of an Everest expedition peppered with astonishing vistas and moments of high drama, including the terror of losing oxygen in the aptly named Death Zone above 8,000m. It happened to both Mark and Ben.
The wealth of beautiful images, punctuated by Ben and Victoria's intimate comments to camera, demanded time to let the footage breathe. The schedule controllers managed to accommodate our pleas for three rather than two half-hours on CNN. And all this in four weeks' turnaround time.
It felt like we'd conquered our own mini-Everest.
TRAVELLING LIGHT
Mark Fisher - cameraman
After doing mountain cinematography for nine years, with more than 20 years experience in stills photography at high altitudes and a background as a mountain guide, this was my first time shooting on Mount Everest.
The challenge was always going to be the elevation. Having never gone that high before, I couldn't predict exactly how my body would react, how the kit would perform and how feasible it would be to carry it all the way to the summit.
My primary objective was to strip back the kit – and therefore the weight and variables that could go wrong – to make it as simple as possible.
Using a DSLR minimised weight, gave me long battery life and allowed me to switch between 4K video and shooting stills. I protected the camera by hanging it loose around my neck within my jacket, only taking it out when I needed to shoot.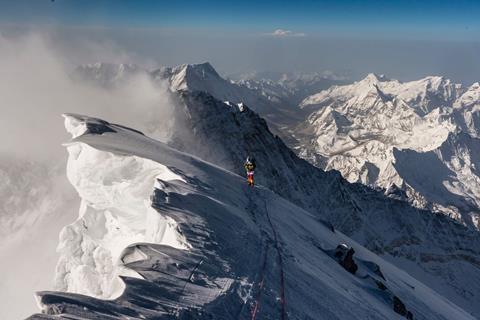 Even then, the camera froze between camps three and four. On summit day itself, I had to chip off ice to even see the LCD screen.
Any camera operator will want to take extra kit to increase their options, but that wasn't possible on this job. I pared everything down to the bare minimum. However, as I couldn't feed the material until the descent, I had to take with me all the batteries and memory cards I needed for the duration of the climb.
AVOIDING INJURY
Physically, I had to focus on energy conservation, especially with the extra exertion of filming. From the outset, I wasn't worried about not making the summit, I was more concerned about keeping well and avoiding injury that might compromise the film.
Pacing and self-care in these circumstances is absolutely critical, but the experience of making it to the top and capturing this film made it all worth it.