Selecting the foreign medics who are helping to plug the NHS shortage and following them 24/7 as they complete training required a good bedside manner, says Andrew Dedman
Production Company Blakeway North
TX 7 August 10pm C4
Commissioners: Michelle Chappell & Nick Mirsky
Length: 1 x 60 minutes
Executive producer Sarah Murch
Producer/ Director Andrew Dedman
Editor Kate Deadman
Production Manager Louisa Ryder
Production Exec Alison Lewis
Post-house Flix
As the NHS struggles to recruit more doctors, Non-EU foreign medics are queuing up to plug the gap.
Our documentary follows a handful of international doctors through an intensive training course as they try to pass a stringent practical exam set by the General Medical Council.
The doctors would fly over to the UK and start the 12-day course immediately and take their exam not long afterwards. Many came to the training academy with their suitcases in tow, so we had to try and build relationships quickly and gain their trust.
It wasn't easy when many were coming to the UK for the first time, experiencing a new culture, and then having to deal with a strange camera crew asking to film them.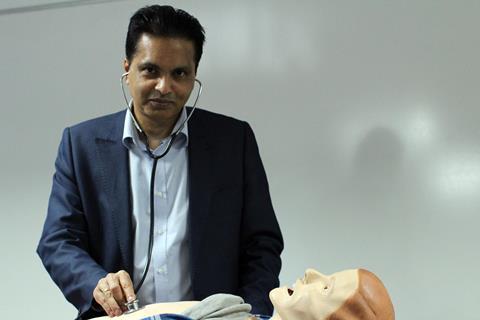 We wanted to be with the doctors from the moment they arrived in the UK. We skyped some in their home countries, first to explain more about the film, and to start the 'getting to know you' process.
But it's hard to accurately gauge someone on a laptop, and truly know how they would react to us once they stepped foot on British soil.
We filmed doctors on arrival but had to make swift decisions about whether to continue following their stories or turn our attentions to other doctors.
Every two weeks, up to 70 more doctors arrived, so this gave us a big net to cast from, but it meant that, at times, we had too many options. I'm always open to new filming opportunities, some of the best actuality/contributors come from putting the leg work in and biding your time, but at a certain point, we had to stick to our cast.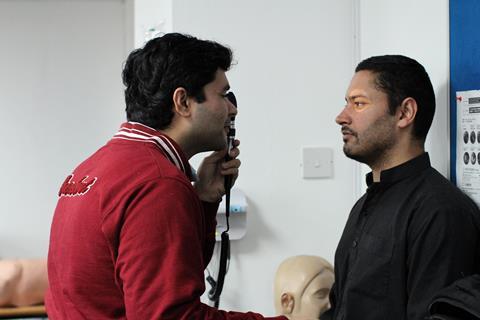 The course was a good filming framework. For 12 continuous days, the doctors were introduced to the nuances of the British health system, policies and patient expectations, many of which are in stark contrast to back home.
For many it's make or break, leaving loved ones behind, shelling out on flights, accommodation, training but all knew passing the exam was the passport to working in a British hospital.
With so much at stake, it was a tricky process asking the doctors to give up their time to film. Most would eat, sleep and study 24/7 until they took their exam, so we didn't want to jeopardise their chances of success by asking too much of them.
We had to tread carefully when asking to film, equally, making it clear that to truly tell "their" story, we would have to be with them through the good and bad times.
Building up trust
We were a mainstay at the academy for the duration of the filming, and this enabled us to build relationships, not only with those doctors who wanted to be filmed, but with those who didn't.
It was a very friendly, welcoming experience, and we worked hard to be approachable, getting to know the doctors away from the camera.
An important part of the documentary was to show how the doctors are tested. We met with the GMC very early on to discuss the possibility of filming doctors in the exam.
Understandably they were nervous, they did not want the doctor's chances affected by a film crew putting them off, and they did not want to reveal the details of the exam, as some elements are re-used.
Over a few months we carefully negotiated with the GMC to allow us to film the doctor's arrival and briefing, but we could not enter the exam.
My tricks of the trade - Andrew Dedman
To make an engaging documentary you need great characters as well as a compelling story. If you find a great character, try and establish what unfolding narrative there is, before committing to filming.
The more time you can spend building good relationships with contributors, the better. Be clear about the filming process and your aims but also relate to them, engage with who they are. The contributors are the film, they are inviting you into their lives, so a good understanding of each other can really help to capture true, poignant moments.
It's important to think about what a scene could deliver and how you might prepare for a moment, but don't chain yourself to preconceived ideas, go with the actuality and let scenes breathe.
They did have their own CCTV system monitoring the doctors as they were assessed, which they allowed us to film. This enabled us to give an insight into the exam process, without revealing too much of the exam content.
Most doctors get the results back home, but we knew two of our doctors would be in the UK when they got theirs.
With so much at stake, and with our main character spending all his life savings on the course, asking to be there at the moment this could all go wrong, was hard. But we had built strong relationships with the contributors and with that trust, were able to film very poignant moments.
At times like these a lot of what isn't said, can be as powerful to convey the emotion. Through letting the scene breath and giving the contributors time to comprehend the situation, it can deliver a true and honest reflection.
How a quick google led to fully blown doc
Sarah Murch – Executive Producer & MD, Blakeway North

Every time I parked outside 'Dr Swamy's Plab Clinic' in Levenshulme, Manchester, I made a mental note to google the mysterious condition.
When I eventually did, I was fascinated to discover the place was a teaching academy set up to train non-EU doctors from around the world, and help them through their GMC practical exams, necessary for an NHS career.
A quick recce got me excited. Dr Swamy, charming, open and with a committed mission to help solve the NHS shortage of doctors, was telling a class of 70 doctors from around the world how their medical training back home wouldn't impress British patients.
We apparently expect 'sympathy and empathy' and lots of it. Later, there was a role-play scenario where they learned to break bad news the British way. Then there were the mannequins…
Rather than wait for development money, we took a punt. The clinic was a ten-minute drive from the office. Our PD Andrew Dedman spent a couple of days there and shot a taster tape. Michelle Chappell at Channel 4 liked it. As fortunately did Nick Mirsky.
Fast forward to today, and I hope the film does justice to the great medics who let us into their lives. It certainly makes you question the expectations we have of our doctors, and appreciate the overseas doctors propping up our NHS.