Texas-based sports streamer is using TVU Network's live IP video solutions to produce live programming from remote locations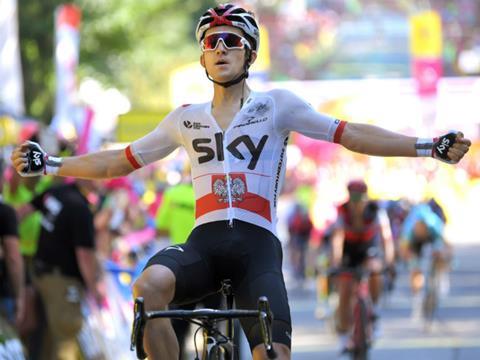 Sports streamer FloSports has selected TVU Networks to help it address its growing need for on-location live video capturing and sharing.
The Texas-based streaming service has a portfolio of rights across cycling (pictured above), basketball, football, wrestling, track, gymnastics, and hockey. Earlier this week, FloSports partnered with Rugby Europe to broadcast the 2019 Rugby Europe Championship in North America, Latin America, Middle East and North Africa exclusively on FloRugby.com.
FloSports is using TVU's live IP video solutions to simulcast events, produce live programming from remote locations, record footage for raw archiving material.
FloSports is also using TVU One cellular mobile at every venue as a backup to ensure it can always provide live coverage. TVU transmitters can simultaneously aggregate any combination of bandwidth mediums including cellular 3G/4G LTE, WiFi, Ethernet, Ka-band and Ku-band satellite, microwave, microwave mesh and BGAN to deliver a dependable broadcast picture with sub-second latency, as low as 0.5 seconds.
"We are currently using TVU for both primary and backup event coverage," FloSports director of production Eric Helton said. "We've used equipment from other video-over-IP providers, but it did not perform well covering events like cross country where the camera has to move with the athletes across a course, which can cause fluctuations in cellular connections."
"FloSports' business model fits perfectly within the sweet spot of our video-over-IP technology," said TVU Networks vice president of North America Sales Matt Keiler. "The sports they cover require remote production in challenging environments often without cellular or with unstable connections, with fast moving content, constantly changing locales, and a finite budget."