Passengers able to stream live LaLiga matches for free on Renfe's high speed train service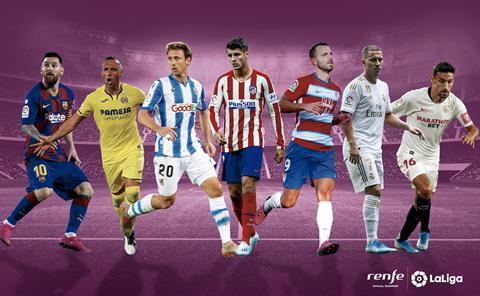 Passengers on Spain's high speed railway network are being offered free LaLiga match streaming while on-board – the first initiative of its kind.
Train operator Renfe, an official sponsor of LaLiga, provides the live matches via the PlayRenfe entertainment system.
It shows all matches from both the LaLiga Santander and LaLiga SmartBank competitions, as well as European club competitions.
The service, which is accessed through the train's on-board Wi-Fi, is currently available on the Madrid-Zaragoza-Barcelona-Figueres Vilafant, Madrid-Seville, Madrid-Málaga, Madrid-Valencia-Castellón, Madrid-Alicante, Madrid-Granada , Barcelona-Seville / Málaga, Barcelona-Granada and Valencia-Seville / Málaga routes.
Football broadcasting will also be introduced on Renfe's new low-cost trains, which are currently being designed, from Easter 2020.
Juan Carlos Díaz, director of sponsorship and sales at LaLiga, said: "It's exciting to broadcast our global competition in such a unique way. The partnership with Renfe helps add a new and exciting dimension to Spanish train journeys and helps more football fans to discover LaLiga."
Manuel Sempere, director of marketing at Renfe, said: "The response from our passengers to having live football available has been fantastic. For the transport sector as a whole, we hope that this agreement sets a trend that others will follow in the years to come."