ChyronHego system enhances fan engagement and creates new sponsor opportunities and potential revenue streams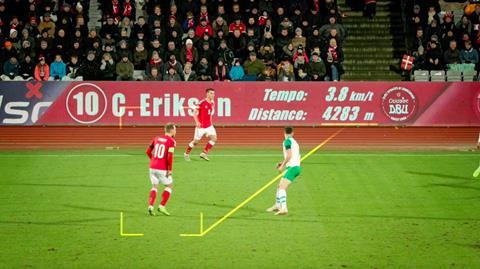 ChyronHego has created what it calls the "first ever player-tracking powered stadium adverts". It makes it possible for the LED perimeter boards at a stadium to display data-driven player graphics.
The system, which pairs ChyronHego's optical tracking system Tracab with its Click Effects Prime graphics authoring system, has so far been put into play at football matches in Denmark and Holland.
The matches were the UEFA Nations League match between Denmark and Republic of Ireland and Heracles Almelo versus VVV-Venlo in the Netherlands' Eredivisie league.
ChyronHego worked with the teams and their sponsors to create a "first-of-its-kind LED perimeter-board display". This graphically tracks a player's movements and displays stats such as speed and distance travelled, based on real-time Tracab data.
Both the Danish Football Association (DBU) and the Dutch Eredivisie football league were already users of Tracab to capture player and team performance analytics. So, Tracab optical tracking solutions were previously installed in both the Danish Superliga and Eredivisie stadiums.
The Click Effects Prime software enabled operators to use the Tracab data to generate and control the LED presentations, without the need for specialised training or sophisticated computer graphics equipment. The operator could also choose which player to assign to the LED boards.
For daily broadcast sports stories, covering sport production, distribution and tech innovation, visit Broadcast Sport and bookmark the Broadcast Sport homepage, http://www.broadcastnow.co.uk/sport
Niall Hendry, product manager at ChyronHego, explained: "The idea of combining live, real-time Tracab data with Click Effects Prime had been discussed with some of our key sports customers for a while. Finally, with these two productions, we were able to prove how well the two systems seamlessly complement each other and how compelling data-driven player graphics can be, not only for captivating fans but for creating new sponsor opportunities and revenue streams."
Teus Groenewoud, director of product development, ChyronHego, added: "Traditional rotating arena ads tend to be disconnected from the players and the action, but this solution takes sponsored graphics to a whole new level. With the cameras trained on a player and the LED graphic behind him following his movements and displaying his real-time data, sponsors have an unprecedented opportunity to engage viewers and hold their attention. They can even build promotions around the data; for example, a sportswear brand could promote the player with the top speed who is wearing the brand's boots."
Matthias Rønn, senior commercial manager, DBU, said: "Now we've proven the concept of the Tracab-Click Effects Prime solution for our men's teams, we're looking forward to working with ChyronHego to expand it to our women's and under-21 clubs. It's a win for everyone: fans, sponsors, and clubs."