Adeel Amini speaks to Broadcast on eve of new groups' wellness webinar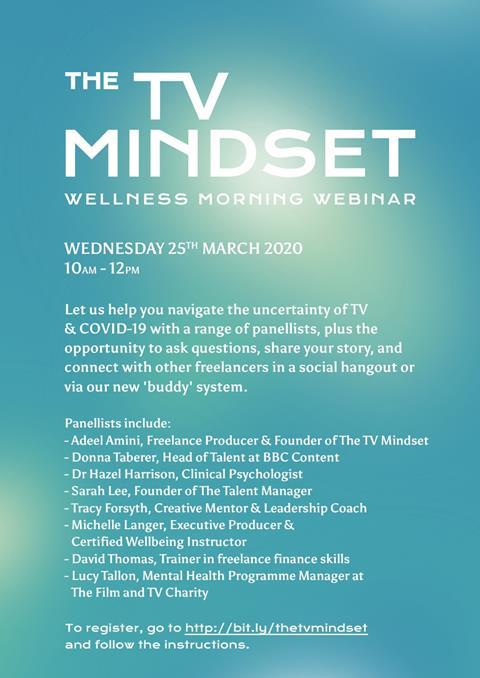 The lack of centralised support for TV's freelancers is being placed sharply into focus by the coronavirus crisis, according to freelance producer and founder of The TV Mindset Adeel Amini.
Amini told Broadcast that the freelance community is seeking a leadership collective for support, as he speaks on the eve of his first wellness webinar, which takes place from 10am-12pm today (25 March).
"On an individual level people are feeling a bit lost and adrift," said Amini. "Although there are organisations helping to highlight our plight, there is not one centralised platform out there for this group."
Since speaking candidly about his mental health on the back of the Film and TV Charity's Looking Glass survey into mental wellbeing, Amini has launched The TV Mindset and is hosting the webinar to help freelancers navigate uncertainty brought about since the Covid-19 outbreak.
BBC Content head of talent Donna Taberer, clinical psychologist Dr Hazel Harrison and freelance finance expert David Thomas are among the eight panellists who will offer tips and answer questions from freelancers. More than 500 people are registered, with a few places still available.
Triple anxiety
Amini said freelancer anxiety has surfaced in three distinct ways.
"There is career anxiety, which is about when productions will start again and whether there will be too much competition for jobs," he said. "There is financial anxiety with no plans as of yet to help self-employed people and there is personal anxiety, with people not being productive and wondering how they are going to fill their days."
Due to this isolation, Amini said he is also setting up a trial buddy system, which will pair up freelancers.
"I think what the events over the last few days have shown is that the government and the public don't really get what we do and what it is like," said Amini. "Through Facebook, we are going to match similar people with similar backgrounds who get it."
Looking forward, Amini said The TV Mindset is working with the BFI on weekly drop-ins, dubbed The Tuesday Club.
"There has been a lot of interest in The TV Mindset and we have a number of exciting things in the pipeline," said Amini. "The drop-ins will provide a co-working space and offer advice."
He praised the BBC's Taberer for organising free training sessions for freelancers.
Taberer and ScreenSkills director of learning and development Gilly Cohen are offering a range of opportunities as part of ScreenSkills indie training fund over the coming weeks, from comedy writing surgeries to yoga classes.