Documentary distributor TVF International is hoping that the global success of Planet Earth II will boost opportunities for its own blue-chip natural history series Frontier Borneo.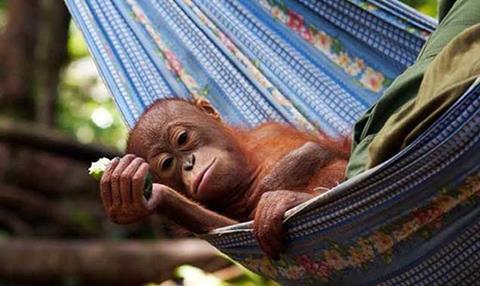 FRONTIER BORNEO
Distributor TVF International
Producers Beach House; Kyanite TV
Length 10 x 30 minutes
Broadcasters Discovery Networks (Asia-Pacific); UKTV (UK)
The 10 x 30-minute doc explores the rich biodiversity of the world's third largest island and tracks an international team of rangers as they try to protect it. "Borneo is home to a staggering amount of wildlife, but it's under threat from human development and climate change.
The show looks at towering mountains and impenetrable jungles, and follows a team of rangers on the frontline trying to combat illegal poaching," says Will Stapley, who runs TVF International alongside Harriet Armston-Clarke.
The pair took over the running of the company in January 2017 after the departure of director of programming Alice Hamlett.
Frontier Borneo features animals including elephants, sun bears and orangutans living in the Malaysian states of Sabah and Sarawak. It takes in environments ranging from the chilly heights of the mountains to the subterranean passages of the underground labyrinth.
Stapley says that in addition to the "stunning footage", it has "lots of jeopardy and action".
The series is narrated by Welsh actor Luke Evans, who starred as Gaston in Disney's recent live-action remake of Beauty And The Beast.
Frontier Borneo is co-produced by Singapore-based indie Beach House Pictures, which is best known for making Cesar's Recruit: Asia for Nat Geo and the David Attenborough- narrated Wild City series.
The other co-producer is Kyanite TV, a Malaysia-based indie founded by former Ogilvy executive Michael Lim and celebrity chef and TV host Jojo Struys, which makes reality series including The Next Miss Universe Malaysia and Spin Master.
The series was commissioned by Discovery Networks Asia-Pacific, which launched it in late February, and will air it across Latin America and Italy.
UKTV will air the series in the UK after coming on board as a co-funder.
The project was also backed by the Media Development Authority of Singapore and the National Film Development Corporation.
TVF, which turned over £12.2m in the 12 months to 31 March 2016, a 5.8% increase on the previous year, will be offering it to broadcasters around the world at Mip TV.
The Inside Buckingham Palace distributor will also use the market to showcase its range of virtual reality content.
The London-based firm has built a slate of VR content that includes ambitious documentary Climb Everest, which take viewers on an ascent of the deadly northern face of the mountain, and 6 x 3-minute cooking format SousChef, which features access to some of London's top restaurants.
It is also distributing 6 x 6-minute sports format The Workout – a one-on-one personal training session with sporting professionals including boxer James DeGale, which has previously featured on Samsung Gear's VR platform.
Finally, the company has picked up the rights to festival documentary Witness 360: 7/7, which features testimony from a survivor of the 2005 London terror attacks, along with asylum seeker investigation Invisible, which has been acquired by the New York Times and Australian broadcaster SBS.
Both were executive produced by VR City's Darren Emerson.