The election of Donald Trump as US president will keep documentary producers and current affairs teams busy for the next four years.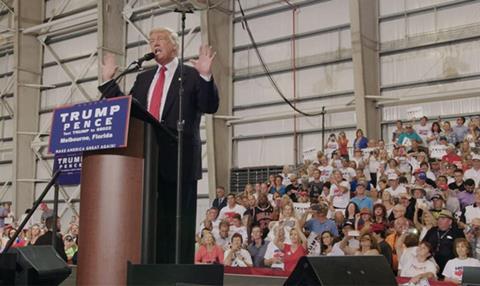 Trumped: Inside The Greatest Political Upset Of All Time
Distributor Cargo Film & Releasing
Producer Left/Right
Length 1 x 120 minutes
Broadcaster Showtime (US)
It has already proved fertile ground for Red Arrow Entertainment- owned US indie Left/Right, which has produced one-off doc Trumped: Inside The Greatest Political Upset Of All Time.
The doc started out as part of quick-turnaround political series The Circus, which aired on US network Showtime. The series, which featured political analysts John Heilemann, Mark Halperin and Mark McKinnon, aired every Sunday during the campaign.
The team has now brought together much of this footage, with some new interviews, for a feature-length film.Trumped includes a treasure trove of never-before-seen footage of Trump, who offered much access to the trio during his battle with Hillary Clinton.
The full-length doc aired first on Showtime and subsequently on Sky Atlantic in the UK. It was also picked up for international distribution by New York-based sales agent Cargo Film & Releasing after its launch at the Sundance Film Festival.
Cargo founder David Piperni says the doc provides insight into what happened, how it happened and the climax, which "everyone knows but is still quite revealing".
"Not only is it entertaining to watch this highly unlikely candidate hijack the political system through lies and other means to become president, it's also important for people not to forget what kind of buffoon we're dealing with," he says.
Piperni admits that, at first, he had concerns that it was too soon after the election and its 24-hour news cycle. "But we can't forget what went on: he's dangerous, he's got the finger on the nuclear codes, and people in America and around the world should be concerned."
Cargo Film & Releasing is on the brink of around a dozen deals and believes that the rise of right-wing nationalists in France and the Netherlands makes the film particularly pertinent across Europe.
"Trumped is a good fit for broadcast, particularly channels that have a current affairs or politics slot. I'm curious about whether we'll sell it in a place like Russia," he adds.