The 1992 Los Angeles riots have gone down in history as the first to be fully captured on camera.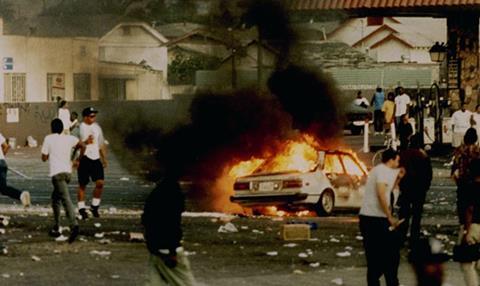 LA92
Distributor Fox Networks Group Content Distribution
Producer Lightbox Entertainment
Length 1 x 120 minutes
Broadcaster National Geographic
The violence erupted after four police officers were acquitted of using excessive force in their arrest of African-American taxi driver Rodney King, and much of the ensuing unrest over six days was shot on home-movie cameras – new entrants into American households.
Twenty five years later, some of that footage has made its way into Lightbox's all-archive documentary effort LA92.
Lightbox co-founder Simon Chinn says: "We told Nat Geo that it would be cool to try and tell this story exclusively through archive material. We draw heavily on news footage, but there is enough user-generated content in there for it to be a significant part of the film."
Directed by Oscar-winning film-makers Daniel Lindsay and TJ Martin (Undefeated), the two-hour doc sets itself apart from other archive films such as Asif Kapadia's Amy by forgoing any underlying interviews.
Instead, the directors – who edited the film over eight months and across four cutting rooms – built the doc around a "rich, symphonic score".
"There was the idea of doing it almost as an opera – but it was felt that using the contemporary music of the time in South Central LA, for example, would be too expected. We were keen to find a way to really reframe this story and bring it to people in a way they hadn't experienced or seen before," says Chinn.
The documentary – produced out of Lightbox's LA office, headed by Simon's cousin Jonathan Chinn – has proved to be timely. "We started making it pre-Donald Trump and we were thinking about the [2014] race riots in Ferguson and Baltimore," recalls Chinn.
"But post-election, without even knowing it, it has become almost a different film again. "It's not that we have made a film with those things in mind, but it has a sort of resonance that feels incredibly in the zeitgeist."
Chinn acknowledges that the film may not "feel like it is right at the centre of the Nat Geo brand", but says it is still a story you can envision sitting in the magazine. "It feels enough on brand – it's social geography."
Fox Networks Group managing director of content distribution Prentiss Fraser agrees that the film may not be traditional Nat Geo but says it is certainly the "new Nat Geo".
We want hard-hitting, authentic docs to sit in our doc strand. We are working with Oscar and Emmy winners. Hollywood's best talent on and off screen is really core to that strategy, and this film is something that fits within that perfectly."
Other films that form this strategy include an as-yet-untitled Jane Goodall project from Montage Of Heck director Brett Morgen as well as the Leonardo DiCaprio-exec produced Before The Flood.
Fraser says LA92 will appeal to those unfamiliar with the Rodney King arrest, as well as those who can reflect on the riots with a "new maturity and depth".
"There is no voiceover, no host, no narrator – it is just the footage telling the story, and it is very impactful and authentic to watch."
Nat Geo will distribute the film globally across its channel, but Fraser says that, following the April broadcast, the doc will work "really well" in the on-demand space.
"That's probably the target for us in terms of a second-window opportunity. It's newsworthy and it is going to be talked about."