We brought in experts from the worlds of entertainment, food and competition shows to create a cross-genre series that is bold, fresh and channels Willy Wonka, says Nicola Pointer
Production company Optomen
Commissioners Sarah Lazenby, Tim Hancock and Clemency Green (Channel 4); Lucy Leveugle (Netfl ix)
Length 6 x 60 minutes
TX 8pm, Tuesday 21 January
Executive producers Tina Flintoff; Nick Hornby; Nicola Pointer
Series editor Charlotte Brookes
Directors Niall Downing; James Morgan; Ivan Youlden
Set designer Peter Gordon
DOP Olly Wiggins
Presenter Jayde Adams
Judges Heston Blumenthal; Carla Hall; Niklas Ekstedt
Post house Envy
Studio facilities BBC Studioworks
Camera facilities S&O
For this first unscripted co-pro between Channel 4 and Netflix, the ambition was to create a bold new format that would feel fresh and different.
We soon realised this meant going all out and embracing the crazy as well as the delicious, hacking not just the format of cooking competition shows, but the production process too.
The first hit of crazy was with the set, as both broadcasters were clear on one thing: it must be magical and, most importantly, edible. We needed to build a living world from which contestants could pick their ingredients, and we needed to do it fast. With pre-production starting in July for TX in January 2020, everything would be tight.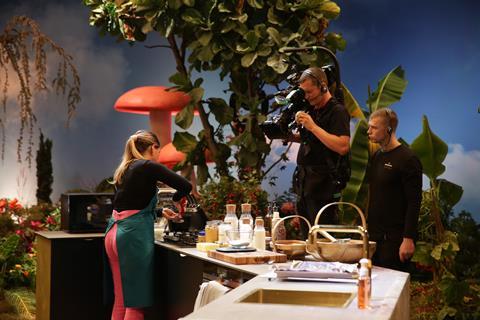 Growers were enlisted to plant fruit and vegetables in troughs that could be transported to the studio, but we soon learned you can't just order ingredients to be ripe for picking and camera-ready on demand.
We'd ask: "Can't we grow them in a polytunnel or something? Or fl y some in and replant them?" No, it turns out you can't. Many plants refuse to be transplanted – leaves fall, roots die, tops wilt and they simply won't perform.
To rescue us from our frustrations, resourceful gardening AP Rosie Irving came on board and pulled out an enviable contacts book.
"Don't worry," she reassured, "I know a guy with some apples coming into fruit. If I get them now, I've got a trick to cold store them till the shoot."
I had no idea what ducking and diving it would take to fi ll our garden with the fresh produce needed, but somehow, we ended up with 117 varieties for the cooks to use.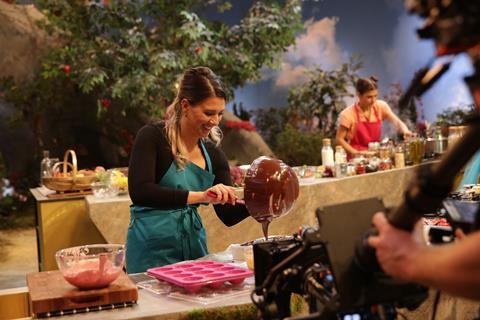 With the basics in place, we could start to think about the fun stuff. How could we bring in the Willy Wonka magic?
We'd need edible blossom, rocks, garden equipment, moss, walls, chairs and glasses – anything we could think of. Home economist Rich Harris and his team leaped at the chance to play and prototyped everything from liquorice wheelbarrow handles to lemons that housed perfectly formed lemon meringue pies.
Meanwhile, casting was in full swing. The inspiration for the series came from the world of #foodporn and home cooks posting incredible dishes on Instagram.
This provided a great starting point for the team, but it would take several schedule-busting rounds of auditions to flush out the characters who could cook well under pressure. Although our deadlines went haywire, this scrutiny proved essential.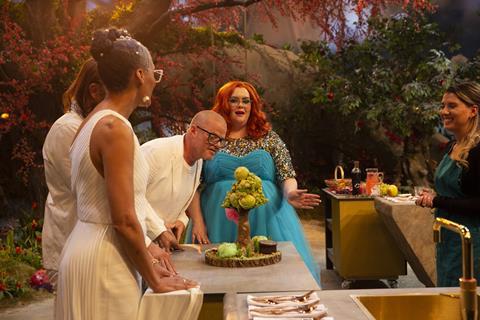 The next issue was how to shoot it, and this is where the real collaborative nature of the production came into play.
We knew that to create a bold new format, we'd need to find a different mindset and approach. It wasn't about bringing in teams who had done competition shows before, or food programmes or entertainment shows, it was about fusing all three of these disciplines together to create something new and cross-genre.
Two worlds collide
The strategy was to bring people with experience in factual entertainment and food together with those from an entertainment background. We ran with this tactic of colliding two worlds through every part of the production, from execs to editors and everyone in-between.
Ultimately, people were willing to compromise and adapt when they understood what we were aiming for, and this collaborative approach brought fresh thinking and creativity to the project.
My tricks of the trade - Nicola Pointer, executive producer
While it's important to have detailed shoot plans and running orders, it's also good to allow for spontaneity and shoot alternative options that you might want to try later in the edit.
Be resourceful and examine every line in the budget so you can maximise the money on screen.
New series can be stressful, so empower your team to feel fully involved and maintain a positive, creative environment.#
Make sure everyone understands the vision and the brand you are creating, questioning how it should feel to the viewer, and what it's really about.
For the shoots, we needed the lighting rig and facilities of a studio, but we didn't want it to look like a studio show. We had to get resourceful and I went through every line of the budget, finding ways to strip back the traditional studio set-up so we could afford the cameras and lenses needed to give us a high-end, filmic look that would do justice to the food and set.
Our first shoot day inevitably had teething troubles, mainly as we sorted out communications between the entertainment-experienced gallery teams and the location-experienced floor crew.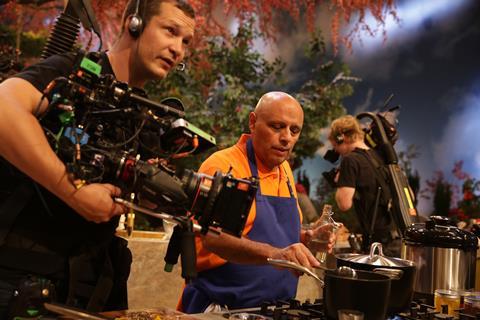 With the support of our commissioners on set, we were able to problem-solve as we went, and make on-the-spot decisions in response to what was unfolding on screen, in terms of following the best stories and maximising the great chemistry between the on-screen talent.
Ultimately, the colliding of two worlds was crazy at times, as we all had to accommodate new ways of working, but it more than paid off in how it pushed everyone to think differently and create something fresh, bold and, hopefully, delicious.
HOW WE CREATED A MAGICAL GARDEN SET
Adam Game - Garden art director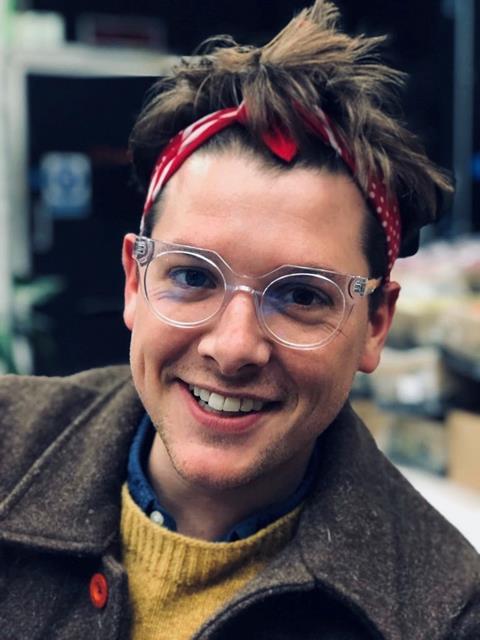 As if turning 11,000 sq ft of studio space into the colourful, magical, fantastical Crazy Delicious garden wasn't enough of a challenge, I decided to make things even more difficult for myself by insisting on using as many real plants within the garden as possible – and no artificial grass.
Working with production designer Peter Gordon, we established a plan that seamlessly integrated the colourful, landscaped planting with the necessary produce for the chefs to forage.
Once the main areas of the set were built, it was my turn. Lorry after lorry of trees, hedges and shrubs were delivered to the studio by entertainment industry greenery supplier Palmbrokers. Mounds of fibreglass rocks and tree trunks filled the studio, while trolleys loaded with exotic plants imported from Holland and pallets of topsoil, gravel and turf lined the roadways of the studios.
As many of the plants stood in very large pots, it was important that the entire set was raised on two feet of steel deck. This allowed us to stand large potted trees and shrubs on the studio floor, giving the illusion they were rooted into the set.
Over the course of a week, trees were forklifted into position, sandbags mounded and plants of all sizes carefully positioned, and often repositioned, to create the landscape. Real grass and moss covered the ground, while gravel paths created walkways through the garden. Given that it was autumn and the set would stand for four weeks, artificial flowers were used to create colour.
EXTREME CONDITIONS
The biggest challenge faced during the run was maintaining the lusciousness of the planting. No natural light and daily extremes in temperature made for a very hostile environment for the plants, meaning many needed to be regularly replaced.
Even the hardier moss and turf quickly faded under the heat of the studio lights, despite daily watering. Golf course paint bought us some time, but between episodes, we would replace most of the grass and moss. By the end of the four-week run, more than 400 rolls of turf and 350 crates of moss had been used.