Former MP and Strictly star on his journey to the Deep South to examine president's election pledges
Former Labour MP Ed Balls has described his debut BBC2 travelogue as "a mix of early Louis Theroux meets The Real Marigold Hotel, with a little bit of Ruby Wax".
Travels In Trumpland With Ed Balls examines the US president's pledges to make America proud, safe and healthy.
The starting point of the three-part, Deep South travelogue, in which Balls meets Trump supporters, was that the former shadow chancellor-turned-Strictly star had taken the opposite politics-to-showbiz route to the US president.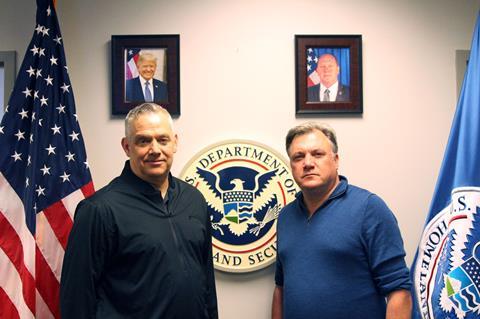 Production company Expectation sought to mine the have-a-go attitude that made Balls a hit on the BBC1 dancing competition along with the people skills he honed during his time as a constituency MP to produce a series without judgement or confrontation.
"We were trying to find something deeper than prejudice confirmation," Balls said. "Without naming names, it's really easy to turn up with a really strong point of view, search out people to confront your prejudice and come back thinking you've discovered something about America."
As with doc-maker Theroux, Balls immersed himself fully in the communities he visited. In episode one, he serves tacos at a redneck festival and dons Lycra to become a wrestler, adopting a caricatured president-baiting Brit character in front of a 99% Trump-voting crowd; in episode two, he gets tasered.
"I know where the line is and I lean up against it," he said.
The stunts were also a way of putting interviewees at ease, which in turn encourages them to open up. Balls compared spending time with the wrestlers to when, as an MP, he would spend an hour doing messy play at a children's centre before talking to parents about childcare and tax credits.
"It relaxes everybody and you get in on the inside," he said. "If we'd arrived with a camera and said 'we're going to interview you', it would have been very hard. After two whole days and having been jumped on from a great height by a big man – and surviving it – they opened up."
"It's really dangerous to assume the voters are wrong. You've got to understand what they're thinking and why"
Ed Balls
Producer Clare Cameron spent several weeks on location prior to six weeks of filming with Balls. She said the key was not to over-prepare her presenter.
"We wanted to get his genuine reactions when he met people," she said. "It was important to discuss the themes we'd be touching on, what Trump had done in the past year and the structure of the films, but we didn't tell Ed the characters he was going to meet."
The interviews, they both concede, were the easy bit; getting the tone right was harder. There was no obligation at the outset for the series to be anything more than factual entertainment with a light sprinkle of learning, but the series features a military veteran talking about his suicide attempt and a Mexican woman's support for Trump's proposed wall.
Cameron said: "We got moments that felt surprising, but we couldn't guarantee that they would work in the edit; we were worried they might feel gratuitous. But Ed doesn't rub people up the wrong way. He's really dignifi ed when he's trying to present a different view."
Make no assumptions
Balls' interviewing style is informed by a respect for his subject's honestly held views.
"You learn from politics that it's really dangerous to start from the assumption that the voters are wrong. You've got to understand what they're thinking and why," he said.
As someone new to docs, Balls said he enjoyed observing the edit. "There were bits where I said 'I don't like this' or 'can I have more of that?', but mostly, I was quite hands-off because these guys know what they're doing and I don't," he reflected.
It's an approach executive producer Dominique Foster warmed to, and Expectation is understood to be talking to the BBC about future projects with Balls.
"He's down to earth and collaborative and has been helpful on every level of making the programme, from talking through our aims to the fi nal cuts," she said.
Trump himself is absent from the series, though it looked close at one point when Balls met his supporters in Mar-a-Lago, Palm Beach, Florida.
What does he think the president would make of it? "I think he would recognise it strongly. He'd see a lot of truth," he said. And if he had met the president? "I'd have asked: 'Are you actually enjoying this?'"