The Ready Steady Cook format of cooking on a budget with limited time is as relevant as ever, but we have updated it by highlighting food's environmental impact too, says Cat Lawson
Production company Remarkable Television
Commissioners Carla-Maria Lawson; Lindsay Bradbury
Length 20 x 45 minutes
TX 4.30pm, 2 March, BBC1
Executive producers Cat Lawson; Kitty Walshe; James Fox
Series producer Breid McLoone
Director Julian Smith
Post house Serious
Bringing back such a well-loved format carries a certain weight of responsibility.
Ready Steady Cook is one of those iconic shows – wasn't it just always on the box? It provided some much-needed fun during an otherwise dull post-school afternoon and I personally spent more time in the 1990s glued to the show than doing course work.
So, with gentle care, 10 years on from the original series ending, we gathered a brilliant team in Glasgow to update this hugely successful format, while respecting all that we loved about it in the first place.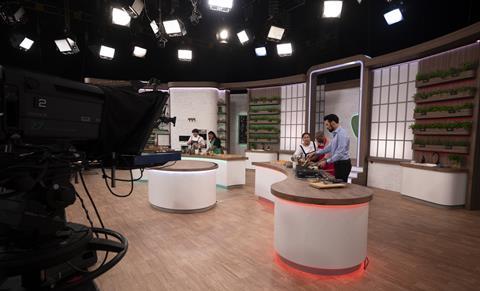 The central message in the original format – cooking on a budget in very little time – is arguably more relevant now than ever before. Household budgets are as tight as ever and food prices are on the rise, as are food bank numbers.
Statistically, we have even less time to cook from scratch than we did 10 years ago, and food delivery apps are feeding a whole generation.
What has changed dramatically is our understanding of how food and the sustainability of our planet are intertwined, and how food waste, single-use plastic and air miles are having a negative effect.
We don't have all the answers yet, but as consumers, we know that the choices we all make can have bad consequences on the environment that cannot be ignored.
It was crucial to put this very real concern at the centre of our production, a prism through which all decisions should be made. Doing this forced us to evaluate the options on how best to reduce our environmental impact: sometimes it was clear what to do; sometimes it was the lesser of two evils.
On screen, it was important to make visual choices that didn't preach to viewers but were clear and on message and reflected the current concerns of the nation.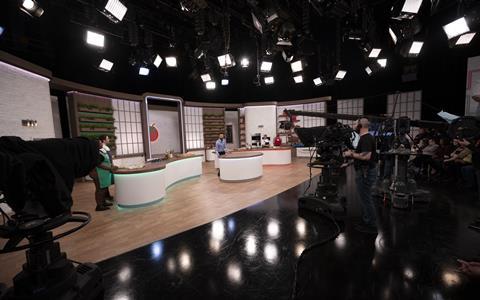 The format dictated the need to show shopping in a way other cookery shows don't, so purchases would be held in reusable jute bags, meat and fish would be wrapped with corn-starch lining and unbleached butchers' paper, and the pantry items would be plastic-free.
In terms of onscreen waste, the set would include separate bins to show viewers we would be splitting our rubbish.
To achieve all this on screen, we had to live by the same rules off screen. We sourced the ingredients requested by contestants responsibly. Meat, fish and dairy were organic and always of high welfare standards, and we cut out as much excessive packaging as possible.
The food team filled up reusable crates to buy loose fruit and veg. Fairtrade and local ingredients were favoured as much as we could and we tried to use seasonal products to avoid air miles, or used frozen goods that had been picked in season in the UK.
"I didn't expect to go into detail discussing waste-disposal companies and the merits of anaerobic digestion, but it was as important as anything else"
We had a number of vegetarian and vegan bags for those on or considering meat-free diets – either for ethical reasons or because of concerns over the impact of the meat and dairy industry on the planet.
However, sitting alongside this desire to represent alternate food choices and responsibly sourced ingredients was the need to be accessible to all viewers and all budgets. We included contestants with a budget of just £3.50, for example, and that was an important message. We never wanted the show to feel out of reach to viewers.
Food responsibility
As an executive producer, I didn't expect to go into such detail discussing various waste-disposal companies and the merits of anaerobic digestion, but it was as important as any other part of the production.
On the day we wrapped, we donated to the local foodbank any remaining goods it would take, including cans and non-perishable goods. As for the fresh items, we set up a mock market stall for crew to take home all the unused veg and herbs.
Cat Lawson - My tricks of the trade
Never rush the crewing-up process. A great show always starts by having the best people on board.
Listen to your team and trust them. Never assume you know the fine detail better than the person who is digging into it.
You can never have too many cutaways. If you think you have enough, shoot more.
The darker the world feels, the greater the need for light entertainment programming.
Like all of us when we do our weekly shop, at times we felt frustrated that there wasn't a better option out there, but as a team, our desire to do the right thing was a constant driving force.
It's one to keep an eye on – as the arguments continue to evolve, no doubt we can continue to improve and evolve our approach to sustainability on set.
TV production does have a responsibility, both in real terms and in the tone of message to viewers. Hopefully, Ready Steady Cook can play a part in that and encourage people to think about their food choices, shop responsibly and get cooking.
Plus, with Rylan Clark-Neal mischievously at the helm and five supremely talented new chefs let loose in the kitchen, it's an absolute riot for another generation of bored students.
BUILDING A SET FOR MODERN TIMES
Joshua Grace, production designer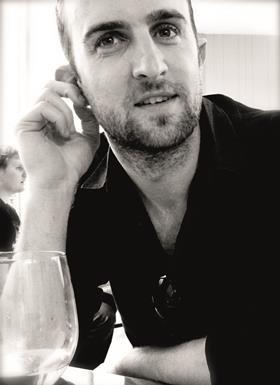 When Remarkable got in touch to say Ready Steady Cook was being revived and to ask if I'd like to be involved, there was no hesitation. It's 10 years since it was last on air, and what a different aesthetic world we exist in now.
With everybody who uses social media familiar with photographs of beautifully plated food, artfully presented, it was exciting to reimagine the kitchens that the show should be set in for 2020.
Aspirational is a word frequently used when we discuss making sets that nod to a domestic setting. While ensuring this set felt exciting and aspirational, it was also important to make sure it was familiar, friendly and fun.
This wasn't going to be polished stainless steel and stark, clinical surfaces but rather natural materials with warmth and texture.
It was important to provide a beautifully lit kitchen one moment that could transform to represent the iconic red tomato and green pepper team colours. LED lighting was concealed into the set to give a gentle glow under shelves, counter tops and header pieces.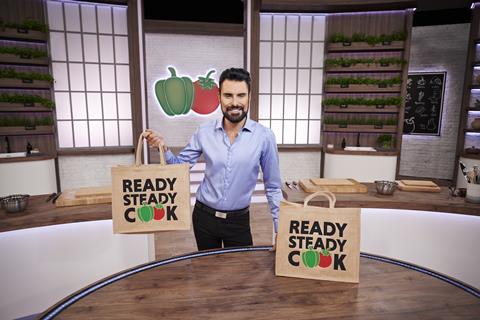 The show has a focus on sustainability and being environmentally friendly wherever possible, which was a challenge to translate into the new design.
Three large recycling bins were built into the counters to show how we'd be separating waste; we had two walls of living herbs; there was to be no plastic used; and we favoured stone, wood, metal, reclaimed materials and glass for dressing and utensils.
Making the studio audience feel part of the set was another feature. Softly backlit windows were a way of adding another soft texture, and creating a wraparound environment for the audience to be in, making them feel directly connected to the action.