Ahead of next week's Realscreen event, Peter White looks at the non-scripted formats and reality series creating the biggest buzz, from true-crime docs to LGBT-themed shows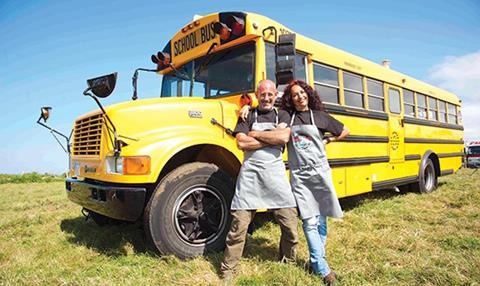 Broadcasters in the US and around the world are searching for the next generation of non-scripted hits to replace evergreen talent formats and copycat survival series, and this year's Realscreen will play host to their latest attempts.
Producers are scaling great heights trying to come up with new competitions that can replicate the global success of shows such as Survivor, Fear Factor and The Amazing Race.
A number of mountaineering formats debuted at Mipcom in October, from Italy's Monte Bianco to Finland's Ultimate Expedition and Holland's Blind To The Top, but it seems that many are still attempting to break the genre.
Fear Factor executive producer Matt Kuntiz has teamed up with Lionsgate, which recently hired former Shed Media and NBC exec Jennifer O'Connell to ramp up its non-scripted division, to produce Kicking & Screaming.
Fox has ordered a 10-part run of the show, which pairs expert survivalists with pampered partners in a race across the wilderness, overcoming wild animals and extreme weather to reach the finish line.
Fox president of entertainment David Madden says that pairing experts with "high-maintenance" novices struck the broadcaster as the "perfect way to extract comedy from the survival competition genre".
Meanwhile, Swedish indie Elk Entertainment is producing nationwide man-hunt Run! for TV4. In the 8 x 90-minute show, nine couples are sent on an eight-week Hunted-meets- Big Brother chase across the country in a bid to stay ahead of the paparazzistyle cameras.
Discovery's latest dangerous-job docu-series also has an international adventure element. Sharp Entertainment's 6 x 60-minute Deadliest Job Interview follows 'greenhorns' taking on eight of the world's most perilous professions, from a bush pilot in South Africa to a volcanologist exploring active Italian volcano Mount Stromboli.
British indie Buccaneer Media, set up by The Only Way Is Essex creator Tony Wood, is getting in on the act with Men Against Boys, in which two grumpy, middle-aged adults head out on a global journey to compete with young prodigies. The fifty-somethings must challenge kids – from a five-year- old pilot in China to a 10-year-old US stock car racing driver – to show that they're not yet over the hill.
LGBT theme
There are also plenty of dangerous adventures in Vice's forthcoming linear series Gaycation, fronted by Ellen Page. The Juno star travelled around the world to examine gay culture for Viceland, including a trip to Brazil to interview a homophobic police officer known for killing homosexuals.
The LGBT theme is prevalent in a number of global series. E!'s reality show I Am Cait, which follows Caitlyn Jenner post-gender transition, has been picked up for a second series, while The Prancing Elites Project was the highest-rated launch for NBC Universal-owned cable network Oxygen since it rebranded in July 2014. The show follows a group of five gay and non-gender-conforming African-American dancers from Alabama who mix cheerleading with hip-hop dancing.
Meanwhile, drag queen RuPaul is fronting gameshow Gay For Play, in which six celebrities help two contestants answer pop-culture questions. The series, produced by RuPaul's Drag Race indie World of Wonder, will air later this year on Viacom-owned network Logo.
Tackling diversity, meanwhile, is not just a UK issue, something that Born This Way, from US cable network A&E, highlights.
The show, produced by The Real World indie Bunim Murray Productions, takes an intimate look at the lives of young men and women born with Down's Syndrome. The format, which has been renewed for a second series since its December launch, follows a group of seven adults in Southern California, and explores their friendships, romances, dreams and professional lives.
A&E head of programming Elaine Frontain Bryant says the broadcaster was "overwhelmed and moved" by viewer feedback: "It's rare to be able to present a show that changes the way we see the world. We believe Born This Way is one of those shows."
Although many networks are searching for innovative new formats, tried-and-tested genres such as talent shows, cooking formats and makeover programmes remain popular.
Endemol Shine Group is hoping that Cocineros Al Volante (Cooks On Wheels) can replicate the success of its own MasterChef. The show, produced by Shine Iberia for Spanish public broadcaster RTVE, pitches eight food trucks against each other in regional cooking challenges, judged by two prestigious chefs.
US cable network Pivot is developing Killer Meals (W/T) from FishBowl Worldwide Media. The show follows scientist and chef Bun Lai and MIT-trained environmental scientist Dylan Bruno, who make profitable dishes from invasive species that would otherwise kill off essential food supplies.
Netflix is also continuing to put food on the table, following its first doc series, Chef 's Table. Next up is Cooked, produced by Going Clear director Alex Gibney and food writer Michael Pollan. The series looks at unusual diets, from an Aboriginal tribe that fi re-roast lizards to Peruvian brewers who turn human saliva into a drink.
Hitting the right note
The end of American Idol and the near-constant search for viable music formats has Israeli distributor Armoza Formats singing. The company is launching Live From My Home, which debuted on French Canadian station TVA, a Come Dine With Me-style entertainment format in which singers invite each other to their homes to give a performance.
Armoza, best known in the UK for distributing C4 gameshow The Common Denominator, is also asking broadcasters to say 'I do' with wedding format Marry Me Now. The show follows women who are tired of waiting for a marriage proposal and decide to plan a wedding without their partner's knowledge.
Survivor producer Mark Burnett is also exploring the 'instant yes or no' appeal of modern dating with a new, untitled format set in the Caribbean. Burnett is producing a 10-episode run for Fox later this year, to be distributed by MGM.
Makeovers are still de rigueur, with two new formats brightening the international market.
Lionsgate is selling Revenge Body internationally after E! ordered a 6 x 60-minute series of the Khloé Kardashian-fronted format. The show assembles a group of 'glam squads' to transform the lives of people struggling with self-esteem issues.
Similarly, Paul Heaney's TCB Media Rights is going globally glamorous with Bringing Sexy Back. The show, originally produced by Australian network Seven, is a makeover format with a health twist.
Heaney says it is a "feel-good show with stunning, satisfying reveals".
"It's produced for the Aussie TV market, which is just about the most ruthless in the world for new formats," he adds.
Finally, many are searching for the next Serial or Making A Murderer. While the true-crime world is not as immediately formatable as other non-scripted genres, Discovery has high hopes for Killing Fields, following a cold case set in the bayous of Louisiana, and NBCU's Oxygen has ordered #killerpost, which interweaves social media activity into murder cases, from Sky-owned indies Jupiter Entertainment and Blast! Films.
Global broadcasters, it seems, are dying to crack this – and many other hot genres.
REALSCREEN: HOTTEST DOCS
Realscreen began as a market for high-end documentary-makers and despite an avalanche of reality formats, there are still many documentaries discussed in DC.
STAIRCASE III
The eight-part doc series is cited as the inspiration for the true-crime revival of Netflix's Making A Murderer and HBO's The Jinx. French director Jean-Xavier de Lestrade is now making a third instalment – following a feature fi lm in 2011. In the latest twist in his trial for the murder of his wife, writer Michael Peterson is blaming an owl for her death.
JUDGEMENT DAY: PRISON OR PAROLE?
This three-part documentary series, commissioned by Investigation Discovery, comes from Joe Berlinger, director of 1996 doc feature Paradise Lost. It examines the process of parole hearings in the US.
OJ: MADE IN AMERICA
ESPN's ­30 For 30 strand is moving into series for the first time with 5 x 120-minute OJ: Made In America, which explores race and celebrity through the rise and fall of Buffalo Bills football star OJ Simpson. The series, which launches in June, will look at his sporting career, his acquittal after being tried for his ex-wife's murder, and his conviction for armed robbery