GoPro launches new Hero camera and drone Action camera maker GoPro has launched a drone that can carry either a Hero 4 or a Hero 5 camera and folds up to fit inside a backpack.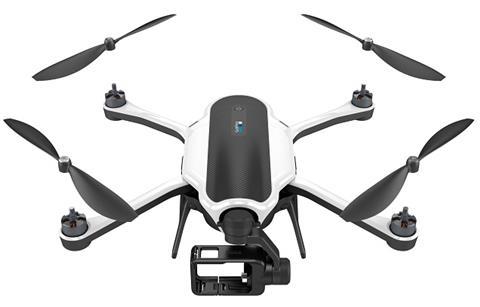 Karma has four blades, a detachable 3-axis camera stabiliser with grip and a video game-style controller.
The Hero 5 cameras are also new.
Available in either Black or Session models, both can shoot 4K at 30 frames per second and feature an auto upload function so that photos and video can be saved to the cloud when the camera is charging.
Cloud upload requires a GoPro Plus subscription.
They are both waterproof without a housing to 33ft and can be operated via voice control.
The Hero5 Black is priced at £349.99, while the Hero5 Session will cost £249.99.
Both cameras will be available from 2 October.
Karma is priced at £719.99, or £999.99 with a Hero5 Black camera. The drone will be available from 23rd October.