Science meets true crime in six-part factual series Guiltology, produced by Jane Root's transatlantic indie Nutopia.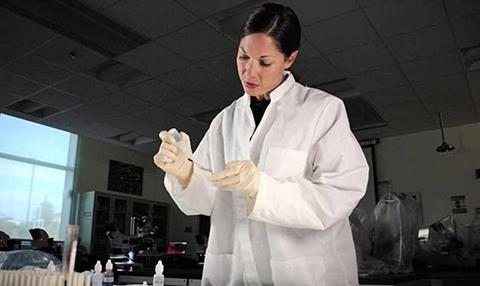 GUILTOLOGY
Distributor DRG
Producer Nutopia
Length 6 x 60 minutes
Broadcaster HLN (US)
The high-end US doc series layers detailed scientific evidence on top of the gripping narrative provided by investigations of cold cases, including Green River killer Gary Ridgway, one of America's most prolific serial killers.
The series is produced for CNN's sister channel HLN, which is aggressively moving into original commissioning with shows including celebrity crime series How It Really Happened, fronted by CSI: NY star Hill Harper.
Each episode of Guiltology features a compelling true-crime case in which a forensic or technological advance has uncovered new evidence.
Through exclusive access to the detectives, scientists and forensic experts that cracked the case, the facts are revealed with powerful first-person storytelling.
A compelling and stylishly shot account from men and women who went above and beyond the call of duty, often sacrificing their own lives in the pursuit of justice, is complemented by dramatic, filmic reconstructions.
Extra context is provided by a supporting cast of forensic scientists who help the audience understand the key facts about the new evidence and explain how forensic technology is changing the face of crime fighting. In addition to the investigation into the Green
River killer, for example, the series explores how a cold case was reopened when DNA testing showed one killer to be a woman, rather than a man, as had been assumed.
While Guiltology highlights the scientific, psychological and legal complexities of each case, it still provides the puzzle-solving immersion and ticking-clock suspense that hooked millions to crime hits like Serial, The Jinx and Making A Murderer.
Ben Goold, executive producer at Nutopia, says each episode has a "unique visual stamp". "They each feature an exciting and emotional story but are also able to deliver a lot of granular detail in terms of science," he adds.
Goold says he hopes the science element within the show will help broaden the appeal of real crime, which usually skews slightly female, and attract more male viewers to the series.
While some of the cases, such as that of the Green River killer, might be familiar to many viewers, the scientific revelations provide a new angle to each case.
"In many cases, we have the actual forensic scientists who unlocked the case telling their side of the story and delivering the science that way. These are not science pop-out moments, they are all part of the story because they are the crucial turning points that helped to identify the perpetrator," Goold says.
The show is being distributed internationally by DRG.
International interest
Katy Cundall, senior vice-president of acquisitions at the Modern Times Group-owned distributor, says the series has already attracted considerable international interest.
DRG expects to close deals in western Europe and Scandinavia in particular and is targeting pay-TV crime channels as well as free-to-air broadcasters.
"The challenge for crime channels is that they often worry that they have seen the cases before or heard of them before and the audience knows the answer. The element of revelation in these cases makes the series really interesting," she adds.
The company ramped up its interest in the genre last year with docs including C4's ITN-produced Interview With A Murderer and Emporium Productions' 10-part Murderers And Their Mothers.
"We launched a crime catalogue at Mipcom and have been looking for a show that is very high-end and visually enticing to add to it," she says. "We feel like this is it."
As well as Guiltology, DRG will be launching a number of other factual titles in Cannes.
These include Dox Productions' history series The Churchills and NRK Productions' Music Of The Northern Lights, which sets photography of the Northern Lights to music by the Norwegian Broadcasting Radio Orchestra.