Halo has completed the upgrade of its flagship Studio 1 mixing stage by investing in a 24-fader Avid S6 M40 mixing console.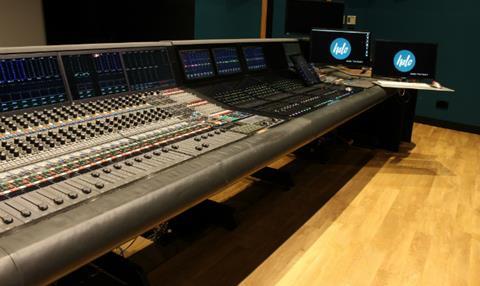 The S6 will integrate into halo's existing AMS Neve DFC surface, which has been updated to the latest software. Studio 1 is one of the largest audio mixing rooms in London and was recently overhauled by Halo to add support for Dolby Atmos at a cost of £300,000.
The integration of the S6 with the AMS Neve DFC provides a more flexible, streamlined approach for halo when working on Dolby Atmos mixing, whereby certain elements can be mixed using the DFC and other elements mixed on the S6.
Halo's head of audio operations Richard Addis said: "We seized the opportunity to do the Atmos installation at relatively short notice, so didn't have much time to think about anything other than the main build at the time. Since the studio relaunch, we've turned our sights to the one major aspect which wasn't addressed as part of the main build, namely the mixing console."
"With Pro Tools 12.8's Atmos integration, Atmos is now highly accessible to projects of all sizes and budgets, and not just for film. We needed a solution to cater for all, and with the S6 integration, we now have that," adds Addis. "The DFC continues to be the gold standard in film mixing, and AMS Neve's ongoing commitment to developing for and streamlining the Dolby Atmos mixing experience is fantastic."
David Turner, Head of Film at halo, adds: "With S6 integration, we have a solution that is both progressive and ergonomic. With Dolby Atmos deliverables beginning to appear on delivery specs for providers such as Netflix, investing in upgrades that streamline the Dolby Atmos production workflow are of clear benefit to us across the business as a whole."