Engaging on-screen graphics and player stats are enabled by player and ball tracking system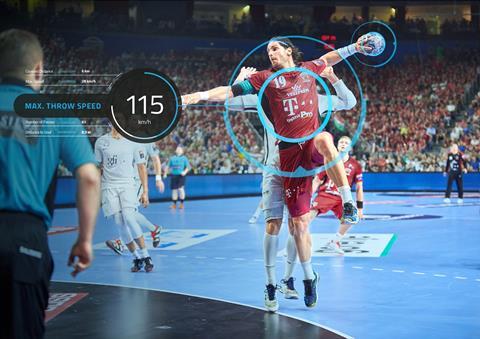 The European Handball Federation (EHF) has brought in player tracking technology to provide in-depth on-screen graphics and insights during the Velux EHF Final4 in Cologne on 1-2 June 2019.
The data will include players' running distance, playing time, fastest sprints, highest jumps and fastest goalkeeper saves.
It's the first use of player tracking at an EHF event, and works via data captured by lightweight (14g) tracking sensors from German tracking and analytics company Kinexon. These are worn in the shirts of all players of the four clubs (Barça Lassa, HC Vardar, Telekom Veszprém HC, PGE Vive Kielce) involved in the weekend event.
The games also include the Select iBall intelligent ball, which the EHF first introduced last year. The iBall has an embedded chip that collects "an unparalleled amount of data around each match," says the EHF, and this will also feed into the on-screen graphics.
Information such as ball speed, shot detection, position of the shot and placement of the ball on target will be captured through the iBall chip.
Kinexon anchors around the court capture the data from the sensors in the players' shirts and the ball. The data is sent in real-time to a central database and can be accessed in real-time.
All the extensive match and player data will be delivered both to spectators in the Lanxess arena and to those watching at home.
Selected data will be also be available exclusively in the official Velux EHF Final4 app. This includes the top five fastest shots, highest jumps, fastest sprints and running distances.
An extensive report of collected match data will be provided to the participating teams giving them opportunity to have all information about the team and player performance.
Kinexon co-founder and managing director Maximilian Schmidt, said: "We are excited and proud that the EHF expands their handball performance tracking initiatives by adding automated, real-time player tracking to this year's Velux EHF Final4. After introducing the SELECT iBall last year, David Szelzak and his team prove again that they are true pioneers in bringing sports technology to handball. With our partnership, we hope to establish a new era to this fast pace, intense and honest team sport."
David Szlezak, managing director of EHF marketing added: "The introduction of player tracking technology is the next step on our digital journey as we seek to enhance the game for audiences both at home and in the arena."