Leader Electronics has appointed Presteigne Broadcast Hire as a rental channel partner.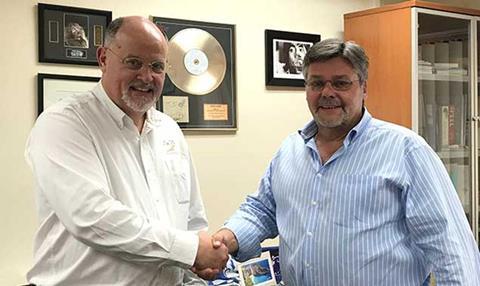 The deal will see Presteigne make various products available for hire in the UK, including Leader's 4K test and measurement (T&M) equipment.
The initial investment will include LV5490 4K waveform monitors, LV7390 4K rasterisers and LV5333 3G/HD/SD-SDI waveform monitors.
All three products can handle high dynamic range (HDR) in Dolby PQ, Hybrid Log-Gamma and Sony's Slog-3.
Presteigne chief executive Mike Ransome (pictured, right) said: "The combination of 4K and HDR has tremendous potential for our clients as already demonstrated by recent technical trials at major sports OBs during the German Bundesliga and the Champions League final in Cardiff."
Presteigne specialises in dry hire and has offices in London and Manchester. It was the subject of a management buyout in September, headed by Ransome and backed by NVM Private Equity.
Kevin Salvidge (pictured, left), European regional development manager for Leader, said the partnership "gives content producers the choice of accessing the LV5490 on a project-by-project basis rather than an outright purchase."