Complete post-production and mastering multiple versions, including a 90-minute UHD cinema release, 60-minute HD broadcast version and a 90-minute UHD Japanese master.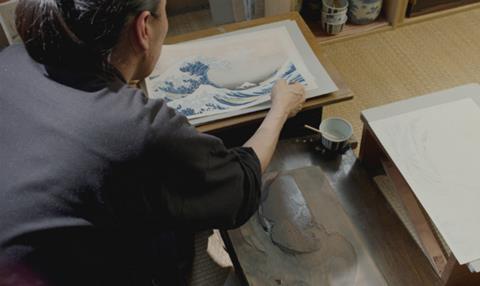 Post Clear Cut Pictures
Client British Museum
Brief Post-production on a documentary about Japanese artist Katsushika Hokusai to coincide with an exhibition at the British Museum. Clear Cut was tasked with delivering a 90-minute Ultra High Definition (UHD) cinema version, a 60-minute HD broadcast master for the BBC and all rushes and masters to NHK for a 90-minute UHD Japanese version.
How it was done The film focuses on Hokusai's work, life and times in Edo, now modern Tokyo, as art experts use extreme close-ups and 8K video to examine his prints and paintings.
The main technical consideration was handling the various deliverables as each required a different frame rate and size. The 23.98p UHD cinema version was mastered first. This was then cut down and frame rate converted to become the 60-minute 25fps HD master for the BBC.
To capture the intricate details of Hokusai's work, the production team shot mainly in 4K but, for the extreme close-ups, NHK provided 8K technology. The large-format footage was ingested and then pan and scanned to the UHD frame. Previously shot UHD footage from the British Museum and NHK, in a variety of frame rates, was added.
The craft edit took place on a multiformat timeline, keeping each source clip in its original native frame rate until the picture-lock stage. At that point, the non-23.98p clips were standards converted using Snell's Alchemist XF. Some sequences were assembled out of house on Premiere Pro and then transferred to the craft editor's Avid offline suite for fine cutting, using a Premiere Pro to Avid workflow via AAF transfer and media relinking.
The craft edit for the 90-minute film was cut as two sections: a 60-minute doc about the life and work of Hokusai, cut on Avid by Gerard Evans: and a 30-minute film, assembled in Premiere Pro by Gabriel Sainhas, of a private viewing of the exhibition. The two versions were then combined to make a single film.
For the grade, colourist Graeme Hayes worked closely with exhibition curator and head of the Japanese section at the British Museum Tim Clark. Using Baselight, he looked to faithfully reproduce the colour of the various silk and paper-based artworks.
Largely shot in Slog3, Hayes was careful not to over-process the images and worked to bring out an accurate and natural finish. The dubbing mixer was Ben Newth, the post producer was George Thompson and the online editor was Dan Preston-Bear. Jess Nottage devised the workflow.
Watch it Now on BBC iPlayer