If its performance in Denmark is any indication, audiences are going to love this Zodiak-distributed interactive entertainment format.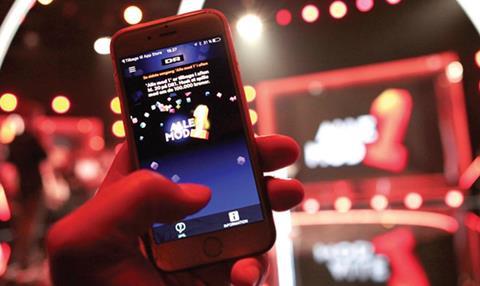 Distributor Zodiak Rights
Producer Nordisk Film TV Denmark
Length TBC x 60 minutes
Broadcaster DR1 (Denmark)
Created by Banijay Group-owned Nordisk Film TV Denmark for Danish broadcaster DR1, Banijay says All Against 1 is the country's highest-rating new format this year, taking an average audience share of 44% each week since its June premiere.
What has made it a hit? The format pits contestants in the studio against app users at home across six rounds in which they estimate the outcome of various experiments and stunts.
For example, how quickly will a caravan hit the ground, or how many kids does it take to pull a truck?
Each challenge is creatively demonstrated off-site, adding some off-kilter colour – and laughs – to the standard gameshow format. Stakes are also high: studio contestants are up against the viewers at home, and the estimate that comes closest to the actual answer wins, with an app user chosen at random if the studio contestant gets it wrong.
Tim Mutimer, chief executive of Zodiak Rights, describes All Against 1 as a "ratings juggernaut".
The format has already been commissioned in another territory, with further deals in the pipeline.
"It's a show that really brings families together with fun, engaging challenges, and high stakes," he says. "There's something for everyone and the strong playalong element makes it stand out from other formats currently on the market."
Certainly, All Against 1's triumph could be good news for interactive gameshows, whose playalong apps have failed to whet the appetites of Western audiences, particularly in the US – NBC's multiplatform The Million Second Quiz confounded users in 2013.
Keshet's Rising Star, meanwhile, was a smash in Israel, but didn't take off among US audiences, while ITV axed the show prior to its airing. The UK broadcaster recently teamed up with Talpa for the gameshow 5 Golden Rings, suggesting new-and-improved apps that are more user-friendly could be the ticket for the genre.
The international formats arm of the recently merged Banijay Group is also showcasing several health and body-related projects in the south of France.
Make My Body Better, fronted by Davina McCall, follows contributors whose lives are overshadowed by a severe and disabling health issue, such as 25-year-old Kirsty, who has lived with night terrors for seven years and undergoes a radical treatment to stop them.
The 7 Wonder-produced format aired on Channel 4 in August and averaged a consolidated audience of 1.2 million (5.1%).
Similarly, Zodiak Rights is looking to close more deals for its Italian format Undressed. The show, in which two people try to find romance after undressing each other, has been renewed for a second 20 x 30-minute series by Discovery-owned TLC.
Mutimer and his colleagues will be looking for more sales for the format, which was originally commissioned by Discovery's Italian channel Nove from Zodiak-owned Italian indie Magnolia.