The musical gameshow genre is booming as global broadcasters search for a hit on the scale of Don't Forget The Lyrics.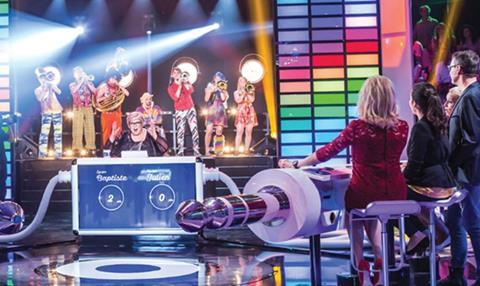 Distributor Endemol Shine Group
Producer Shine France
Length 2 x 60 minutes
Broadcaster TF1 (France)
Survivor creator Mark Burnett is developing a gameshow based on the Shazam app for Fox, while singer Christina Aguilera is working on Tracks for cable network Spike TV, produced by Mission Control Media and MX Productions in association with Lionsgate.
Meanwhile, Endemol Shine Group is starting to have international success with Big Music Quiz, a show based on France's Le Grand Blind Test.
The show, which is produced by Thierry Lachkar's Shine France and Ardisson & Lumières for TF1, features teams of celebrities competing to discover which of them is the biggest music fan.
The teams have to guess who originally performed a popular cover version, correctly name a song that is being played at 10 times its normal speed, and identify a classic song performed in a different language.
The format has already been rolled out in five territories, including Australia via Seven Network; Germany through RTL; Italy via Raid; and in the Netherlands through RTL4.
Lisa Perrin, chief executive of Endemol Shine's global formats division Creative Networks, is hoping to add further deals at Mipcom.
"Big Music Quiz is really starting to roll out internationally and it's brilliant to land commissions before we head to Cannes," she says.
The company is also distributing Israeli gameshow Locked and Korean social experiment The Society Game.
The former, which was produced by Endemol Shine Israel and Park Lane Productions for Keshet, challenges contestants to win prizes by escaping from various locked rooms.
The latter, which is the first co-development between CJ&Em and Endemol Shine and is produced for TVN, explores different political systems and communities.
Two teams, or 'societies', will assume contrasting authoritarian and democratic models and undertake physical and mental challenges. Only one system and leader can emerge victorious.
Perrin says there is a "tremendous level of creativity" emerging from South Korea. "This series brings the social experiment genre bang up to date and couldn't be more timely, with audiences around the world questioning the political status quo," she adds.