Hooten & The Lady is an ambitious adventure series, described as 'Moonlighting set in the jungle', or an 'updated take on Romancing The Stone'. Just don't call it the new Indiana Jones.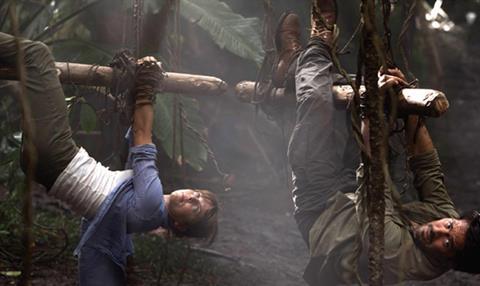 Distributor Sky Vision
Producer Red Planet Pictures
Length 8 x 60 minutes
Broadcaster Sky 1 (UK)
"It's in the same genre," acknowledges creator and executive producer Tony Jordan, managing director of production company Red Planet Pictures. "But it's about two central characters and their relationship, rather than a lone individual with a hat and a whip."
The series follows the adventures of maverick explorer Hooten, played by CSI star Michael Landes, and fearless historical expert and British museum curator Lady Alexandra, played by W1A's Ophelia Lovibond.
The pair team up on a series of missions to track down fabled treasures and relics from the past, ranging from the Amazonian golden city of Z to Buddha's missing scroll and the lost tomb of Alexander the Great.
Jordan says he's been working on the show for the past five years.
After coming up with the idea on a writers' trip to Los Angeles, he scored an eight-part commission from Sky 1. "It was tough to find broadcasters," he admits. "No one has done that big adventure genre before; it's more of a movie thing. When others have tried shows in this space, I feel they've been a bit ashamed and ended up making a big supernatural show. We haven't done that; it's not about aliens."
The series has been largely shot in Cape Town, South Africa, as well as Rome, Moscow and Cambodia.
Jordan says it was important that the show has a feeling of modernity, rather than being a period piece. "We're living in a world with satellite mapping and 3D printing; it's not just about walking around with a shovel."
The series was fully funded by Sky 1 and Sky Vision, and Jordan joined execs from the latter on a recent trip to the US in search of a major US broadcast partner. "We're close to getting our fi rst-choice partner," he says.
The deal doesn't interfere with Red Planet's first-look deal with BBC Worldwide. "We work a lot with BBC Worldwide," he says. "We've got a distribution deal with them, but it's not exclusive.
Some things pop out and the way to get this show away was to do it with Sky Vision."
The distributor is launching the series, which is set to air later this year, at Mip TV, and the Dickensian and Death In Paradise producer says there will be nothing else like it on the Croisette.
"If you go to Mip and you're looking to buy something that is loud and stands out, you're going to have a choice of 27 cop shows or Hooten & The Lady," Jordan says.