The Collection is a story about Parisian fashion, created by an American, overseen by an Irish director and produced by British and French indies for a global online streaming service. TV shows rarely get more international than this.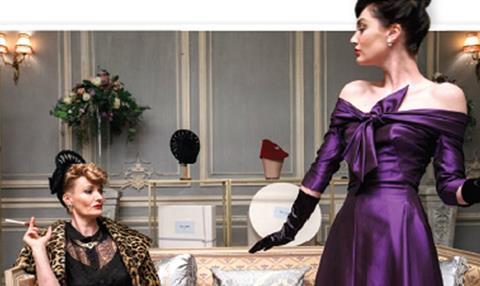 Distributor BBC Worldwide
Producers Lookout Point; Federation Entertainment; Artis Pictures Production; MFP
Length 8 x 60 minutes
Broadcaster Amazon (UK)
Created by Desperate Housewives executive producer Oliver Goldstick, the project was picked up by Lookout Point producer Kate Croft. Simon Vaughan's indie signed up French co-producer Federation Entertainment, before selling it to Amazon Prime in the UK and France Télévisions.
Set in Paris, the series tells the story of the rise of an illustrious fashion house, led by two brothers, highlighting the grit behind the glamour. It stars Da Vinci's Demons' Tom Riley, The Good Wife's Mamie
The Collection: international production Gummer (daughter of Meryl Streep) and Irène Jacob. It is directed by Penny Dreadful and The Tudors director Dearbhla Walsh. "Paris is the worldwide capital of fashion," says Federation chief executive Pascal Breton. "But it was even more so in the 40s and 50s, and it felt like one of the ways that France could get its rebirth after the war. France needed something to be proud of."
The project was ambitious, not least the financing, which included money from Pinewood's Welsh investment fund. "It was not so easy to combine the French rules and expectations with the expectations of an international show shot for Amazon and BBC Worldwide, and the local
British and Welsh tax credits, but we made it and it was a good experiment," says Breton.
It is also one of Amazon's first original series in the UK, following Ripper Street. But Breton, who is also producing Marseille, Netflix's first original French commission, says making shows for streaming services is straightforward.
"Amazon and Netflix are not so aggressive on the content," he says. "They trust the team, they trust the producers and directors and let us do what we have to do."
The Collection is one of Lookout Point's first projects since it unveiled plans to move into fullscale creative production. Vaughan calls the show a "coming-of-age moment" for the company.
The eight-part drama, which is also executive produced by former HBO drama chief and Rome producer Anne Thomopoulos, is distributed by BBC Worldwide, which is launching it at Mip TV. International buyers have been invited to see the first clips at an extravagant evening event at a chateau just outside of Cannes.