Crime author Harlan Coben has sold more than 50 million books in more than 40 languages. Now he is hoping that his first attempt at an English-language TV drama can travel as far and wide.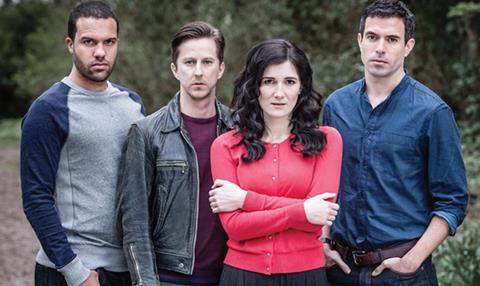 Distributor Studiocanal
Producer Red Production Company
Length 10 x 60 minutes
Country UK
Crime author Harlan Coben has sold more than 50 million books in more than 40 languages. Now he is hoping that his first attempt at an English-language TV drama can travel as far and wide.
The New Jersey-born writer, who has published 27 novels in 25 years, is working with Happy Valley indie Red Production Company on The Five, a mystery crime thriller for Sky.
"[Red boss] Nicola Shindler approached me about one of my books, but the one she wanted was already optioned," he says. "I had been toying around with another idea and was debating whether to turn it into a novel, but I always saw it as something more visual with four main characters. I thought it would be a cool idea to take the idea for a novel and make it for TV straight away rather than adapt a novel."
Confronting the past
The 10-part series follows a group of friends united by a terrible incident. Haunted by the disappearance of the younger brother of one of the group years earlier, while they were looking after him, they are forced to face the past when the boy's DNA turns up at the scene of a murder.
It stars Tom Cullen (Downton Abbey), OT Fagbenle (Looking), Lee Ingleby (Harry Potter) and Sarah Solemani (Him and Her).
The show was originally commissioned by Sky Living before being moved to Sky 1 after the pay-TV broadcaster moved away from original commissions on the female-skewing channel.
"I felt that for my first show, I wanted to have as little interference from networks as possible," Coben says. "I thought I could do that with Sky. They've been a good partner. I don't want to sound too Pollyanna but they've seen the vision I've had from day one, which is unusual."
Coben is working closely with Danny Brocklehurst (The Driver, Ordinary Lies).
"I'm not doing the actual scripts, I did the outlines and worked close with Danny. I didn't expect to see eye to eye with someone like him," he says. "Nicola is also fantastic: she has a tremendous respect for writers, which isn't always the case, while not being afraid to give her opinion. She gets story better than a lot of execs I've met."
The Five is set to air later this year and Coben says it is closed-ended. "It's a complete story," he says. "I don't like it when you invest eight hours and then at the end they say they'll let you know next year. You're going to find out what happened."
Given the opportunity to write another series of The Five, he says he would make it anthology-style, like True Detective or American Horror Story.
Red Production Company owner Studiocanal is launching the drama at Mipcom with the cast attending. The French firm's executive vice-president of sales and Coben has worked with Bones showrunner Francois Velle to adapt No Second Chance, which also airs this autumn.
The broadcaster's global sales division, TF1 International, is distributing the 6 x 60-minute kidnap drama. "France is my biggest country; I'm the Jerry Lewis of crime fiction," Coben jokes.
Indeed, all of Coben's novels have been optioned as feature films but to date, Tell No One is the only one to have been produced – as French film Ne Le Dis A Personne. "My stories are fairly plot-heavy, so to try to strip them down to an hour and a half is tough. With the quality of TV in the past few years, with shows like Breaking Bad, Lost and Homeland, it's more my medium than movies would be."
On The Five, he's been more hands-on than in the past. "I didn't just want to sell or give them the idea and walk away," he says.
"I'm all over this. I don't need a TV show, I'm not in the unemployment line. If I didn't think it was going to be excellent, there's no reason for me to really try." marketing Katrina Neylon says The Five is "indicative of the level of top creatives and talent" within the Studiocanal group.
Previous attempts to adapt Coben's books for the small screen – most recently, NBC's planned adaptation of Gone For Good in 2013 – have not made it to air. But French broadcaster TF1 hopes to buck that trend.