Polyamory is an unlikely topic for comedy. The practice – intimate relationships involving more than two people – is generally more suited to risqué psychological dramas such as Eyes Wide Shut.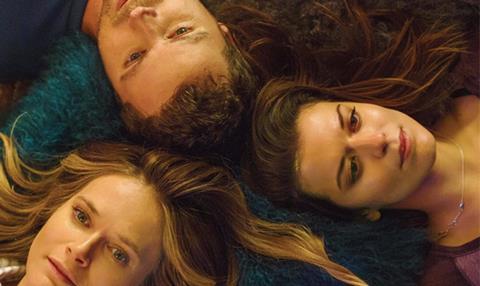 Distributor Entertainment One
Producers Entertainment One; Alta Loma Entertainment
Length 10 x 30 minutes
Broadcaster DirecTV (US)
However, DirecTV series You, Me, Her explores the issue in a relatable way. The 10 x 30-minute series features Greg Poehler, star of NBC's Welcome To Sweden and brother of Parks And Recreation star Amy, as suburban husband Jack.
Jack's marriage is faltering and he visits 'accidental' escort Izzy, (Rookie Blue's Priscilla Faia), before confessing to his wife Emma, played by Rachel Blanchard (Flight Of The Conchords, Peep Show).
The three subsequently start a relationship and the series follows the ups and downs of their arrangement.
Loosely based on Sugar On Top, an article written by John H Richardson for Playboy magazine, You, Me, Her was created by John Scott Shepherd, executive producer of NBC's Save Me and ABC's The Days.
He sees the show as Big Love without the religion. "Wouldn't it be fun to approach polyamory as a dramedy, populated with a real married couple that were having problems but really liked each other?" he says. "I want it to look like a Richard Curtis film or a great romantic comedy that just happens to involve a third person."
Produced and distributed by Entertainment One, You, Me, Her is the first half-hour series for satellite pay-TV broadcaster DirecTV, which is best known for dramas such as martial arts thriller Kingdom.
Scott Shepherd says the half-hour form is having a renaissance in the US, with comedy dramas including HBO's Togetherness, FX's You're The Worst, Amazon's Transparent and Netflix's Love.
"DirecTV convinced me it was committed to becoming the home for prestigious half-hour series and I saw an opportunity to be its Shonda Rhimes," he adds.
EOne has high hopes for the series globally. "I hope people don't see it as too American and that it can be relatable, which is always a problem with comedy. It could be taking place in Denmark," he says.
The firm's president of global scripted programming, Pancho Mansfield, says You, Me, Her was a "quirky, provocative" concept; had it been made 10 years ago, it would have been a feature film, he says.
Ambitious target
EOne chief executive Darren Throop has set his troops an ambitious target of doubling the size of the company by 2019.
It is now targeting the US broadcast networks – ABC, CBS, Fox, NBC and The CW – as well as doubling down on a push for "feature TV" – shows starring Hollywood A-listers including Anne Hathaway and Amy Adams.
Last year, it took a 51% stake in The Mark Gordon Company, the firm behind Grey's Anatomy and Criminal Minds. The deal has already given EOne access to two forthcoming ABC series: Kiefer Sutherland action drama Designated Survivor, in which the 24 star plays the US president, and legal drama Conviction.
EOne Television Chief executive John Morayniss says it allowed them to play in a "bigger sandbox". "We were always a bit cautious about getting into the US broad- cast business, especially pilots, so structuring the deal with Mark gives us a financial paradigm to come up with broadcast procedurals," he says.
Adams is set to star in an adaptation of Gone Girl author Gillian Flynn's debut novel Sharp Objects, while Hathaway will play the wife of the British ambassador to Yemen in Ambassador's Wife. A reboot of Rambo with Sylvester Stallone is also on the cards.
"We're going to do more of this type of show and make sure we have in development a handful of these projects," says Morayniss. "They're expensive and the development costs are high, but if you do it right, the buyers call you.
"A lot of the talent from the feature business aren't satisfied with what they're making and they look at the great drama on TV and want to be in on it."