IBC 2015: If last year's IBC appeared to promise delegates that an 'all IP future' was just around the corner, this year exhibitors are keen to show how they can help broadcasters that have been slower than expected in adopting the new technology.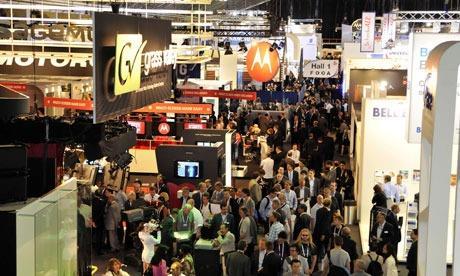 International Association of Broadcasting Manufacturers (IABM) director of technology and strategic insight John Ive said there had been a significant increase in the number of IP-based applications being entered into the IABM design and innovation awards hosted by IBC. He said that the move to IP was about democratisation of content production.
"These changes are opening the capability of working with broadcast and video and media to a much wider range of end users, and ultimately to a much wider range of viewers.
"It's also becoming more economical to distribute content to a smaller number of viewers. Before, when you had to go through an terrestrial satellite route to get to the end user, you needed millions of viewers to make it economically justifiable."
EVS, for example, will offer a raft of new approaches to IP production at IBC, including the Dyvi IT-based vision mixer. "The Dyvi's architecture is the complete opposite of all the existing switchers on the market," said EVS senior vice-president of marketing Nicolas Bourdon. "The system was presented as a proof of concept, but now it is up and running with Gearhouse as the first customer."
It will be demonstrated on the Gearhouse stand, where it will be connected to a full IP workflow.
EVS will also showcase its partnership with the EBU and Belgian public broadcaster VRT for the LiveIP project. LiveIP is a multivendor initiative showcasing IPbased live production with manufacturers including Axon, Dwesam, Genelec, Grass Valley, Lawo, LSB, Nevion and Tektronix.
"This is the first full IP-based studio that has been built and conceived in Europe," said Bourdon. "EVS wants to show the advances it has made around our customers' existing investments in both SDI and IP. We feel that the transition from SDI to IP will be slow."
Imagine Communications will demonstrate signal distribution and routing solutions that allow producers to manage hybrid SDI/ IP infrastructures.
Paula Bargery, Imagine director of sales in UK, Ireland and Southern Africa said: "Customers are more cautious than they were last year, hence our approach on allowing customers to use the technology they have today. Customers have made huge investments in their existing infrastructures and expect to be able to maximise their investments.
"So it's at the point at which they want to refresh existing technologies or expand their operations - those are the real trigger points for the change to IP."
In addition to showing off a full 4K live production workflow, Quantel Snell will exhibit its IP migration strategy. "We have added options to SDI devices that allow migration or the introduction of IP as and when the customer needs it," said Quantel Snell vice-president of marketing Neil Maycock. "Customers can migrate at a pace that suits them."
Sony's big launch
Sony's big launch for IBC is another IT solution that underscores the "democratisation" of access noted by John Ive.
The company will exhibit new asset management software called Media Navigator, which was unveiled last week. The software, with a base price of £2,500, is geared for small- to medium-sized enterprises.
"We are not trying to compete with the traditional MAMs," said Sony MAM marketing manager Felip Garcia. "Those have been designed for the big professional broadcasters. Everything has been done with a one-man band in mind."