A bumper year for one of comedy's pre-eminent producers, 2016 saw Big Talk build on the continued success of its established slate with the launch of several cracking new series.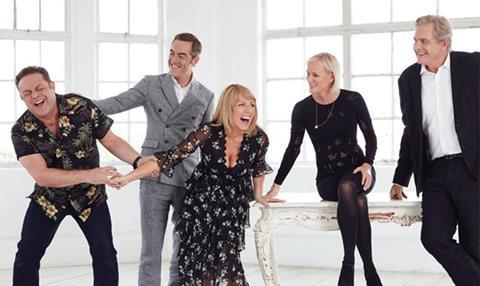 BBC2's Mum defeated the likes of Fleabag and Catastrophe to land Best Comedy thanks to the perfectly pitched writing of Stefan Golaszewski and stellar performances from a cast led by Lesley Manville. It was quickly recommissioned by BBC2.
Meanwhile, Cold Feet made a glorious return to ITV after a 13-year hiatus. The comeback could have tainted a beloved brand, but the indie delivered creator Mike Bullen's vision perfectly.
The result was critical acclaim and vast ratings – the top-performing episode consolidated to 8.5 million, trumping the likes of BBC1's War And Peace – and the show was shortlisted in the super-competitive Best Drama Series or Serial category.
Channel 4's Crashing introduced many viewers to the talents of creator Phoebe Waller-Bridge, while Robert Popper's Friday Night Dinner has now maintained its level of excellence over four series.
Co-production Houdini And Doyle was Big Talk's first drama on a US network, airing on Fox as well as ITVEncore in the UK, and its first project to be distributed by a Hollywood major, Sony.
Finally, Big Talk's involvement with the Cinema and Television Benevolent Fund's inaugural Betty Box and Peter Rogers comedy writing programme demonstrated its commitment to new talent.
SHORTLIST
Interview With A Murderer, one of ITN Productions' creative highlights of the year, triumphed in the Best Single Documentary category thanks to its mental duel between criminologist Professor David Wilson and convicted murderer (for a separate crime) Bert Spencer.
Europe: the Final Debate with Jeremy Paxman for Channel 4 and The Big Brexit Debate: Live for Channel 5 gave a glimpse of the indie's breadth of factual programming.
One night in July 2016 summed up RDF's renaissance. At 8pm, Eat Well For Less, 100 Year Old Drivers and The Secret Life Of Brothers And Sisters (a spin off from Channel 4's The Secret Life Of Four Year-Olds) battled it out on BBC One, ITV and C4 respectively. A wide range of other shows helped the company deliver its highest turnover and profit in a decade.
A relatively new kid on the drama block and a true indie, Sid Gentle found critical success with Sunday night ratings smash The Durrells for ITV, which was immediately recommissioned.
Neil Gaiman's Likely Stories for Sky Arts hinted at the company's breadth and it won a blockbuster commission from BBC One in the shape of SS-GB, an alternative-history thriller.
Gogglebox and Tattoo Fixers are Channel 4 and E4's most important shows, but 2016's big new arrival was Naked Attraction, which grabbed plenty of attention and was C4's most popular new show with young audiences.
The launch of a new drama division and important US commissions for Lifetime and E! rounded out the year.
The Real Marigold Hotel was one of the breakout hits of the year, combining travelogue, reality format and genuinely insightful musings on old age. It was quickly recommissioned and moved to BBC One. Twofour delivered yet another standout year on the back of The Jump, The Extraordinary Case Of Alex Lewis and Tom Daley: Diving For Gold.