The intimacy and ubiquity of smartphones make them ideal for telling personal stories, argue Victoria Mapplebeck and Adam Gee
Missed Call
Production company Field Day Productions
Commissioner Adam Gee, Little Dot Studios
Length 19 minutes
Producer/director Victoria Mapplebeck
Executive producers Amanda Murphy; Alex Hryniewicz; Andy Taylor
Editor Lisa Forrest
Music Jim Mapplebeck
Post-house Envy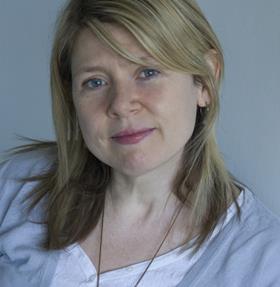 Victoria Mapplebeck
Producer/director
Reader in digital arts at Royal Holloway, University of London
How do you reconnect with a father who's been absent for over a decade? What do you write, what do you say? Add to that dilemma a teenage boy and the realisation that this private journey would very quickly become a public one. There were a lot of sleepless nights on Missed Call, the first commissioned short documentary to be shot on an iPhone X.
The doc is a sequel to 160 Characters, my first smartphone short, which I made for Film London. It brought to life a three-year SMS thread between myself and my son's father, charting the story of how we met, dated for just a few months, broke up and subsequently dealt with an unplanned pregnancy.
Missed Call explores my relationship with my now fourteen-year-old son Jim. His father came to see Jim a handful of times when he was a baby before deciding that he didn't want to be involved. Last year, Jim decided he wanted to meet his father and asked if I would make contact with him again.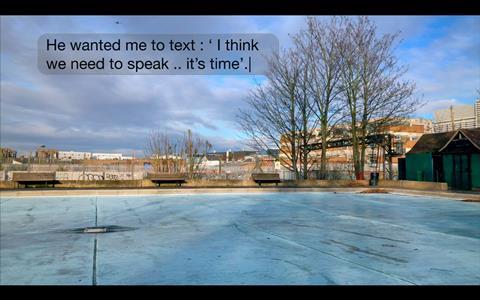 Executive producer Amanda Murphy helped me navigate the many compliance and ethical issues we faced throughout production. Our aim with Jim's dad was to preserve his anonymity and to protect Jim in an uncertain unfolding narrative. Squaring the circle of being both filmmaker and parent made this one of the most challenging films I've ever made.
"My son downloaded Garageband and composed the end credit music in 15 minutes. And even better, he gave me the rights in exchange for a new pair of trainers."
For Jim, being filmed by his mum with an iPhone X was no big deal. When he looked into the lens, all he saw was me.
But in my 25 years as a self-shooting director, the camera I film with has gone from needing a bag the size of a small suitcase to one that fits in my back pocket. So here's what I learned:
Ask for forgiveness not permission
The smartphone has transformed how we record, collect and share the world we live in, both inside and outside of the home. Over the last four years, I've been able to shoot on buses, on trains and in hospitals casually, exploiting a grey area in terms of filming permissions and following Werner Herzog's advice to documentary filmmakers: "Ask for forgiveness, not permission."
Small is beautiful
Smartphones are portable, unobtrusive and accessible, even for the most cash-strapped filmmaker. I've also begun to utilise phone apps for other creative solutions when working on a tight budget. 160 Characters was made for just £2K. When my composer dropped out with only a day's notice, my son picked up his iPhone, downloaded Garageband and composed the end credit music, all in 15 minutes. And even better, he gave me the rights in exchange for a new pair of trainers.
160 Characters received a Vimeo Staff pick and has been shared widely online. After Star Trek's George Takei shared it to his 12 million Facebook followers, it received nearly 4,000 shares from his page alone. It's since gathered over a million views. Proof that you don't need a huge budget to find your audience.
Our phones are like time machines
There's a great scene in Mad Men when Don Draper is meeting with the team who invented Kodak's Carousel. As he clicks through his own family album in a darkened boardroom, he begins his pitch:
"In Greek, 'Nostalgia' literally means the pain from an old wound, it's a twinge in your heart… It's a time machine. It goes backwards and forwards, it takes us to a place where we ache to go again…"
Our mobile phones have become our time machines. My vintage Nokia lies at the back of my kitchen drawer, holding that all-important first text message from Jim's dad. My new iPhone X can access that devastating last email from him before he cut all contact a decade ago. It also contains the first text I sent him after 12 years of radio silence - and 13 days later, his reply.
My phone contains good memories too: 26,000 photos; 3,000 videos; and the jokey texts Jim sends me from bedroom to living room, requesting another five minutes on the Xbox.
You may love your phone, you may hate it, probably both, but hold it close. It's your own personal time machine - it connects you with your past, your present and your future. It holds the traces of all your time travel, all the stories that shape you, the good and the bad… forever.
Smartphone filming essentials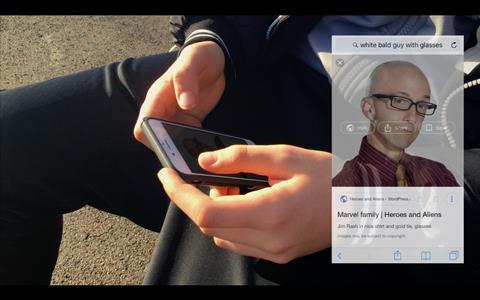 No budget? No excuse The gap between your idea and your final film has never been so small
The best camera you own is the one in your back pocket
Look like an amateur – shoot like a professional Smartphones enable you to shoot quickly and discreetly
Make it easy to view and share your film Get your film on as many platforms as possible.
Begin with an online launch The festival first /launch later timeline now feels out-dated. Most festivals don't require premiere status in the way they once did. Maximise your exposure and put your film online as soon as possible to find your audience and extend your reach.
Making the most of the smartphone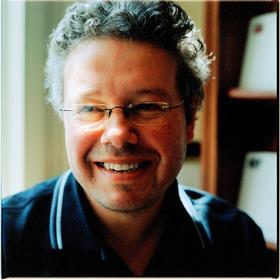 Adam Gee
Commissioning editor, Little Dot Studios
I commissioned Missed Call partly because I am a massive advocate of smartphone filmmaking. I also consider Victoria's 2015 film 160 Characters a pioneering work in this territory.
What's so special about what is effectively the prequel is that not only was it made largely on mobile phones, but also the narrative is derived from the contents of one old mobile in particular. It contains a resonant text thread that captures the story of a key love affair in the life of the director-cum-protagonist.
Missed Call similarly revolves around mobile phone content – video, photos, emoticons, animations, texts. The aesthetic of the film is rooted in this content, which gives it an original feel.
Between the old Nokia of the first film and the new generation iPhone of this second, the technology has advanced, the details of the graphics evolved, so the look & feel has moved on.
Because the commission coincided with the noisy launch of the iPhone X, I thought we might as well take advantage of the coincidence and be pioneers with the new tech.
I'd seen Michel Gondry's scripted short Détour, which was shot entirely on iPhone 7. That planted the iPhone seed and I asked Little Dot to buy the then brand-new iPhone X for Victoria to use.
She complemented it with a decent mike (Rode SmartLav+ Lavalier) and a stabiliser (Lanparte 3 Axis Handheld Gimbal) and then got the ball rolling. She started by using it for audio-recording conversations with her son Jim, to make sure he was comfortable, eventually segueing into video recording.
Intimacy and ubiquity
The power of Smartphone filmmaking is intimacy and ubiquity. The kind of intimate conversations Victoria and Jim managed to capture in a natural way were the result of the camera-phone being small and unobtrusive, with no crew attached - as part of everyday contemporary life.
And it's in your pocket all your waking hours (and not uncommonly beside the bed even in your non-waking ones, as we see in Missed Call).
Between this distinctive pairing of characteristics, a whole new highly accessible realm of film-making opens up.
Missed Call has been nominated in the Social Media Short category at the AHRC Research in Film Awards 2018, which take place on 8 November at BAFTA in London
It was the first project made as part of a new partnership between Royal Holloway and Field Day Productions, exploring digital archive in documentary production as part of a range of collaborations
Watch Victoria Mapplebeck's previous short 160 Characters here