Even by the standards of a company that thrives on serving up the unexpected, last week's announcement by Californian camera manufacturer Red Digital Cinema that it is developing an Android smartphone took many by surprise.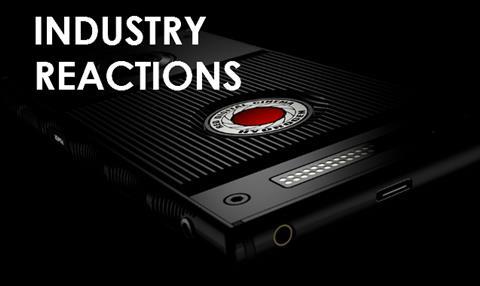 Having teased its loyal customer base for seven days with promises of a "new product category", Red announced the Hydrogen One on 6 July, describing the device as "the world's first holographic media machine in your pocket".
The smartphone will offer immersive 3D sound, the company said, and will be capable of displaying holographic multi-view, 2D, 3D, augmented reality, virtual reality and mixed reality images.
As with all things Red, the phone will be modular, with add-ons available for shooting higher-quality motion, still images and holographic images. It will also work as a user interface and monitor for the firm's Scarlet, Epic and Weapon cameras.
While the revelation certainly caused excitement – with Red's website creaking under the number of visitors to the online unveiling – the reaction from broadcast equipment suppliers was a mix of intrigue and scepticism.
Barry Bassett, owner and managing director of VMI, said he thought Red was "mad" – but that this was the same reaction he had in 2005 when he first learned that, Red founder Jim Jannard, then the owner of Oakley sunglasses, wanted to build a digital film camera. "It shows we shouldn't underestimate what Red is capable of," he added.
Camera integration
Brownian Motion owner Jeff Brown was positive about the prospects for the phone and is keen to see what the camera integration will be. "If it acts as a handheld wireless monitor, it could easily prove popular for DoPs or owner-operators in place of a personal monitor," he said.
Shoot HD camera assistant Joe Foster said he feels Red "fan-boys and girls will lap it up", particularly because it works with other Red kit, but noted that it is "clearly a high-end product, rather than a mass-market one".
Futuresource Consulting information analyst James Manning Smith suggested there could well be a place in the smartphone market for the Hydrogen One.
"To some degree, Red's decision to enter the smartphone market may have come from a 'can't beat them, join them' attitude. For the foreseeable future, the smartphone will be the predominant imaging device [for consumers]. If Red can produce a product that attracts customers from other premium smartphone vendors, it will be part of a highly lucrative market."
Red won't be the first company to launch a specialist smartphone. High-end audio equipment vendor Onkyo has a high-resolution audio player smartphone, targeting the niche audiophile market.
However, imaging companies don't always transition well to the smartphone form factor, suggested Manning Smith.
"Hasselblad, a vendor of high-end consumer digital cameras, created a camera module for Motorola's modular smartphone line, but it received mixed reviews and overall was not considered an upgrade on many smartphone cameras," he said.
The Hydrogen One is due to ship in the first quarter of 2018. Initial pricing has been announced, with a titanium model costing $1,595 (£1,238) and an aluminium version $1,195 (£927), but this does not include tax, shipping or handling.