Comedian and partner in show's producer Fulwell 73 will step down in 2023 after eight years
James Corden is exiting his CBS talkshow The Late Late Show after eight years in the role.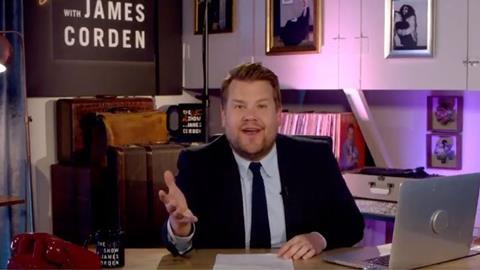 The actor and presenter will step away from the show in 2023. Corden began hosting the series in 2015, with UK indie Fulwell 73 – in which Corden is a partner – taking production responsibilities alongside CBS Studios.
Corden's contract was due to expire in August this year, but he renegotiated to stay on for one more series, which runs to spring next year. He confirmed his departure during last night's episode.
"Seven years ago, James Corden came to the US and took television by storm, with huge creative and comedic swings that resonated in a big way with viewers on-air and online," said George Cheeks, president and chief exec of CBS.
"We wish he could stay longer, but we are very proud he made CBS his American home and that this partnership will extend one more season on The Late Late Show."
Speaking to Deadline, Corden said: "It's been it's a really hard decision to leave because I'm so immensely proud of the show.
"I'm thrilled to be extending [for a year]. I always thought I'd do it for five years and then leave, and then I stayed on. I've really been thinking about it for a long time, thinking whether there might be one more adventure."
Like John Oliver on Comedy Central and latterly HBO, Corden became a hit with US audiences, introducing popular segments to the series including viral hit Carpool Karaoke, which spawned a standalone TV series on Apple TV+.
CBS has yet to confirm plans for the show post-Corden.