Behind the Scenes: striking the right tone on our coverage of a royal death taught me much about broadcast news I still remember today, says Mary Nightingale
I was pretty new to ITN when Queen Elizabeth the Queen Mother died in 2002. It should really have come as no great surprise; almost 102 years old, she hadn't been seen in public since the previous November and was increasingly frail. However, I was genuinely astonished to find myself in the hotseat that Easter Saturday.
We all rehearse for that rare news event that is a senior royal death, but I don't think any of us imagines it will actually happen on our watch. Especially not as a freelancer, covering weekend shifts.
I'd had 'The Fear' drilled into me by the then editor Nigel Dacre some weeks earlier. His warning was clear: "do your homework and do not mess this up."
Royal stories are almost unique in the volume of emotion and interest they arouse. Plenty of people are not remotely interested, but many really care about this stuff. Passionately. You offend them at your peril. Ask any royal editor.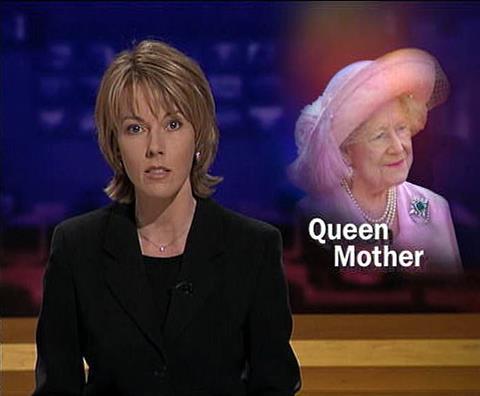 Dacre's instructions were precise: the Queen Mother's passing should not be presented as a tragedy, unlike that of Diana, five years before, which had left the nation reeling and broadcasters scrambling to get their programming in place. This announcement should calmly reflect a long life well lived – a public figure much loved.
Many older viewers might be sad, but there would be no constitutional impact. It would be an opportunity for fond remembrances and some terrific vintage archive.
Anyone who's worked in the ITV newsroom knows the 'Mrs Robinson' routine only too well: the repeated dry runs of various royal deaths, the range of scenarios and the code names to avoid any awkward misunderstandings or accidental announcements.
By 2002, there were ITN lifers who had spent entire careers rehearsing for the death of the Queen Mother. Many retired before they could put their skills into practise; she outlived a fair few of them.
Nigel Dacre's warning was clear: "Do your homework and do not mess this up."
That Saturday was quiet – lightly staffed for an uneventful bank holiday weekend. I went down to the studio for the afternoon news summary. Nothing unusual. But towards the end I could hear increasing activity – and then some words to focus the mind: "Off air as usual but stay in your seat. We're back on in one minute thirty - the Queen Mother's died."
It was vision mixer Lorna Iles' first solo shift as a director – quite some debut – and she played a blinder, calm and reassuring amidst the hubbub. Programme editor Nick Rabin, writer Michael Rigby and I had all been put through the royal death procedure, and we knew what we had to do. My most recent rehearsal had been just days before, so the obit footage was fresh in my mind. Most crucially I knew where to find the right running order.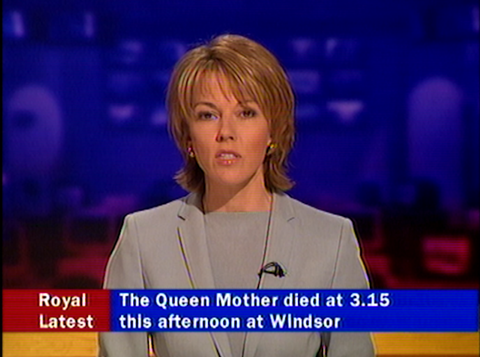 The turnaround was so quick there was no time to change into black, but I'd made a fortunate wardrobe choice that morning: my dull grey jacket probably saved my skin. Poor Peter Sissons on BBC1 was mauled by the tabloids for the sin of wearing a red tie. It was a dark red – not remotely frivolous – but some viewers (and many columnists) declared themselves offended and were highly vocal about it.
The fact that the BBC was drawn into a spat with Fleet Street over its coverage was a stark reminder of the tightrope we tread as public service broadcasters. As ITN's then editor-in-chief Richard Tait wrote at the time: "Too little coverage, too cool a tone and you run the risk of being labelled a closet republican or inappropriately politically correct; too much coverage or too warm a tone and your critics will accuse you of toadying to the palace.
"Add to that the questions about the future role of the royal family after the death of such a dominant and popular member, and you have an environment in which anything out of the ordinary is liable to be misinterpreted."
My own view is that the furore over the red tie was a red herring and it was the tone of the BBC's coverage that royal fans found uncomfortable. It had the air of a hard news programme – fast moving and urgent, but, while the death of the Queen Mother might seem like a classic breaking news story, it developed little beyond the official announcement. The great and the good emerged to issue messages of condolence, but nothing changed constitutionally.
Tailored coverage
Although our coverage certainly wasn't toadying, it was tailored to our viewers. We knew anyone uninterested in the monarchy would find better things to do with their bank holiday, but ardent Queen Mum fans would be glued to their TVs.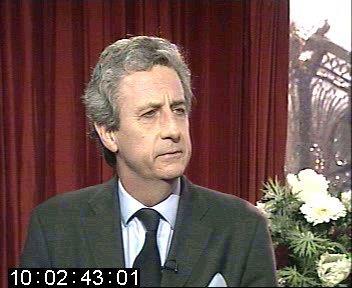 So we gave them a feast of historical footage – London in the Blitz, the late King and Queen with the young princesses, photos by Cecil Beaton, gowns by Hardy Amies, garden parties and horse racing. Friends like Willie Carson shared anecdotes and memories. Politicians and public figures paid tribute.
The BBC, meanwhile, was criticised for battling to squeeze a hard news line out of an elderly lady of the bedchamber. I think we called it right, but it was a long haul.
What had started out as a three-minute news summary became and three-and-a-half hour open-ender. I had 40 long minutes alone in the studio before 'presenter's friend' Robert Lacey arrived to provide support and analysis.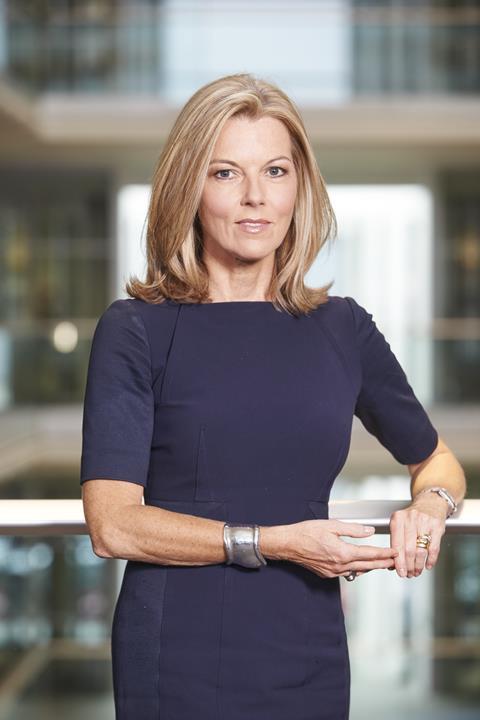 Rarely have I been so glad to see anyone.
Royal editor Tom Bradby called in with updates as he drove in to Gray's Inn Road. We had live updates from the newsroom and from outside Buckingham Palace, where tourists seemed bemused by the news. The huge public response didn't kick in until a couple of days later, when thousands queued for hours to pay their respects at Westminster Hall.
It turned out to be a lucky break for me. Such opportunities are rare in newsrooms, where you can all too easily disappear, but that April Saturday became something of a turning point, giving me the chance to show my bosses I could handle a big story.
Our coverage was shortlisted for a Bafta (on the night Rageh Omaar won it with his outstanding work in Baghdad) and ITV News offered me a staff position. I've been here ever since.
Mary Nightingale is presenter of ITV Evening News