Gurinder Chadha's return to TV is a refreshing take on the genre, with a diverse cast and crew. Emma Cox meets the writer/director and finds out about the joys and trials of shooting in India
Production company Bend It TV
TX Late June
Commissioner Polly Hill (ITV)
Series director Gurinder Chadha
Executive producers Paul Mayeda Berges; Gurinder Chadha; Victor Levin; Deepak Nayar
Writers Gurinder Chadha; Paul Mayeda Berges; Shahrukh Husain; Victor Levin
Series producer Caroline Levy
Co-producers Sandra Shuttleworth; Rakesh Singh
Production designer Michael Ralph
DoP Niels Reedtz Johansen
Sound recordist Fraser Barber
Post house Molinare
It's being dubbed 'The Delhi Downton', but ITV's new Sunday night period drama has one key difference baked into its DNA.
For while the former has been criticised for a lack of diversity, Beecham House stars many actors of Asian nationality or heritage – and not just in the servant's quarters.
The six-parter is set in 1795 and focuses on John Beecham (played by Tom Bateman), a former British soldier who has settled in India and is keen to assimilate, despite the political turmoil in the country.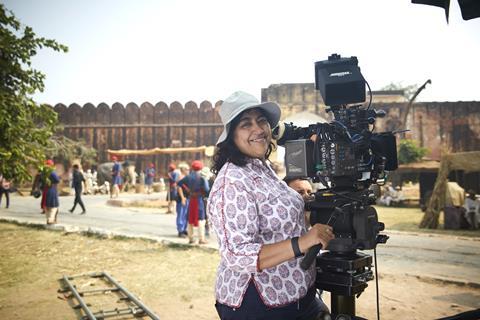 Written and directed by Bend It Like Beckham's Gurinder Chadha, it shares many of the themes of her break-out film, which was hailed for its portrayal of a British-Asian teenage girl (Parminder Nagra) torn between traditional family loyalties and fitting in with her white contemporaries.
With both projects, Chadha wanted to balance the need to address an understanding of cultural differences with a desire to entertain on a grand scale.
Having grown up loving period dramas like Upstairs Downstairs, Chadha – returning to scripted TV for the first time since 1995's A Nice Arrangement – was seduced by the idea of a long-form story that could potentially run for many series, jumping several years in between.
"For me, this is a Sunday night drama. There were points that I wanted to make, but it's important not to be expositional"

Gurinder Chadha
Her starting point was to consult with friend Shahrukh Husain, an Indian historian, and William Dalrymple, who has written extensively about 18th century India.
"We worked closely together and it's authentic, and for me this is a Sunday night drama," says Chadha. "There were points that I wanted to make, but it's important not to be expositional."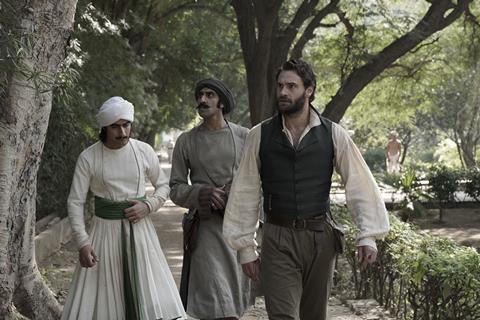 Chadha says she keeps a specific audience in mind when she writes, as it helps her to focus on the bigger picture. She found it useful to imagine Beecham House being critiqued on Channel 4's Gogglebox. "I kept thinking, 'What will the Malones think?'," she laughs.
Chadha has been careful to assemble both cast and crew from a diverse talent pool, including Adil Ray, star of Ackley Bridge and Citizen Khan, who has Pakistani heritage, and Pallavi Sharda, a second-generation Indian who grew up in Australia. Indian-born British actor Roshan Seth also stars.
The plot, too, refuses to peg white colonialist characters as 'baddies' and Indian characters as 'goodies'.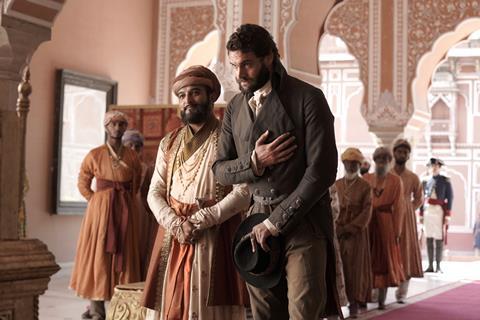 "We're at a time where people want something fresh about the story between India and Britain," says Chadha. "This is about what happens when cultures meet, by someone who comes from an incredibly diverse city."
Chadha says wider industry progress in on-screen diversity should be praised. She refers back to 1984, when Alec Guinness blacked up for A Passage To India and The Far Pavilions featured English actress Amy Irving as an Indian princess. "We should pat ourselves on the back for moving on from those times," she adds.
Career inspiration
For Sharda, who plays a mysterious Indian woman who may have a connection to John and his mixed-race baby, it was an honour to work on the project. The actress, whose parents emigrated to Melbourne from New Delhi, is a big celebrity in the Bollywood world, but says seeing Chadha's films at an early age gave her the desire to act.
"Growing up, I didn't particularly see faces that looked like me on TV,' she says. 'Then I saw Bend It Like Beckham and thought, 'Wow, I can be an actress.'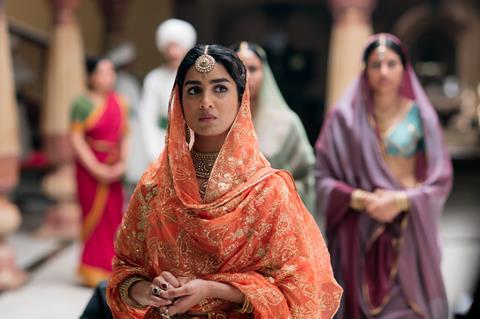 "There weren't many options open to me when I started my career so Bollywood felt a natural fit, but the stories that are most authentic to my experience of duality are the sort that Gurinder tells."
To connect with the role, Sharda reached into her relationship with India and the status it shares with Australia as a former British colony.
"Anyone who comes from those countries absorbs modern-day culture along with a consciousness about the atrocities that were committed by that empire," she says. "Gurinder likes to celebrate that nuance of being dual heritage and show it in a positive light."
Previous productions have used neighbouring countries such as Malaysia to double for India. But except for shooting some interiors at Ealing Studios, Chadha never contemplated filming anywhere else.
Having regularly shot in India in the past, she was not put off by the many challenges: juggling different languages, religions and cultures, and managing the huge crews commonly found on Indian sets. On the busiest days, the number of people on set could reach 200.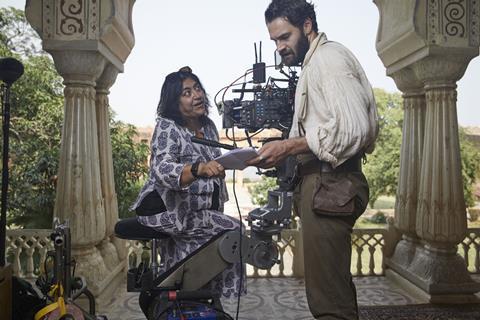 With a quarter of those Brits adjusting to the heat and diet, Chadha found herself doling out tummy bug advice as much as dealing with the technical aspects of her job. She jokes that bringing up twin babies was a doddle compared with making Beecham House.
"There are all sorts of cultural things that come into play," she says. "Religion, festivals, traditions, locations. But I couldn't shoot anywhere else; nowhere else looks as good. "I'm sure there will be people watching it saying, 'That looks great, I want to go and shoot in India', but they won't be able to achieve what we've done."
"My husband Paul brought out some bottles of Irn Bru for our Scottish camera operator, which the Indians thought was hilarious"
Chadha's mixed heritage proved invaluable in the tricky task of getting the best out of British and Indian members of the crew.
"I would do things I know keep the Indian crew happy, like Bluetooth my phone to the speakers and play music and dance, to keep everyone's energy up. Another time, my husband Paul brought out some bottles of Irn Bru for our Scottish camera operator, which the Indians thought was hilarious.
"Whatever the challenges were, the greatest success for me is that everyone got on, and the wrap party was full of people hugging each other. It was wonderful."
SHOOTING IN INDIA
Michael Ralph - Production designer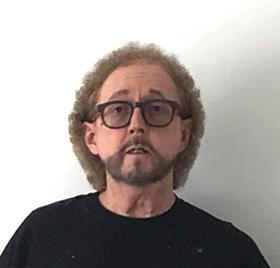 India has a particular way of working, so you have to design to the crew's strengths rather than against them. It's a labour-intensive country where people have to work very hard to earn any money, so you hire as many people as you like. Everybody has a talent and a skill.
Unlike some other countries, it's not the case that everyone is so over-educated that nobody knows how to hammer a nail or paint something.
When I needed to build a throne for the emperor, there were 16 people working on it and we got it done in four days. They were almost in each other's way, but it was fantastic.
You can do something that looks really fabulous in a really short time and I love working that way. While you're still talking through the idea, it's already being done.
But there are challenges. The one thing you've got to do in India is think on your feet. Working in TV always invites chaos and you have to be patient, but in India, you can lose locations that you've been planning for three months because suddenly a big wedding is being booked that's worth more than you are. That happened to us more than once.
BEAUTIFUL LOCATIONS
The locations were beautiful and because of the time of year we were there – September to November – we had a lot of low sun, long shadows and dappled light through the trees. It's only when you're grading that you realise everything's tinted this beautiful mustard colour with deep shadows.
We've come up with a world that's lush, rich, inviting and seductive; somewhere with a deep sense of history and adventure. On a Sunday night you will watch it and think: "I'd love to see those sunsets and drink that drink."