ITV Studios show ends after 14 years following death of contributor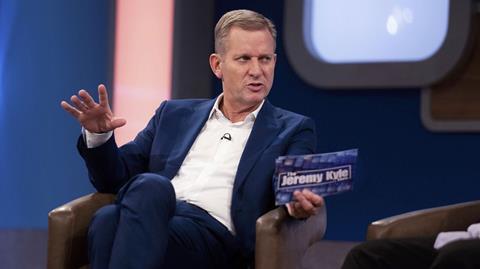 ITV has cancelled The Jeremy Kyle Show following the death of a participant a week after filming an episode of the daily show.
Following MP's calls for the show to be axed, a statement from ITV chief executive Carolyn McCall said: "Given the gravity of recent events, we have decided to end production of The Jeremy Kyle Show."
She added: "The Jeremy Kyle Show has had a loyal audience and has been made by a dedicated production team for 14 years, but now is the right time for the show to end."
McCall went on to say that ITV's thoughts and sympathies are with the deceased Steve Dymond's family and friends.
ITV is to continue its review into the episode which featured Dymond and was pulled before it was due to air on Monday.
Produced by ITV Studios from Salford's Media City, The Jeremy Kyle Show has aired since 2005 and averaged a consolidated audience of 1m (22%) over the past year.
The broadcaster said it will continue to work with Kyle on other projects.